Georgia Football: No Surprises, Bulldogs Drop out of Top 25
September 6, 2011
Scott Cunningham/Getty Images
The nation's No. 2 party school (PRINCETON REVIEW survey; http://www.wltx.com/news/article/145819/2/USC-Makes-List-of-Americas-Top-Party-Schools-) just dropped out of the Top 25 in two college football polls after a bruising 35-21 loss to Boise State last weekend in Atlanta's Georgia Dome, leaving their fans little to celebrate after the season opener. 
The USA Today's coaches poll previously ranked Georgia No. 22 in the preseason Top 25, while the Associated Press placed them at No. 19.  Other notable changes in both polls this week include the LSU Tigers' rise to the No. 2 position, ahead of the preseason pick for No. 2, Alabama, which fell to the No. 3 slot.  The Oregon Ducks fell nine spots in the AP to No. 13 after a 40-27 loss to the LSU Tigers. 
While the Bulldog fans have nothing to cheer about this week, the Boise State Broncos moved up a notch to No. 4 in the AP poll released Tuesday. 
Georgia hit the turf hard last weekend coming off a 6-7 season and a Liberty Bowl loss that defined their season's downward spiral.  They play 12th-ranked South Carolina this weekend in Athens.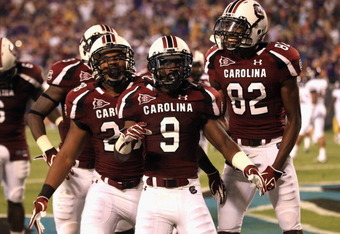 Streeter Lecka/Getty Images
Stocked with talent, the Bulldogs head into their second game of the season as the underdog.  The Gamecocks defeated Georgia last year 17-6 and this year they return senior quarterback Stephen Garcia, who scored three touchdowns last weekend for the win against East Carolina (two rushing and one passing) after being benched to start the game. 
Last year, the Bulldogs' test against the Gamecocks resulted in big numbers for their high-profile freshman.  Running back Marcus Lattimore rushed for 182 yards and two touchdowns on 37 carries as a freshman against Georgia. This year, Lattimore's hype is being shared defensively with No. 7, Jadeveon Clowney, a 6'6", 254-pound freshman from Rock HIll, SC, and one of the nation's top recruits. Expect senior offensive tackle Rokevious Watkins to dominate on the Gamecocks offensive line. The 6'4", 340-pounder from Fairburn, GA was selected SEC Lineman of the Week for his efforts against East Carolina.
The Bulldogs will seek to bring the fizzle back to their game and restore their ranking with a win in Athens.  With breakout players like cornerback Brandon Boykin—who scored on an 80-yard run on the first play of his career last weekend—Georgia will also look to junior Richard Samuel and freshman Isaiah Crowell to alternate at tailback, and quarterback Aaron Murray to improve.
Along with Georgia, last year's national champions, the Auburn Tigers, dropped out of the rankings.   Texas, Penn State and South Florida, all unranked last week, are ranked this week.