Oklahoma Postgame: Landry Jones, Sooners Offense Bland on Purpose
September 7, 2011
Brett Deering/Getty Images
The Week 1 matchup between the Oklahoma Sooners and Tulsa Golden Hurricanes was expected to be an awesome display of top offenses. Both teams return the majority of their starters from offenses finishing near the top of the heap in almost every metric last season.
Sooners QB Landry Jones led the nation with over 600 pass attempts a year ago, and Tulsa slinger G.J. Kinne racked up over 4,200 yards and 39 touchdowns running and throwing.
Fans buckled themselves in, anticipating a shootout, but were disappointed as Landry Jones only threw one TD pass, deferring to the running backs for the other five scores. Jones, a preseason Heisman candidate, fired only a handful of his 47 pass attempts downfield.
Landry kept it simple, throwing screens, slants and drags to his plethora of weapons at the skill positions, letting them do the work. His 7.9 yards per attempt and 74 percent completion rate are evidence to an effective, albeit vanilla, game plan.
Sooner Nation might be worried that the underwhelming performance orchestrated by co-offensive coordinators Jay Norvell and Josh Heupel will not be enough against the fiery, athletic, sack-happy defense in Tallahassee on September 17th.   
Florida State head coach Jimbo Fisher and defensive coordinator Mark Stoops (brother of Bob) seem to have their defense dialed in as they held their first opponent, Louisiana-Monroe, to only 191 total yards and zero points.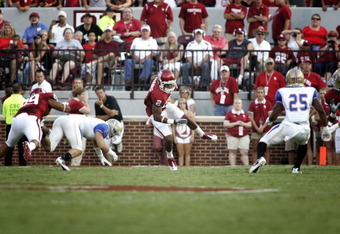 Brett Deering/Getty Images
The Sooners did debut one wacky formation on Landry Jones' sole touchdown pass. Four receivers lined up in a peculiar 2x2 box on one side of the field. The formation peaked the interest of the crowd, but Landry didn't even look their direction as he guided a pinpoint, back-shoulder ball to Ryan Broyles on the opposite side of the field for the score.
The overall lack of passing pizazz Saturday night in Norman was just what Dr. Bob Stoops ordered, however. It was obvious early that the Sooners would not need to dive deep into the playbook to wipe the floor with a Tulsa defense that ranked dead last against the pass in 2010.
Stoops has been around long enough to know the team would be better off pulling punches and not showing their hand to FSU in lieu of their looming top-5 matchup. The 'Noles will have very little to work with while watching tape of the Sooners.
To put it in poker terms, Bob is sitting with a royal flush but is smart enough not to over-bet early and ruin his chance for the big payoff. With an inside track to the BCS championship game on the line, the payoff could not be any bigger.