Steelers vs. Ravens: TV Schedule, Live Streaming, Radio, Game Time and More
September 6, 2011
Rob Carr/Getty Images
Some of the greatest games of the season come from the divisional matchups between the Pittsburgh Steelers and the Baltimore Ravens, and this Week 1 matchup of NFC North foes will be no different.
As if one had expected anything different, this matchup will be a defensive struggle with timely scoring being the key to crowning a victor, but the Ravens have the advantage of opening the season at home.
While Week 1 will always be too early to tell how good a team will be, especially with a lockout-shortened offseason, this game will most certainly have serious divisional implications down the road and the battle will be intense.
Where: M&T Bank Stadium, Baltimore, Md.
When: Sunday, September 11, 1 p.m. ET
Watch: CBS 
Live Streaming Audio: NFL.com Audio Pass ($29.99 for year, $27.99 team specific, $9.99 a month)
Listen: Pittsburgh—WDVE-FM (102.5) and WBGG-AM (970); Baltimore—WBAL Radio (1090AM); Sirius Satellite Radio—Baltimore XM 228 (Internet 862), Pittsburgh XM Internet 871
Betting Line: Baltimore +3
What's at Stake?
The people who make up the schedules didn't want to wait for one of the most physical games of the season, and if you are faint of heart, I would avoid watching what should be an absolute war.
This game has more on the line than any other in Week 1, and the implications of this game will have an impact on the rest of the season for both teams. Neither team wants to start the season off with a loss, and this is going to be a matchup of two of the top-five defenses in the entire NFL ready to smash each other.
With Pittsburgh and Baltimore fighting for the AFC North division title, there will be no love lost and the winner of this game will have the distinct advantage in tie breakers and confidence.
Ravens' Injury Report
Lee Evans: Probable
Tyrod Taylor: Probable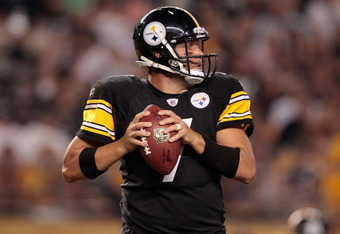 Jared Wickerham/Getty Images
James Hardy: Probable
Steelers' Injury Report
Byron Leftwich: Out
Fantasy: Start 'Em, Sit 'Em and Sleeper
Start 'Em: Anquan Boldin, Ravens
The Baltimore Ravens offense hasn't been much to fear over the last few years and especially not against the Steelers' tough squad, but starting Boldin is a good idea. Boldin lives over the middle, and Pittsburgh's linebackers have slowed this preseason which will allow him to feast.
Sit 'Em: Lee Evans, Ravens
While Boldin is a solid play, it will be partly because the Steelers will totally eliminate Lee Evans from the equation by throwing a cornerback and sending Troy Polamalu his way. With Evans taking the lid off the defense, Boldin will have more free space in the secondary.
Sleeper: Antonio Brown, Steelers
Through the preseason, Antonio Brown has looked better than veteran Hines Ward and we may be seeing one of the last seasons with Ward in the black and gold. Brown will be playing as the No. 2 receiver more often and he will be seeing the kind of coverage against Baltimore Ben Roethlisberger likes to exploit.
What They're Saying
Steelers' Hines Ward said to the Pittsburgh Post-Gazette:
I think the league scheduled this game for a reason. It's going to be good to be a part of it. We're going into the lion's den. It's going to be a tough one. Last year we won down there; I know those guys are thinking about that.
With the return of football after a long offseason yearning for it, I don't care what the reason behind the matchup between these two defensive juggernauts is, I just want to see it.
Ravens head coach John Harbaugh told the Baltimore Sun:
We're going to make sure [the Ravens re-vamped offensive line] is not a problem, that's our jobs, all of us together, to make sure it's not a problem. We're playing on Sunday at 1 o'clock. We're not making any excuses. We know what they're going to do. They know what we're going to do. There'll be a few wrinkles here and there and we'll go play. I'm very confident in how we're going to play.
With the addition of recently cut veterans Bryant McKinnie and Andre Gurode to an offensive line that had serious troubles last season, there is real concern that the tough Steelers defense will destroy the Ravens' line.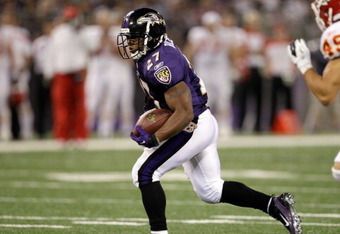 Rob Carr/Getty Images
Ravens Player to Watch: Ray Rice
The Baltimore Ravens offensive line consists of plenty of new faces, and that lack of playing time together gives the Baltimore running backs like Ray Rice nightmares. A defense like Pittsburgh's will pick apart a weak offensive line, and make Rice's day tough. Watch to see if he can defy the odds and have a solid day.
Steelers Player to Watch: Ben Roethlisberger
After a wild season last year that had Big Ben in and out of trouble and the Steelers in and out of the Super Bowl, the team is hoping that a relative calm in Ben's life will have him 100 percent dedicated to the Steelers cause. If he isn't, the Ravens will put a serious hurting on him from early and often.
Key Matchup: Rashard Mendenhall vs. Ray Lewis
After an offseason shrouded in controversy, Mendenhall will try to redeem himself for the fumble that cost the Steelers the Super Bowl against the toughest middle linebacker in NFL history. The question will be whether or not Lewis still has what it takes to stop a big running back, or if time has passed him by.
On the Hot Seat: Joe Flacco, Ravens
With more improvements on the offensive side of the ball and a new stable of lineman, there will be no more excuses for Baltimore quarterback Joe Flacco if he fails. Four seasons in the NFL is enough to get the hang of things, and if he can't get the team past the Steelers, it may be time to consider a shift at the QB position sooner rather than later.
Prediction: Pittsburgh Steelers 23, Baltimore Ravens 17
As usual, this matchup will be a defensive struggle, and Pittsburgh will sneak out a victory in Baltimore to stun the Ravens. I think the Steelers secondary makes Joe Flacco's day tough and takes at least one of the interceptions he throws to the house for six.
Check back for more on the NFL world as it comes, and check out Bleacher Report's Football Page to get your fill of the NFL.