USA vs Belgium: Live Score, Highlights and Recap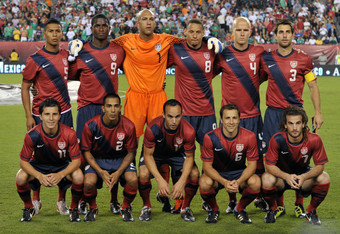 Drew Hallowell/Getty Images
I think that for the first time in quite a while, the US lost in a way that made fans hopeful of what is to come in the future.
Now, I may be alone in that sentiment, but Costa Rica has always had the Americans' number, regardless of where the game was played. New head man Jurgen Klinsmann has created a much more aggressive side while at the same time making them a very vulnerable and susceptible to counter-attacking type of squad.
With risk comes reward, but the US had plenty of golden opportunities to put balls in the back of the net—they just were unable to finish. With that game came a lesson, and the result must be quickly removed from their memory even faster if they want to be able to make amends for their loss in Southern California.
The Americans head into Europe, where they have been less than stellar, to face a very talented Belgium side. Now, Belgium may not be putting their top side on display, but it will be a challenge regardless not only on the field, but mentally to bounce back so quickly from a tough loss on American soil.
Klinsmann has the right recipe for what the Americans need: pressure. It bit them in the backside, but against a team like Belgium, the Yanks should be very successful.
On Tuesday, American fans will see a very similar attacking philosophy with some different players plugged into the pitch. Klinsmann will see the arrival of Clint Dempsey, Steve Cherundolo and Kyle Beckerman, but with those additions, the Americans will be without American hero Landon Donovan.
Donovan already had a prearranged setup to not make the trip to Europe so that he could play with his MLS club side, the Los Angeles Galaxy.
Klinsmann is still in a trial-and-error type of stage to experiment with certain players and see who truly fits the mold of his system. Klinsmann has already won favor with many of the fans by being more fan friendly, showing he is willing to give many young players shots at the national stage and that he is determined to have a goal-scoring mindset.
Each game is a step toward World Cup qualifying, and even though fans would like to see consistent wins, regardless of the opponent, Klinsmann is showing that he cannot build a winning side in a day, but he does have the patience to improve a very average and inconsistent squad.
I cannot wait to get the game going and update you on everything US soccer for the USA vs. Belgium friendly coming up in less than 12 hours!
Check back for your live play-by-play, comments, reactions and constant updates right here, starting a few hours before kickoff.
Also, be sure to follow me on twitter: @vincesapienza
Well as fun as it was to be updating you all, I wish I could tell you a better result and a better performance. But remember the squad is still young and this is very much a trial and error type deal for Klinsmann, but he needs to understand that American fans do not have very much patience when it comes to wins and losses.
It will help when Landon Donovoan is back in the lineup because the midfield will be solid, but Klinsman will need to look back for Michael Bradley and Jermaine Jones for midfield players.
Klinsmann also would worry a bit about the revolving back line that is his defense and needs to make sure that their communication is on par with each other.
Should have been 2-0 as Belgium's Lukaku send the ball over the net as he is standing at the penalty spot. Goodsen fell down. A frustrating day for the U.S.
And that is the final whistle.
Belgium 1 U.S. 0
Klinsmann still winless with his new squad.
U.S. knocking on the door, but it may be a little late as we enter the 88'
'85 Americans are trying to make something happen with a free kick just above midfield and the cross went off a head and found Edu's head and SCORES but Clarence Goodsen is called for a HANDBALL. How upsetting for the U.S.
Sorry for the major delay-Internet has been an issue- but Torres out, Larentowicz in. Not much has happened since. U.S. have ben contolling more and Agudelo had a one on one in the box, but he made a mess of it and gave it away.
Sorry for the major delay, but Torres out, Larentowicz in. Not much has happened since. U.S. have ben contolling more and Agudelo had a one on one in the box, but he made a mess of it and gave it away.
Watching the game you just do not see any indication that the U.S. will be able to level this game. However, you can never say never till never.
Great effort by Shea, as usual, and the Americans get a corner. However, the corner is all for not and cleared out, but they hold possession. Dempsey shoots but it lacks any power and easily saved. Shoulda, Coulda, woulda done better.
Hard foul on Agudelo, late challenge, no card.
'68 Timmy Chandler with a shot in the bleachers. U.S. just cannot get any meaningful chances going. Klinsmann is an unhappy German right about now.
'66 U.S. get lucky on a miscalculated run by Belgium could have made for a 2-0 lead. Now the Americans look to possess now for a change.
The U.S. are not making any threatening runs, 0 creativity, and do not have a holding midfielder that is doing his job and "holding" the ball.
Torres gets two cracks at it as the ball comes back to him, but for the second time no one on the other end and another transition for Belgium.
'60 Americans finally get a chance and force a corner.
Now let us see how Klinsmann's men respond.
Nothing Tim Howard can do on that one, someone lost their assignment and left him at the top all alone. We knew it was coming, but that one hurt.
'55 GOAL. Belgium Lombaerts scores a beautiful half volley at the top of the box.
'52 A lot of possession from the Belgium side and a lack of continuity in the American center field.
Belgium pick up where they left off and threaten in the box, but the shot is blocked and cleared out by Cherundolo.
American passing is very suspect in the early going of the second half.
47' Beckerman's first touch is a half volley at the top of the square, but goes well high. There was a nice buzz as he lined it up
ESPN reporting that Altidore was favoring his foot after leaving the first half. Not good.
Kyle Beckerman comes in for Rogers and Agudelo for Altidore
Here come the subs and coaches onto the field, looks like Juan Agudelo may be coming on in the second half. Second half whistle coming up.
This article is
What is the duplicate article?
Why is this article offensive?
Where is this article plagiarized from?
Why is this article poorly edited?

United States (National Football): Like this team?