Detroit Tigers: Matching Up with the New York Yankees
September 6, 2011
Craig Lassig/Getty Images
Another September has come upon us. The Detroit Tigers again find themselves in first place by a comfortable margin, with a fair amount of division games remaining. As of right now, this means one of two things: 1) The Tigers continue to surge their way through their schedule and wind up in the playoffs, or 2) Detroit watches yet another division lead wither away and succumb to a collapse of epic proportions, reminiscent of the '09 season.
The entire article to follow is contingent upon the fact that the Tigers DO hang on to their division lead and make it into the playoffs. It is critical not to assume that the Tigers will automatically hang on. A 7.5 game lead in September is far from invincibility. That being said, it is important for Detroit fans to understand who the Tigers are likely to match up against in October, and how the odds stack up against each potential opponent
If the playoffs were to start today (as of September 6th), the Tigers would play first-place New York in the divisional series of the playoffs. Home field advantage would belong to the Yankees, while the Texas Rangers would host the Boston Red Sox in the other divisional series. If the Tigers were to win the New York series, they would either play at Texas or host Boston in the 7-game ALCS round.
Let's compare Detroit to New York. Please note that the following comparisons will be made with traditional statistics. Sabermetrics can be used to find out even more information about the players.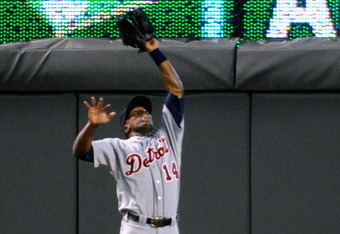 Hannah Foslien/Getty Images
NEW YORK YANKEES
The Tigers and Yankees are no strangers. Detroit handed New York a first-round exit in the magical 2006 campaign. Despite the fact that New York has been one of the top teams in baseball, Detroit has managed to hold its ground against them in recent years. Position by position, these teams match up quite evenly.
CF: Austin Jackson (.258 BA, 9 HR,.323 OBP) vs. Curtis Granderson (.271 BA, 38 HR,.374 OBP)
Edge: New York
The last time Detroit ventured to New York for a playoff series, they had Granderson on their squad. This time, he would be one of the top hitters the Tigers are trying to stop. Granderson outmatches Jackson in practically every offensive statistical category, and it's really not even close. Jackson, however, is a marginally better defensive centerfielder than Granderson. This does not make up for the gaudy mismatch with the hitting numbers, however.
RF: Andy Dirks (.261 BA, 7 HR,.304 OBP) vs. Nick Swisher (.268 BA, 22 HR,.383 OBP)
Edge: New York
Dirks has brought several admirable qualities to the Tigers outfield. In addition to being a good defender, he has provided good at-bats and occasional pop in the bat. It is likely that Detroit will use a Dirks/Magglio/Kelly platoon since Brennan Boesch is gone for the season. Nick Swisher has quietly put together a solid season in the midst of a juggernaut Yankees offense. He is the third most walked player in the American League, and flashes above average power numbers when he does put the bat on the ball. He isn't necessarily someone Tiger pitchers will be dreading, but he absolutely has the ability to do some damage if underestimated.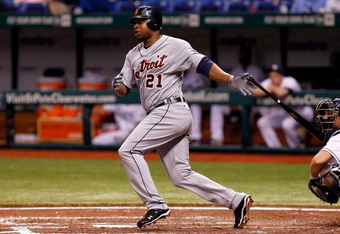 J. Meric/Getty Images
LF: Delmon Young (.271 BA, 7 HR, .302 OBP) vs. Brett Gardner (.266 BA, 6 HR, .355 OBP)
Edge: New York (slight)
At first glance, Gardner would appear to be the superior player. The Delmon Young in a Tiger uniform has been a much different player than the Delmon Young in a Twins uniform, however. Young has flirted with batting .300 since arriving to Motown (20 games). His average and power numbers slightly outweigh Gardner, while Gardner proves to be better in drawing walks, is better on the basepaths, and is a better defender.
1B: Miguel Cabrera (.329 BA, 26 HR, .431 OBP) vs. Mark Teixeira (.247 BA, 35 HR, .343 OBP)
Edge: Detroit
Miguel Cabrera is putting together yet another outstanding season. On top of providing the hits and home runs he is known for, he is the second most walked player in the AL (Bautista being the first). A .431 OBP means that Cabrera reaches base in nearly half of his at-bats. Teixeira is a major power threat, but at the cost of being an all-or-nothing batter. He has the ability to do damage, but Cabrera is the better overall hitter.
2B: Ryan Raburn (.239 BA, 12 HR, .276 OBP) vs. Robinson Cano (.306 BA, 23 HR, .350 OBP)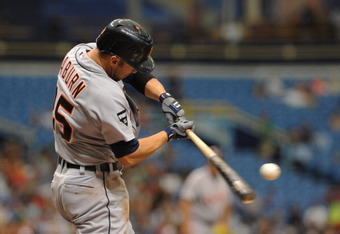 Al Messerschmidt/Getty Images
Edge: New York 
Not exactly a close comparison. To Raburn's credit, though, he has been surging since the All-Star break. He is a second half player and is better than his statline would suggest. There's no question that Cano provides the superior bat and all-around better defense, however. Also note that a Raburn/Guillen/Santiago platoon is likely, as Detroit does not have a true second baseman. Cano still outmatches any of these candidates.
SS: Jhonny Peralta (.307 BA, 18 HR, .353 OBP) vs. Derek Jeter (.298 BA, 5 HR, .356 OBP)
Edge: Detroit
Peralta's emergence as a top shortstop has been critical for the Tigers, as he has provided a desperately needed rock solid bat in the bottom third of Leyland's batting order. Jeter is still a reliable hitter, but when you overlook his name, he really hasn't even had a season close to Peralta's level. Jeter may have the playoff experience, but Peralta is having a breakout season. Even defensively, Jhonny has had a better season than Derek Jeter.
3B: Wilson Betemit (.287, 6 HR, .344 OBP) vs. Alex Rodriguez (.289 BA, 15 HR, .361 OBP)
Edge: New York
Betemit has been a big part of Leyland's lineup since being acquired in the mid-season trade with Kansas City. He has given the Tigers clutch hits and solved the major third base problems. Alex Rodriguez has had a season hampered by gambling scandals and disabled list stints. Regardless, he has shown he still has the bat when he plays. He's batting with his best average in 3 years, and although his home run numbers are down, he has only played in about two thirds of the games that he usually does.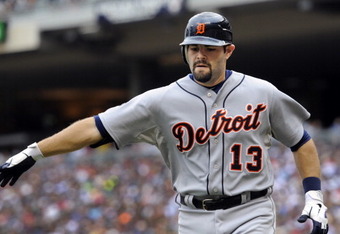 Craig Lassig/Getty Images
C: Alex Avila (.302 BA, 17 HR, .392 OBP) vs. Russell Martin (.237 BA, 17 HR, .325 OBP)
Edge: Detroit
Oh, to think that there was a debate as to which one of these two guys should start in the All-Star game just two short months ago. What a story it has been since then. Martin has fallen to a sub-.240 average, while Avila has surged to bring his average over .300. Combine that with Avila being  the better defensive option and you create a bitter mismatch. This is a huge positional discrepancy in favor of the Tigers.
DH: Victor Martinez (.325 BA, 8 HR, .373 OBP) vs. Andruw Jones (.245 BA, 11 HR, .350 OBP)
Edge: Detroit
Victor has done exactly what has been expected of him since inking a multi-year deal in the 2010 off-season. He has provided exceptional protection behind Cabrera in the middle of the Tigers lineup. Andruw Jones may not be who the Yankees choose to pencil in as the DH come October, but Martinez far outshines any of the alternatives as well (Jesus Montero, Jorge Posada).
Pitchers
SP: Justin Verlander (2.34 ERA, 224 K, .91 WHIP) vs. CC Sabathia (2.97 ERA, 211 K, 1.17 WHIP)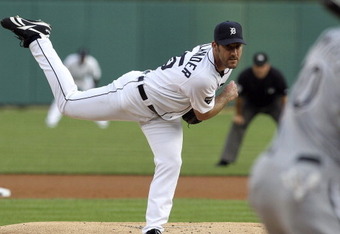 Leon Halip/Getty Images
Edge: Detroit
Sabathia won this matchup earlier this year on opening day. Since then, Verlander has hit a  hot streak worthy of historical note. JV appears to be the Cy Young frontrunner, and is even in MVP discussions across the league. Sabathia is a true ace. The Tigers have had little problems figuring him out, however. If both of these pitchers were to pitch how they are right now, Verlander would win the matchup. There's no guarantee to that, though. October brings a lot of strange things. For now, we can only go by what we know.
SP: Doug Fister (3.26 ERA, 112 K, 1.13 WHIP) vs. Bartolo Colon (3.72 ERA, 123 K, 1.24 WHIP)
Edge: Detroit
Fister has been a gem of an acquisition by Dombrowski, posting a sub-3.00 ERA since putting on a Tigers uniform. He works efficiently at a Mark Buehrle-esque speed, and doesn't fool around. He doesn't walk anybody and he avoids the sweet spot of bats by utilizing his late movement on pitches. Colon has been a surprisingly reliable piece in the New York rotation after taking a year off from baseball. For most of the season, he has been a legitimate #2 pitcher behind Sabathia. Fister has had the better overall season, however.
SP: Max Scherzer (4.33, 148 K, 1.35 WHIP) vs. Freddy Garcia (3.09, 89 K's, 1.27 WHIP)
Leon Halip/Getty Images
Edge: New York (slight)
Scherzer is the definition of an all-or-nothing pitcher. His starts leave fans either believing they have the legitimate complement to JV in the rotation or clenching their teeth in agony. Regardless, Scherzer has shown he has the stuff to be a tremendous big league pitcher. He has a power arm and a wide arsenal. Freddy Garcia is the opposite of Max Scherzer. Spending the last handful of seasons as a journeyman, he landed in New York this year and has settled into the rotation quite nicely. He doesn't surrender a lot of runs, and manages to pitch well enough to keep the Yankees in almost all of his starts.
Detroit has also had a more reliable back end of the bullpen. Benoit has hit his stride, and Jose Valverde has been perfect in save situations through 41 tries thus far. If the Tigers can bring leads to the 8th inning, the odds are good that they will finish out with a win.
As you can see, the Tigers match up a lot closer with New York than at first glance. Considering the fact that the Tigers would be putting a Cy Young caliber JV on the mound twice against New York, you really have to like their chances. If Detroit could take one of the first two in New York, they would give themselves a chance to win the series in Comerica Park. Although the Yankees have been the better team thus far in the season and have put up gaudier numbers, breaking the teams down to positional matchups shows us that these teams are incredibly even in terms of talent.
Watch out, New York. The Tigers are a-coming.