MLB: Embarassing Loss Shows Chicago White Sox Need an Overhaul on Offense
September 6, 2011
Leon Halip/Getty Images
The 18-2 final box score from Sunday's contest against the Detroit Tigers became the exclamation mark on a terrible season for the Chicago White Sox. It would be bad enough if the game was on Comcast Sportsnet or WGN, but it happened on a nationally televised game.
The Sox will need to be very active this offseason if they hope to contend next season. No player should feel their spot in the starting lineup or in the rotation is safe. The pitching staff is a discussion saved for another day so for now, the starting nine needs to be examined.
The window for the current team has closed and new players are needed to bring baseball back to the south side.
To start off, the Sox need more production out of their catcher. A.J. Pierzynski tends to hit for a high AVG, but he produces little in any other offensive category and isn't the most defensive-minded catcher in the game.
The 20 walks to 26 strikeouts shows that he's not seeing the ball well, and 40 RBIs by September is absolutely terrible for a guy who starts the majority of games behind the plate.
Tyler Flowers has shown to have a pretty good pop in his bat. I don't think he's ready to be an everyday starter, but giving him more than 22 games next year would be a step in the right direction.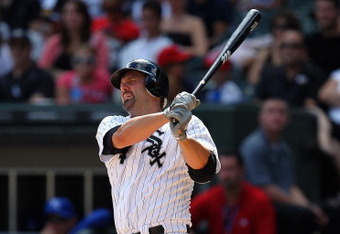 Jonathan Daniel/Getty Images
At first base, I love Paul Konerko's renaissance these past two years. The high AVG combined with the power numbers would make Paulie an All Star lock on a better team instead of needing the All Star Final Vote.
The issue with Konerko is age. I believe Paulie's goatee is whiter than the White Sox jerseys these days. First basemen may not have to run down balls in the outfield gaps, but their legs still wear down from the long season.
The injury bug has come to bite Konerko the past few years and his legs could use a break from the daily grind of the MLB season. He's not going to be able to hit the home runs if Ozzie is going to wheel him out in a wheel chair.
Giving Konerko some more days off or more starts at DH would save his legs and give him more longevity for the MLB marathon season.
For all the success Konerko has had this year ,there has been just as much bad on offense.The blame has to be placed on the shoulders of three players in particular for the lack of production on offense.
In no particular order of disappointment allow me to introduce to you the three stooges of White Sox Baseball: Adam Dunn, Alex Rios and Gordon Beckham.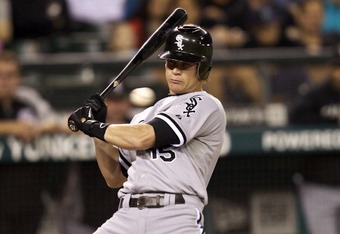 Stephen Brashear/Getty Images
When you mention the name Gordon Beckham to a White Sox fan, it's usually followed with a long sigh and one of those "what could have been if.." thoughts.
Allegedly being a five tool player, I've seen more tools on Thursday nights on MTV. Beckham's fielding has gotten better each year, but the offense has gone from acceptable to horrendous.
When Beckham burst onto the scene, he finished the season with a .270 AVG with 14 HR and 64 RBI. Not great numbers, but when you consider it was his first season in the major leagues, that's a pretty acceptable bottom line for a rookie second basemen.
Now take a glance at 2010 and 2011. The AVG has spiraled down all the way to .233 now. The power numbers are nonexistent and there's no running game to speak of.
The Sox expected a lot more out of Beckham by this point in his career and perhaps the expectations were too high. But regardless, he needs to work out the kinks in his game at Triple-A because he's clearly not ready for the big leagues.
In the cases of Alex Rios and Adam Dunn, it's not only the lack of offense, it's the amount of money going into each player. Over $20 million combined for 29 HRs and a .220 and a .162 batting AVG respectively? That's a lot of money for little production.
At this rate, Alex Rios might as well change his name back to Alexis with the way he's been hitting. At least Adam Dunn is failing with grace by making it into the MLB record books for lowest batting average for a player with at least 400 at bats.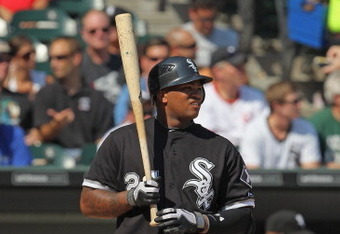 Jonathan Daniel/Getty Images
As long as Alexis is in the discussion, let's take a look at the other outfield positions. With the recent call up of top prospect Dayan Viciedo, the Sox have four outfielders on their active roster.
In left, Juan Pierre has had quite the roller coaster of a season. Up until the month of August, fans were clamoring to get rid of Pierre as his defense had gotten sloppier than Snookie on a Saturday night and his speed-based offense had looked to be out of fuel.
Perhaps the threat of losing his job to Viciedo lit a fire in Pierre for him to play better. Whatever his motivation is for playing better, let's hope he remembers it to start next season off right.
When Carlos Quentin makes his comeback from the DL, he will more than likely pick up playing time in right field. He doesn't have great range, but he does possess a strong throwing arm. The Sox will need better than a .255 AVG and 25 HRs from Mr. Quentin when he returns.
There are positions where the White Sox are solid but for the most part, there needs to be some complete overhaul in the starting nine.
Big name players with big contracts aren't putting up the big numbers and the White Sox can ill afford to have rebuilding years, with the Tigers and the Indians making the AL Central a competitive division now.