Coty "Ox" Wheeler: The Reservation Sensation
September 5, 2011
Coty "Ox" Wheeler is 135 pounds of New Mexico toughness. The Mescalero/Nez Perce Native American grew up on the Mescalero Reservation near Ruidoso and the "Reservation Sensation" represents his people with energy and pride.
"Anybody on the Rez is always going to fight, and I used to fight for free," Wheeler said as he prepared for practice only a few weeks before the big night.  "I was jumped by a guy who was 12 years older than me when I was younger and I kept fighting him; I was the only guy who would stand up to the bully."
That is how he earned one of his earlier nicknames, "Scrappy Do."
"That is why I now run over people and keep running over them," Wheeler said, beaming.
He also overcame a troubled past which included drug and alcohol abuse. He had to go to drug court and his probation officer gave him a choice to go to college and he did. He earned an associates degree in liberal arts at CNM.
"I thank my parents and my girlfriend for helping me get through it all," he said. The 32-year-old has plans to complete a degree in criminology/psychology.
Coty's father, Harry, was on hand for a late August workout. "It's an honor for my son to be with Jackson's. He has worked hard to get here and it is great for him to fight in Albuquerque, because they love him here," he said.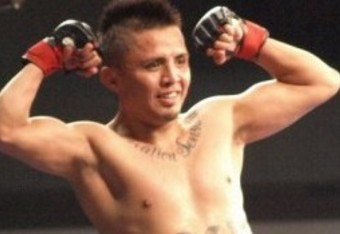 Coty's mother, Serena, was also present. "When he was young he was very rotten but one day he said to me, 'Mom would you rather me fight in the streets or in a more controlled environment?' It was hard for me to argue with that. Now I am proud to know that the Mescalero Reservation welcomes him home every time and that he can be a role model for the kids and work with them," she said.
He has utilized his infamous flying armbar to win four of his 13 fights. "I love popping the flying armbar, but it comes from opportunity not necessarily by design," he said.
Wheeler's flying may come from his sports hero, Michael "Air" Jordan. "He is the greatest ever and I love basketball, but I turned into a better fighter than point guard," he said.
Wheeler is 5'6".
His MMA heroes are B.J. Penn, Carlos Condit and Clay Guida (whom he often trains with).  Wheeler also trains with Ray Martinez, Jr., the only other Native American currently with Jackson's. That's how they formed their bond. "And we're the same weight so we started training together. He has gotten much better by following Jackson's lead," he said.
Jackson's general manager Ricky Kottenstette helped form the farm team that promotes Ox. "He is fighting basically for his home town, and home state and we look forward to seeing his Native intro, which he does not get to do before every fight. The fans cannot wait!"