Mayweather vs. Ortiz, Klitschko vs. Adamek: Looking Ahead
Daniel Barry/Getty Images
Hello, fight fans! I'm back on the scene, after some time off due to moving and being on the move.
As you know, I am a sports bettor, and I love betting boxing. Hope your summer has been lucrative, betting-wise.
We look ahead to two fights coming up in the month of September and how listening to me can pad your bankroll for the upcoming football season.
Ho-Hum, Another Easy Title Defense for the Champ...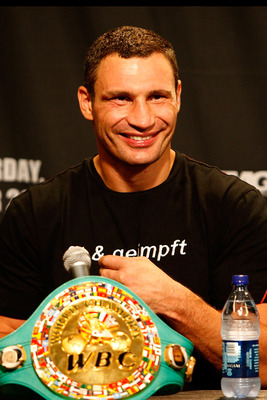 Jacob de Golish/Getty Images
First we will tackle the heavyweight bout. In a match that will be held in the challenger's hometown of Poland, Tomasz Adamek will get a shot at the WBC title versus Dr. Ironfist Vitali Klitschko.
This is a mismatch that will end in a KO victory for the champion. Bet on it. Both Klitschko brothers have had awful competition lately. This bout will be on HBO, so that's rare, and will be live on the East Coast and tape-delayed on the West Coast.
I'm a bit down on the heavyweight division, which I will explain next.
Where Have You Gone, Lennox Lewis?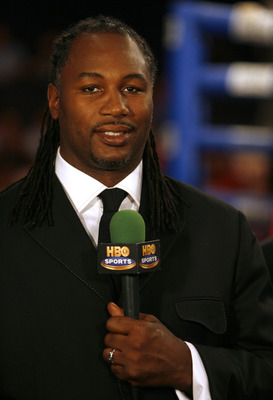 Joe Murphy/Getty Images
I predicted we would miss Lennox Lewis after he retired. And, boy, was I right. It seems you don't know what you got, 'til it's gone.
People used to say Lewis was "boring." So what do you have now?
Since he retired, the heavyweight division has been a joke, ruled by the Klitschko brothers. They have a monopoly on the division, a deep freeze on the belts. And this is due to two things: The division being mediocre and no great American fighters.
I don't see either changing any time soon. So enjoy the brothers because they are going to be around for a long, long time.
The Man Who Would Be King? Not!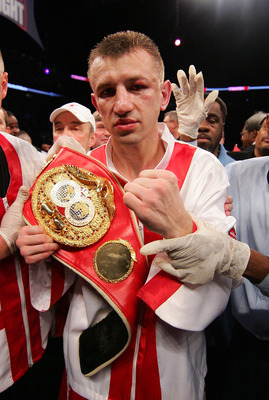 Al Bello/Getty Images
The challenger to the title is a nice fellow, who has a puncher's chance. To me that really means "no chance."
Mike Tyson had a puncher's chance in any bout—so did George Foreman or Earnie Shavers.
The champion towers over Tomasz. Unlike Wlad Klitschko, Vitali Klitschko will end fights. I see this not lasting very long. Honestly, I would just rather not see either brother continue to fight tomato cans, who have no chance.
The only fight that I am interested in is...
Brother vs. Brother: The Only Fight That Will Save the Heavyweight Division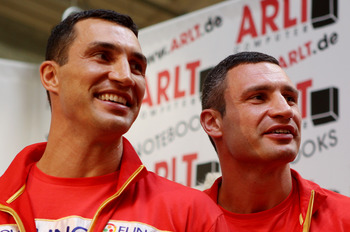 Scott Heavey/Getty Images
Yes, Klitschko vs. Klitschko.
This is the only fight I care about now. I am no longer interested in seeing Wlad coast to near shutout victories versus has-beens, nobodies or never-was. It's tiresome. Apparently HBO feels the same way.
I suppose if you are the brothers' fans or European, you may disagree. But the once-proud heavyweight division is in the toilet, if not outright circling the bowl. To some it is already DOA.
Just imagine if the brothers decided to fight one another. It would be huge. I can only imagine this, as both men have said in the past that they will never fight one another.
Meanwhile, heavyweight boxing dies a little more each day.
Mayweather Doing What He Does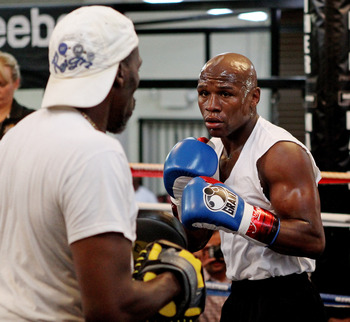 Scott Heavey/Getty Images
Moving along to Sept. 17, Floyd Mayweather returns against "Vicious" Victor Ortiz.
This match is for the lefty's WBC strap.
The champion has had some interesting fight's as of late, losing to the hard-hitting Marcos Maidana, beating Antonio Diaz, defeating the past-prime Nate Campbell, stopping hype-job Vivian Harris, drawing with Lamont Peterson and finally beating the overrated Andre Berto.
Mayweather, on the other hand, fought only twice in the last two years, outclassing Juan Manuel Marquez and beating the old Shane Mosley. This will be Floyd's first fight in more than 16 months.
So who will take it?
Ready for Prime-Time?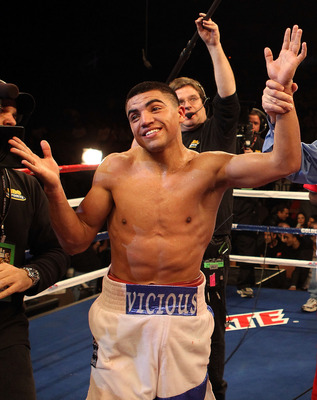 Scott Heavey/Getty Images
Floyd will win this fight via decision, like he normally does. Five out of his last six fights have gone to the cards.
While I agree Ortiz has a "puncher's chance" (which is one of boxing's most overused phrases, along with my favorite "another black eye for boxing"), he is just outclassed here.
I don't care if Mayweather is 34 or has only fought twice in two years. He is a gym rat who is never out of shape. He does not have to lose weight like a Ricky Hatton or blow up like a Buster Douglas. He eats, breaths and sleeps boxing. Like horse racing, you will see class prevail here.
Bet on it.
Just Another Day for Money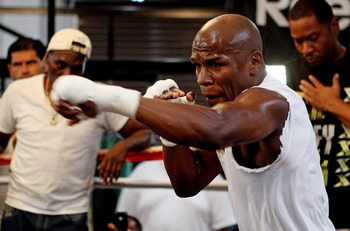 Scott Heavey/Getty Images
I am a bit surprised to see the early money has come in on Ortiz. While I understand that betting on the dog is no new phenomenon, I am a bit surprised so many fans and experts are calling for the upset here. Whether they are supporting their Mexican-American fighter or they hate Mayweather, I think they are making a huge mistake.
Bet with you head, not your heart.
I just see Mayweather out boxing the youngster, taking away his big left hand. I see Ortiz looking for one big shot to end it, which will never come. Some are comparing this scenario to when Oscar de la Hoya faced Mayweather. However, Ortiz is not in the same class with de la Hoya. De la Hoya just has more class.
Could I be wrong? Sure, but I doubt it.
Who Can Beat Him? No One
Daniel Barry/Getty Images
There was a time when I liked Floyd Mayweather, Jr. When he was "pretty boy" Floyd. However, that time has long passed. He reinvented himself, like a professional wrestler or Madonna. He went from a humble kid from Michigan to a big-mouth thug nicknamed "Money."
Whether it is a show or not, camera mugging or attention seeking, it has done the damage. He seems to be in the court more than the ring, lately. He has had problems with the IRS and he loves to put down NBA wagers. He likes to play the bad guy. His record is the only thing that matters to him and, of course, money.
However, to give up $50 million over a drug test seems a bit stupid. We can only hope he took this fight in preparation (both Manny Pacquiao and Ortiz are southpaws) for the only fight that matters in boxing today: Pacquiao vs. Mayweather.
That remains to be seen, but I am hopeful of an early- to mid-2012 meeting. Let's hope so.
Best in the World?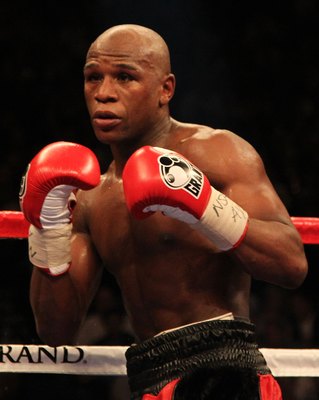 Jed Jacobsohn/Getty Images
Finally, a few last thoughts about the fight: Don't listen to talk of chaos or problems in the Mayweather camp. This is quite common, if you know anything about this family's history. There has always been dissension between Floyd and Floyd, Jr.—on and off, but mostly on camera.
Roger also is another character in this comedy of dysfunction. I also think too much is being made of fighting a southpaw. Floyd beat a younger Zab Judah after a close fight through six rounds. He figured him out, like he will figure out young Ortiz.
Also, speed kills. Ortiz is too slow. Hand speed and foot speed.
Bottom line is this: Mayweather will be ready to fight come fight night. Bet on that. As mentioned before, Jr. is always in fighting shape and lives in the gym. He is the hardest working athlete out there. He reminds me of Jerry Rice, running the hills during offseason. He was born to do this. His ego won't allow him to fail. Ortiz has bitten off a bit more than he can chew.
On Sept. 17, you will see class prevail again.
The Champ Is Back!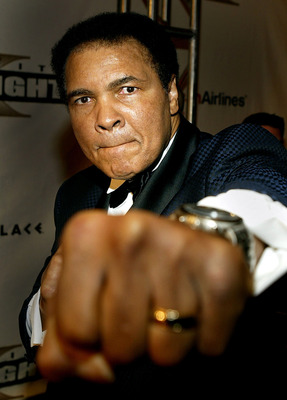 Carlo Allegri/Getty Images
Champs flurries: The other champ in the heavyweight division, Wladimir, had no problems with David "big mouth, but fails to deliver" Haye. Haye's performance was embarrassing and he should have been disqualified for continuing to fall down. Zab Judah should not get any more big payday's or shots at the title after his performance against Amir Khan.
Disgraceful, even for Judah.
Does anyone really want to see JMM/Pac for the third time? Give me Pacman by KO.
Povetkin vs. Holyfield. Really? Really? American has-beens, never-was continue to fight in the heavyweight division.
Look for the tough luck Lucas Matthysse to finally break through in the win column against Erik Morales.
Agbeko vs. Mares II?
Let's just go straight to King Kong vs. Donaire. Ol Roy Jones, Jr., please retire before you get killed. I am sick of you getting knocked out.
Did Gatti get killed or off himself?
Finally, Kelly Pavlik should retire and stop playing games.
Well, that's it, fight fans!! Keep your hands up, and keep punching for the stars!
Keep Reading