USC Football: Lane Kiffin Installs His Playing-Scared Offense
September 5, 2011
Stephen Dunn/Getty Images
I would like to make two points about Saturday's 19-17 win over Minnesota which actually felt more like a loss.
No, on second thought, I had better just go for one point.  There's a higher percentage of successfully making one point than two.
Okay, here goes my point.  And please excuse my paraphrase of Shakespeare's Marc Anthony.  But last week I praised Lane Kiffin in my column.  This week I will bury him.
After yesterday's game, which Kiffin, himself, called a "debacle," he declared on national TV that he had only two good players.
Way to dump your mistakes on the guys doing two-a-days, plus weight room and conditioning, plus going to classes.
It was your debacle, Coach, not theirs.
Maybe USC only has two good coaches, and neither one is named Lane Kiffin.
If you only have two good players, then what does that say about your recruiting?
If you can roll up a 19-3 score against a weak and disorganized Minnesota team with its head phones and sideline communications out, and then go bust in the second half when it gets its communications up, what does that say about your coaching?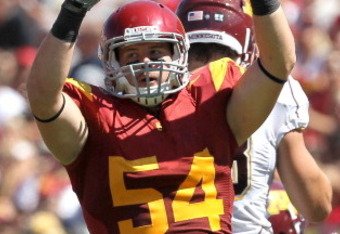 Stephen Dunn/Getty Images
When Jerry Kill's two-stars and walk-ons can shut USC's four- and five-stars out 14-0 in the second half, what does that say about your ability to make viable adjustments?
Personally, I am tired of all the bellyaching and the "woe is me".  You know, statements like: "I don't like to play this way.  We had four guys in the offensive line playing in positions for the first time."
Gosh, that's real news!  I have only heard that mantra every day since spring practice.  And the other one, too, about how no one wants to step up to take the two guard spots.
And now there's the new mantra for Lane Kiffin's playing-scared offense
"I was trying to protect our quarterback.  But it's not USC. It's not play action, and big plays down the field.  It's not the rhythm we want."
So, that's why you went vanilla on Saturday?  To protect Barkley?  Three-step drops and more bubble screens than a Boba Loca, is that how you protect Barkley?
Did you ever think of throwing the bubble screen to Woods and having him toss it downfield to a wide-open Brandon Carswell or Marquise Lee? 
Art Briles put that one in against TCU on Friday and it worked to perfection.  He did it again only with his wide receiver, Kendall Wright, tossing downfield to his quarterback, Robert Griffin III.  That converted a third-and-long.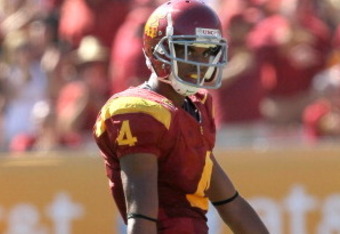 Stephen Dunn/Getty Images
A little too complicated for you?  Then how about a draw play?  Or how about Lee or Woods on an end around?  Or, God forbid, you put Dillon Baxter in the game to run the wildcat. 
And since I mentioned Dillon Baxter, Scott Wolf of the Daily News reported that Kiffin said he did not care if Baxter was unhappy or might "check out'' mentally if he did not play. "We don't concern ourselves with that, if players are going to check out, that's unfortunate,'' Kiffin said.
Get over it, Coach.  This thing you have for Baxter, just drop it and get off his case, or encourage him to transfer.
In fact, I would like to encourage Baxter to transfer.  I hope he gets as far away from Kiffin as possible.  He is stuck in an animosity relationship, and Kiffin will never get over the way he feels about Baxter.
But back to that dreadful playing-scared offense.  No, on second thought, let's not go back to it.  Let's never go back to it.
I never thought I would see a Trojan team that fit Rick Neuheisel's philosophy to a tee: "Punting is winning?"
But we saw that on Saturday, when USC's most valuable player in the second half was Kyle Negrete, the USC punter.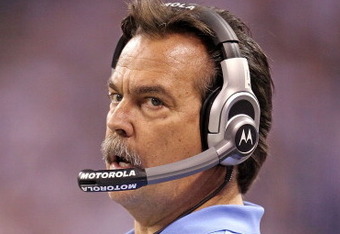 Andy Lyons/Getty Images
Of course, Negrete did not receive the game ball.  That probably went to the official who watched Torin Harris interfere with Da'Jon McKnight on the game-ending interception but did not throw a flag.
Also, I have no idea what happened to all this rotation that Kiffin announced last week.  He told the team he was going to use a lot of players.
"It's up to our backups to make sure they're ready to go and we have confidence in them," Kiffin said last week.  "Even if there's a step down from where they're playing - the whole point is that they're ready to go and the guy may be a little better that's first string, but if he's playing 70 plays, he can't (continue to) play."
Well, Chris Galippo played every down on defense, and only three true freshman got in the game: Marquise Lee at slot receiver, Andre Heidari, the place kicker, and Tre Madden on special teams.
While Minnesota used 55 players from their traveling squad, Kiffin only used 43 players at home.  But just like his playing-scared offense, Kiffin must be practicing his scholarship-reduction rotation.  I guess it's always good to look ahead and be prepared.
Speaking of looking ahead and being prepared, does Pat Haden have Jeff Fisher's cell phone number?  If not, he can get it from Kennedy Pola.