Why a New nWo Will Fail in the WWE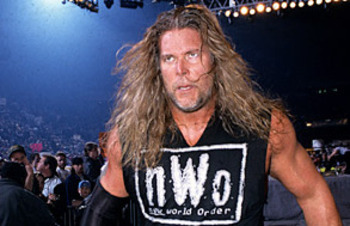 It's difficult to speculate such a move, but all signs are pointing to the reformation of the nWo.
Kevin Nash has returned, he has resented the company's management under COO Triple H and it looks as if he's in for the long run.
It even looks like he has two members lined up for his new faction in The Miz and R-Truth.
But whether creative will decide to venture into this angle or not, the revival of the nWo is destined to fail. Here's why...
Little to No Pop for Kevin Nash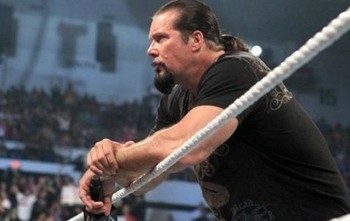 Do you hear that? Me neither.
If you have heard that question and that answer in the past three weeks, it's more than likely you were watching Kevin Nash come out to a weak reaction on Raw. Despite being a wrestling legend, Big Daddy Cool has failed to spark up the crowd, even with the revival of the nWo theme.
From a mark's standpoint, it was cool to see Nash return to SummerSlam. It was nice to see him deliver one of his jackknife powerbombs, but do we really want to see him do any other in-ring work? The man has been wrestling for 20 years. Does this 52-year-old have anything left? Probably not.
And from a child's standpoint, who is Kevin Nash? The kiddy demographic, which makes up for about 40 percent of the audience, has no idea who Diesel is.
Kevin Nash is no longer credible enough to spearhead a faction. Especially one that could be as big as this.
(By the way, I thought the company decided to indulge into its youth movement. I don't think giving a 52-year-old time and possible PPV matches would exactly do that.)
The nWo Has Already Run Its Course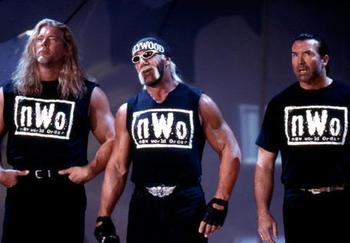 The nWo was perhaps the greatest faction in wrestling history. Notice how I said "was."
As much as we may love the idea of the group, its lifespan ended way back in WCW. It was alright when Vince brought it back for WrestleMania X8. Quite frankly, it was pretty interesting to see the nWo reform in McMahon's creation.
But as soon as they threw the black and white on Shawn Michaels, it was over. They couldn't have added a more nonsensical guy into that group.
The Heartbreak Kid in the nWo was a sign that this idea had been used more than a $2 prostitute on the corner of a Manhattan sidewalk.
The days of Hogan's air guitar, Nash's hand signs and Scott Hall's "Hey Yo's" are over. The nWo has run its course and it should be left alone.
Lack of Star Power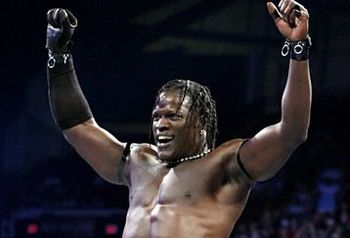 When the nWo was formed, it was formed under the star power of Hulk Hogan.
Unfortunately for the WWE, there is no one that can provide that for a potential revival. (The only guy capable of bringing star would be John Cena. But we all know Cena turning heel is as likely as a Hornswoggle title run.)
The most heavily rumored members of the new group are Kevin Nash, The Miz and R-Truth. As I said earlier, Nash is just a shell of his former self.
The Miz is a top heel, but his character wouldn't really fit into a group atmosphere. And lastly, Truth is Truth. The guy might be the most entertaining person in the company, but nobody has ever bought him as a huge threat.
Back in 1996, the nWo had Hogan, Nash and Hall. Hogan was the biggest thing in the business and the Outsiders, Hall and Nash, were viable stars at the time.
Don't get me wrong...I love Miz and I think R-Truth is great. But those two would work much better as a tag team rather than the second and third members to a potential nWo faction.
The Disappearance of the Nexus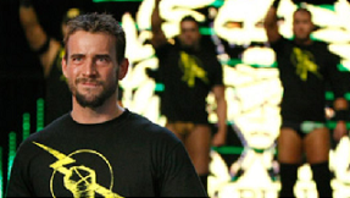 The creative team flashed some rare signs of brilliance when they formed Nexus. It was an incredible angle that made sense, had everybody watching and left the IWC with its thumbs up.
However, the Nexus suddenly disappeared as CM Punk transitioned into his "change" angle. Punk went on to do a great angle of his own, Otunga and McGillicutty formed a tag team and Mason Ryan went down with an injury.
We as fans were given no explanation to this group's dismemberment. None.
So how are we to believe creative can write for an nWo faction if they dropped the ball on a perfectly good storyline in Nexus?
They had their version of the nWo sitting at their fingertips. They used it well but just threw it away much too soon.
The writers couldn't handle the nWo when they had its original members. Can we trust them to make this one with the lack of main event-type talent in the company right now?
Keep Reading