Deion Branch: Still a Potent Weapon in New England Patriots Passing Game
September 5, 2011
Elsa/Getty Images
Cut weekend has, for the most part, come and gone in New England, and as is often the case, there were notable names among the players not worthy of a spot on the 53-man roster. Brandon Meriweather was the biggest one, while Brandon Tate and Sammy Morris were also surprising releases.
It's a good thing Deion Branch wasn't one of them.
Branch was never the subject of serious rumors predicting his release, but there were whiffs of suspicion. Some fans were alarmed by his zero-catch preseason. Then there was an article on Mike Reiss's Patriots blog at ESPN.com, asking readers to pick the most surprising potential cut between Meriweather, Leigh Bodden...and Branch.
Not exactly writings on the wall, but it called into question Branch's role on the team. He's now surrounded by receivers Wes Welker, Chad Ochocinco and Julian Edelman, and tight ends Rob Gronkowski and Aaron Hernandez among Tom Brady's targets. Is he still valuable?
The answer is yes. Even more so, he's vital.
The Branch of 2003, '04 and '05 is gone, but it's still reasonable to expect the Branch of 2010. That Branch is still perfect for this offense, and this offense is worse without him.
There are two major reasons. The first is his celebrated chemistry with Brady. The relationship the two have is uncanny. When the Patriots were winning Super Bowls in 2003 and '04, Branch was Brady's favorite target. When Branch returned last year, the two didn't even need a game to brush off the dust of the previous four years. It was old times again, and the Patriots thrived.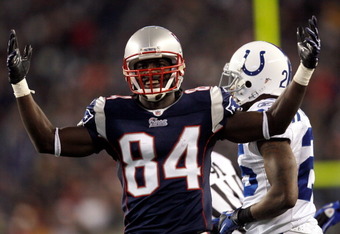 Jim Rogash/Getty Images
Branch brings a perfect formula to the table. He's still quick, albeit not as fast, and his hands are as reliable as anyone's on the team. His route-running is exceptional; Brady can throw the ball on a curl or cut without Branch even looking, knowing full well his target is going to turn in time to make the catch.
The Patriots could very well need that reliability in the passing game. Welker is the best slot receiver in the game, but his drops rose last year (his first action after his knee was shredded at Reliant Stadium). Ochocinco currently makes every ball thrown to him an adventure. Edelman is great after the catch, but the former college quarterback's hands are still a work in progress.
Even more important than the skill-set Branch brings to the field, however, is how he plays afterward. He is the team's best clutch receiver, a label most easily backed up by his historic MVP performance in Super Bowl XXXIX.
But he could have been the MVP of Super Bowl XXXVIII with a 10-catch, 143-yard effort, and he was sensational in the AFC Championship Game against Pittsburgh the next year with four catches for 116 yards and a touchdown—as well as a touchdown on the ground on a reverse. Even last year, often locked down by uber-corner Darrelle Revis, Branch still hauled in a pass for a touchdown in the closing minutes that kept New England's faint pulse alive.
He is the quintessential pressure player. He raises his game in every big matchup, and even more so when more is on the line. That doesn't fade. Players either have that ability, or they don't. Branch has it, and as long as he still has the talent to compete, he'll be at his best when he needs to be.
The Patriots are missing those kinds of players. Last year's team was another in the growing line of New England teams that are at their best from September to December, and then fade when the tougher teams assert themselves in January. The Patriots needed change. They need the players who fight harder when it's harder to fight.
Tough losses can grow those players. New England has plenty of players who may be at that level of competitiveness. But the Patriots also have one they know is already there. That has always been in Branch's DNA. When the team has needed him, he's been there.
And he's still there. The roster has been trimmed, and Deion Branch remains in Foxborough. It's the right decision. Come January, that decision will be looking even better.