Bargain Bin: Brandon Tate, Donnie Avery a Good Fit for the Minnesota Vikings
September 4, 2011
Dilip Vishwanat/Getty Images
After the NFL rosters were trimmed to the mandatory 53 man units, there were some interesting names left looking for new teams.
I am a firm believer in the saying one man's trash is another man's treasure.  It is very interesting to see some of the names that were left out in the cold, some with potential to add something to another team.
There is some concern with the Minnesota Vikings current group of receivers.  Sidney Rice is no longer there and has been replaced by Michael Jenkins who, at 6'4", can be a go-to guy or at least, a downfield threat.
No offense is meant to the talents of Percy Harvin, but his fragile status and smaller frame leave questions regarding his ability to be an effective No. 1 receiver.
Couple this with the uncertainty of Bernard Berrian's lackluster performances in the past two seasons and you can't help but wonder if the Minnesota Vikings receivers are capable of carrying the team.
Despite Adrian Peterson's immense talent, it is not possible to merely ride that horse all season long in the hopes that he and the ground game can compensate for the lack of production at receiver.
No, the season hasn't started and we still need to see if there will be any concerns with Harvin and Berrian at all, however, the preseason hasn't been overly impressive and both players have known attributes which make fans and coaches nervous.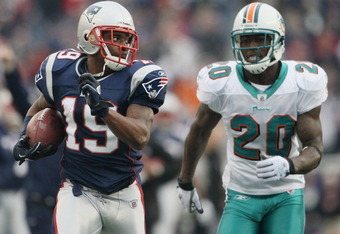 Elsa/Getty Images
Recently released wide receivers Brandon Tate of the New England Patriots and Donnie Avery of the St. Louis Rams are two guys that could suit the Vikings and play a major role in the offense.
These individuals possess the ability to make a difference on the field as they both bring something unique to the table, something that can't be said about backups Michael Jenkins and Greg Camarillo.
In the case for Tate, the speedster brings several things to the Vikings if he was to be signed.
Soon to be 24, Tate, who started 10 games for the Patriots last season, has the ability to blend into and learn any offense quickly.
Tate also has the experience and talent to be utilized as a kickoff return man and punt returner, which would take the burden off of Harvin and reduce his opportunities for injury.
Tate amassed over 1,000 yards and scored two touchdowns in the return role for New England, comparable to Harvin's statistics.
Tate also has the capability of serving as a slot receiver to give Donovan McNabb another option that has speed downfield.
There is upside and downside here, but I think Tate would be an interesting option to consider.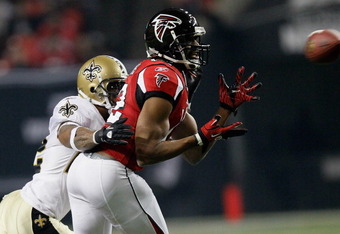 Kevin C. Cox/Getty Images
The other of the two newly available receivers is Donnie Avery.
This could make the most sense for Minnesota and they should pursue bringing him in for a tryout.
Although Avery is coming back from an ACL injury that caused him to miss the 2010 season, he has had a good camp.
He had rejoined the team that found itself chocked full of receiving options with Mike Sims-Walker, Danny Amendola, Brandon Gibson and Mark Clayton. Avery was the odd man out and it didn't help that offensive coordinator Josh McDaniels favors "bigger" receivers.
Avery's camp numbers weren't mind blowing, but he did manage six receptions for 91 yards and a score.
Avery stands at 5'11", the same as Harvin, and also has the ability to go deep and be a threat to defenses. 
In his two full NFL seasons with St. Louis, Avery recorded a respectable total of 1,263 yards with eight touchdowns.  That is more than can be said for Bernard Berrian who had a two-year total of 870 yards and only four scores with a much more talented team.
Donnie Avery would be a considerable addition to the Vikings as a third receiver, even a fourth, and he would bring better athleticism to the team than is provided by Camarillo.
With the season about to start, the Vikings have a golden opportunity to take a chance on either of these two receivers after week one, when if a player is signed, the team is not beholden to a salary guarantee.
The choice is up to the Vikings front office, but I would encourage them to see if there is something salvageable that they can use as an insurance policy for depth or in the event of an injury.
I would prefer Avery, but either player could help this team long term.