Cincinnati Bearcats Give Austin Peay More Than They Can Handle, Win 72-10
September 4, 2011
The Cincinnati Bearcats may have successfully garnished some much needed hype after Saturday's rout of the Austin Peay Governors.
The hype really ought to be tempered slightly however, because it was a home game against an FCS team that has lost its last nine games and has had only eighteen winning seasons in its entire existence.
What today did show however, is that the offense has numerous weapons at its disposal. From senior running back Isiah Pead to sophomore receiver Anthony McClung, Cincinnati quarterback Zach Collaros is surrounded with playmakers.
The night started off on the right foot, with freshman halfback Ralph David Abernathy IV (great grandson of Ralph David Abernathy, an associate of Dr. Martin Luther King Jr.) returning the opening kickoff 60 yards, and then on the next play from scrimmage, Isiah Pead rushed for a 40-yard touchdown.
Things only got worse for the Govs who could only watch as Pead scored another touchdown, and team captain Zach Collaros added four more scores in the first half alone.
If the Bearcats offense was very good, their defense was spectacular, causing five turnovers and giving up only 10 points to the Governors. Senior LB J.K. Schaffer had an interception, and nearly had two more that slipped right through his fingers.
For a team that finished -15 in turnover differential last season, it was uplifting to see the Bearcats D take the ball away five times.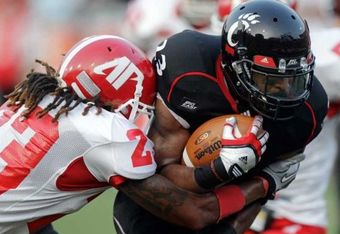 While the win was definitely convincing, Austin Peay isn't West Virginia, Tennessee or North Carolina State.
After the game, Zach Collaros admitted the offensive tempo wasn't quite yet where it needs to be, and head coach Butch Jones said that the kickoff coverage needed some definite improvement. It was also disappointing to see Schaffer let two perfect balls slip away from his grasp.
The team took a step in the right direction, but next week may certainly prove to throw a wrench into their season if the team isn't prepared.
The Bearcats will however still be playing with a chip on their shoulder after their 4-8 season last year. Let's see if they keep up their winning ways. This could be the year that Cincinnati gets back on top of the Big East, and into a BCS bowl game.