Week One Fantasy Duds: Who to Avoid Starting and Why
September 4, 2011
Jonathan Daniel/Getty Images
There are a lot of games that will have interesting outcomes in the NFL as week one unfolds and it will be interesting to see which teams live up to the hype and which ones disappoint.
In the world of fantasy football, outside of team defenses, it really comes down to the individual performances—not who wins or loses.
Here's a list of the top five fantasy players to be concerned about in week one.
5.  Ryan Grant/James Starks—Green Bay Packers, RB
This is a fantasy nightmare.  Depending on who you have, I would suggest you sit all Packers running backs in this game. Go with your other options at running back at all costs, as this matchup is fantasy suicide.
The Packers offensive line gave up 16 sacks this preseason and they only averaged around 72 yards rushing per game.  Although preseason means little in the regular season, it's an excellent gauge to get a sense of how prepared a team really is.
The Packers have big issues with their offensive line and I doubt they will be able to create good running lanes against the Saints defense. Green Bay should rely solely on the passing game in this matchup, which makes their running game very unattractive for this game.
Sam Greenwood/Getty Images
If I had either of these backs I would bench them for other players.
4.  David Garrard—Jacksonville Jaguars, QB
For those leagues where you have deeper rosters, if you are considering starting Garrard against the Tennessee Titans, think again.
Although there have been games where Garrard has manufactured some decent passing yards,  his averages against the Titans throughout his career don't impress.
Garrard averages 70 yards passing with one touchdown and one pick, and rushes for an average of 22 yards—based off a 15 game history.
With the current situation in Jacksonville, where there is no clear reliable receiver except Mercedes Lewis, there won't be many scoring chances through the air against a decent Titans defense. Keep him on the bench and look elsewhere for a quarterback.
3.  Louis Murphy, Jacoby Ford, Darrius Heyward-Bey—Oakland Raiders, WR
Against Denver, Murphy has not made much of an impact in any of their contests, as he has only amassed a total of seven receptions for 89 yards and zero touchdowns.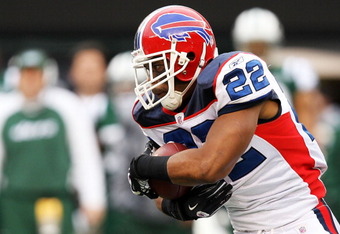 Michael Heiman/Getty Images
His other teammates, Ford and Heyward-Bey, have combined for only six receptions and 82 yards and zero touchdowns.
When Oakland plays Denver it's all about Darren McFadden, or whoever else they hand the ball off to, as the ground game is what scores against the Broncos.
If you have any of these players, sit them.  You won't be missing much.
2.  Fred Jackson—Buffalo Bills, RB
In three games against the Kansas City Chiefs, Jackson has averaged 73 yards per game with an average of 16 touches. 
Jackson has not scored a touchdown in any of the games against the Chiefs and with not much of a receiving corps in Buffalo there is only so much Ryan Fitzpatrick can do.
Jackson should see more opportunities to catch passes out of the backfield, but that will mostly fall on C.J. Spiller.  The Chiefs know the Bills will have to lean heavily on the run and they will make it difficult for Jackson and Spiller to impact this game.
If you have other options at running back, utilize them. Jackson should have a very average day.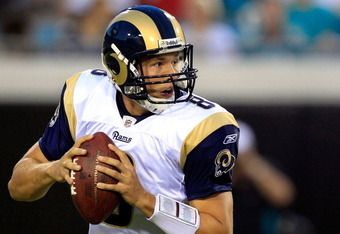 Sam Greenwood/Getty Images
1.  Sam Bradford—St. Louis Rams, QB
In 2010, Bradford showed us that he can play at a high level in the NFL, yet he didn't face many defenses as intimidating as the Philadelphia Eagles.
I'm not saying that I'm buying into the "dream team" hype, but with the ability the Eagles secondary has, coupled with Bradford's slightly above average receivers, this situation is too risky for me to start the young stud.
I would err on the side of caution and start my QB2, which most likely has a better matchup anyway.  Bradford could have a difficult time throwing against the Eagles and I wouldn't be surprised to see him start the season with three interceptions.
These are my top list of players that have a considerable risk factor for fantasy owners heading into week one. I would avoid them at all costs, since there are more attractive options across the board.
If you must start any of these players, do so with caution.