Manchester United: The Rise of United and England Defender Chris Smalling
October 1, 2016
Shaun Botterill/Getty Images
In Sir Alex Ferguson's first programme notes of the new season he told Manchester United supporters, "Don't fret about the transfer market." Talk of the arrival of Wesley Sneijder had dominated Old Trafford prior to the new season, but it is United's youthful look that has so far caught the headlines in the opening weeks of the Premier League.
The emergence of Danny Welbeck and Tom Cleverley in the United first team, as well as the shrewd purchases of David De Gea and Phi Jones have put a lot of fans at ease after bright starts to their United careers. It is not just the new signings which have caught the eye at old Trafford, it is also some of United's established players and in particular, Chris Smalling.
Smalling's excellent start to the season has already earned him his first full international cap for England and more honours look set to follow. Rafael's injury has given the 21-year-old his place in the team albeit in the unfamiliar role of right back, but he has taken the chance with both hands and so far earned rave reviews.
The defender has made the transition from centre back to right back look effortless after a number of accomplished performances. In United's first home match of the season, Smalling nullified the threat of Gareth Bale-who was last season described as 'the best player in the world' by none other than Fabio Capello.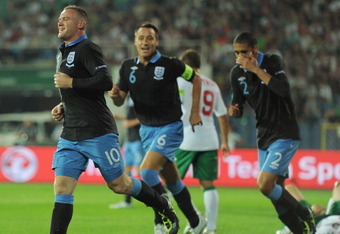 Michael Regan/Getty Images
The former Fulham defender has already earned comparisons with teammate Rio Ferdinand due to his pace, reading of the game and aerial ability. When Ferdinand finally departs Old Trafford, it looks as if Smalling will be his natural successor and on recent showings it seems his fellow Londoner may not be missed.
Many people raised their eyebrows back in January 2010 when Sir Alex Ferguson paid Fulham a hefty fee for a player who was playing for non-league side Maidstone a few months previously. The deal looks like a real coup for United now, especially after a mature performance on his England debut from the defender.
Whilst some players may wilt under the pressure on their international debut, Smalling looked at total ease in a performance which belied his tender years. It will be different on Tuesday however, as Gareth Bale will face him for the second time this season, but after his first showing against the Tottenham winger-he has nothing to be fearful for.
Not only can the defender take a great deal of confidence from his performance, he can also take away the fact that he is backed by Capello. Manchester City's Micah Richards was named in the squad and looked set to start but Smalling started ahead of the natural right back.
England's right back spot has become a problem position since Gary Neville left the England fold, but his ex teammate may just be the man to fill the role on a permanent basis. First choice right back Glen Johnson was absent for the clash in Sofia through injury and after Smalling's performance he may find it hard to get back in.
Johnson has always come in for a lot of criticism when he pulls on the England shirt even though he offers a lot of attacking options down the right. It is his defensive work which let him down at times, and with Smalling confident and adept at going forward and defending he may well face an uphill battle to win his shirt back.
Smalling himself described his first month of the season had gone 'like a dream,' but that dream may just continue for a long time yet.