International Football: Exciting New England Stars in Old English Setup?
September 2, 2011
Michael Regan/Getty Images
England: 3 - Bulgaria: 0.
Honestly, the score-line flattered England. That is not to say that Bulgaria were anything but embarrassingly banal and lacking ideas. Martin Petrov, predicted to be the show-stealer, failed to show up (even though he had Bulgaria's best chance in the second half). And Bulgaria's other "star name", Aston Villa's own Stiliyan Petrov, at best an average Premier League player, was inauspiciously a passenger as the game progressed.
In all fairness, England coach Fabio Capello stuck to his approach and inhibited—at least formation-wise—his apparent fetish for giving the conservative English "men of a certain age" what they wanted. He employed a traditional 4-4-2, with a big man and a poacher, as well as creative wingers with the central midfielders being less dynamic and serving a more deep-lying, static role.
Capello's team was laid out as such:
Defence: Chris Smalling (RB); Gary Cahill (CB); John Terry (CB); Ashley Cole (LB)
This defensive lineup, on the face of it, evokes a phrase that Capello used in the build-up to the game: "I will look to mix the team with experience and youth." The Italian said this after repeated queries regarding the makeup of his team as well as how Manchester United starlets, Smalling, Tom Cleverley and Phil Jones would figure in his starting lineup at the Vasil Levski Stadium.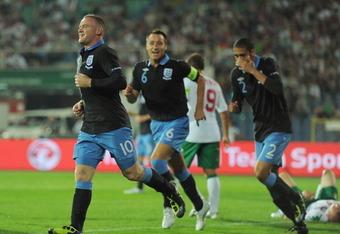 Michael Regan/Getty Images
Smalling is part of the newer and more technically adept England generation that plays to the Trevor Brooking and Gareth Southgate ideal. Smalling is a good passer of the ball. He is also a versatile player (he can play in the center and the right of defence) that is prone to the Beckenbauer-esque sweeping attacks that so endear him to the English media, and indeed, to the England fans.
In my opinion, Gary Cahill seemed like the typical, bullish, English center-back. These are the defenders with less pace, but an excellent reading of the game. They favour last man tackles and lump the ball up to the center-forward. They have little attacking expertise, save for a meager forward pass.
I thought about Cahill in this manner until he curled a Messi-esque shot into the top corner for Bolton against Swansea. Looking through his record, I realized that he has been extraordinarily prolific for a center-back, for club, and now, hopefully for country. I also realized that my assessment of him was wrong.
Capello's decision to partner him with Terry now seems to be a tactical masterstroke—or a tactical certainty. Their strengths collate perfectly, much the way Rio Ferdinand's and John Terry's did. It is also the same reason why the Puyol-Pique partnership works so well. In light of Ferdinand's precarious and injury-prone situation, Cahill-Terry seems to be the partnership to go with for Capello's England. They vindicated themselves with a goal as well as a tidy and sufficient defensive performance, which was more than enough to keep out a severely lacking Bulgaria side.
Midfield: Theo Walcott (Wing); Gareth Barry and Scott Parker (CM); Stewart Downing (Wing)
The midfield is again reminiscent of an old English line-up. Gareth Barry is 40 percent holding midfielder and 60 percent deep-lying distributor. Scott Parker is an all-action midfield dynamo given a remit to stay in a holding midfield role.
Both of them functioned as two in a double-pivot. They are basically interchangeable—one having much of the same skill set as the other. As the match progressed, it was clear that Parker was given the holding duties, while Barry distributed the ball to the attack and was allowed some creative freedom. This freedom was displayed when he assisted a goal in the game.
Downing had the more creative remit of the two wingers, putting in crosses for attacking players to bomb forward and take. Walcott had the same role that he has played at every club that he has ever been on—use his pace and average finishing ability as an inverted winger to convert on crosses and through balls.
Attack: Rooney (ST) and Ashley Young
One must give credit to Capello for playing Young from the start, but to be honest, fans were clamouring for his inclusion in the pre-match build-up.
And since Capello is definitely leaving the England job after the Euros, he seems to yield to pressure easily. Not only that, but a blind man and his dog could see that Young is an important player for England on the basis of his sterling performances for the club and country. Young played well, grabbing an assist and generally looking like the creative influence he was billed to be.
Wayne Rooney is England's best player. He always was, and still is. He was coming off a great game for Manchester United and he added to his tally with a great brace upfront. He was in a complete forward role, dropping deep and providing the areal threat and lethal movement up front. He was a mix of a Poacher, Target Man and a deep-lying trequartista.