Arsenal Better off in Long Run Without Bendtner and Nasri
September 2, 2011
Julian Finney/Getty Images
Some people just can't let things go.
But then, some people have good reason not to. The revenge motif makes for an engaging storyline.
The Count of Monte Cristo returning to exact justice upon those who wronged him; Maximus deposing the evil Emperor and avenging his family in Gladiator; or Justin Bieber's vociferous fan club marshaling their shocking strength in numbers against Selena Gomez for (GASP) breaking up with dear Bieber.
Hmm. Maybe forget that last one.
Samir Nasri and Nicklas Bendtner, on the other hand, don't have the strongest case to feel resentful.
Both have left Arsenal in recent weeks (Nasri transferred to Manchester City in mid-August and Bendtner was sent on a season-long loan to Sunderland on transfer deadline day) and both have delivered scathing parting shots at their one-time employer (Bendtner) and its fans (Nasri).
Nasri was furious over the treatment he received from Arsenal supporters during his protracted transfer affair this summer—the most well-documented incident a YouTube video before the Newcastle match on the opening day of the season, where traveling Gunner supporters started up a cheer that referred to Nasri with some rather derogatory terms.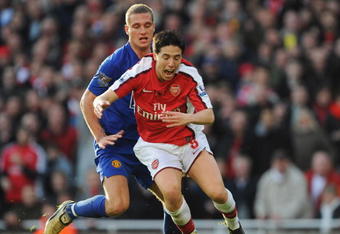 Shaun Botterill/Getty Images
I have always defended Nasri in the past, whether it was the bust-up with French teammate William Gallas at Euro 2008 or when the former Marseille man was left off Raymond Domenech's 23-man World Cup roster last summer.
Despite Domenech's infinite shortcomings, I'm beginning to think the would-be astrologist may have been on to something.
Nasri possesses a world of talent but his attitude leaves something to be desired.
He should know full well that if you spend an entire summer being linked furiously to moves away from Arsenal—dictated by your agents, no less—supporters of the club will not be pleased.
Remember Adebayor's belabored departure to those same Citizens in summer '09? It was the same thing. A player wanted a move away and got vilified for it. That's the nature of the game.
Yet those same jeering Arsenal fans supported Nasri when he made his only regular season appearance in a 2-0 loss to Liverpool at the Emirates two weekends ago.
They were ready to support him if he showed the proper comportment and commitment to the club.
All would have been forgotten when he began scoring goals, a la Wayne Rooney's contract dispute with United a season ago. All water under the bridge now.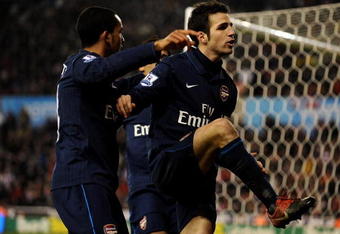 Laurence Griffiths/Getty Images
But Nasri made no amends. Mere days after that loss, Nasri finally got his wish to move away from North London, electing a much more lucrative contract in Manchester.
If you're an Arsenal fan, it would have been difficult not to feel a burning desire to heap vitriol upon Nasri after reading about how those events transpired.
For the Frenchman to vehemently chastise Arsenal supporters mere hours after leaving the club was petty, childish and classless.
Compare Nasri's saga with one Cesc Fabregas.
Fabregas was a model citizen as an Arsenal player for eight years, serving as team captain for three and a half before finally making a move to Barcelona this August.
He elected to leave with dignity and respect, electing to praise Arsenal for everything it had done for him since he'd arrived as a teen from Catalunya, honoring the fans for the sensational support they had given him.
Needless to say there has been an outpouring of respect from Arsenal supporters wishing Fabregas well in his new endeavor.
They recognize that that is the proper way to go about leaving a club.
To a larger extent, these two drastically different approaches tell you all you need to know about those two players.
Now, onto Nicklas Bendtner.
Oh, how I loved writing about that tall Dane who used not hair gel to coiff his stylish 'do, but confidence. It literally seeped from him.
You might have called it arrogance, actually, his self-belief brushed so close against delusion.
Bendtner, in a similar vein to Nasri, appeared in an ESPN Soccernet story today. Only he said that he "will never go back to Arsenal."
Funny enough, should Sunderland decline Bendtner's option following this season, he will, in fact, have to go right back to the Emirates.
My my, won't that be an interesting predicament for the man who never met a press conference he didn't like.
"Uh...hi guys. I'm back? Did-ja miss me?"
I've always felt that Bendtner was far more preoccupied with furthering his own career, as opposed to furthering Arsenal's prospects.
He is supremely confident—almost to a fault—letting everyone know that he believes himself to be one of the top strikers in the world.
The statistics don't support that claim.
Though he scored a couple of crucial goals for Arsenal during his tenure with the club, sprinkled in with some marvelous displays of skill, he was nowhere near as consistent as Robin van Persie, who simply will not stop scoring in 2011.
Advantage RvP for the central striker position.
To be fair, Bendtner never did get a fair shake with Arsenal, often being shunted out to an unfamiliar position on the wing when he came on as a substitute late last season.
He had every right to look elsewhere. What he didn't need to do, however, was fire a parting shot on his way out.
It's not like Arsene Wenger had forced him to accept those exorbitant weekly wages. Sure, every player wants to start. But the fact remains that every player can't. That's life.
If you find a situation at a certain club untenable, you up and move to another. 
Nowhere in this press release did Bendtner mention a "thank you" to Wenger for discovering him as a teen and giving him his big break with a top four side in England.
So, without further ado, we bid you adieu. Take your money and go, Mr. Bendtner. Join Mr. Nasri on the way out.
Going forward, Arsenal will be better off without these two. Players should show a commitment to the club, instead of using it up like a mere launching pad.
Arsenal should be above that. They've been too successful not to.
That's one reason I'm excited to see youngsters within the side like Emmanuel Frimpong and Jack Wilshere show a sense of pride toward wearing the Arsenal shirt.
It's refreshing to see that kind of commitment these days.
I wish I were big enough to wish those two well in their future prospects.
But I'm far too busy composing antagonistic cheers to be used against them down the road to commit to that sort of character-building exercise.