San Francisco Giants: With a Void in Leadership, Enter Pat Burrell
September 1, 2011
Jed Jacobsohn/Getty Images
When Buster Posey was lost for the season, the San Francisco Giants lost more than their catcher and cleanup hitter. They lost their team captain, a leader who, through quiet confidence, inspired his teammates to achieve more than was thought possible by a "Band of Misfits".
When Freddy Sanchez, another veteran position player who was integral in last year's postseason run, suffered a separated shoulder on a dive for a grounder, ending his season prematurely, the presence of any semblance of leadership on this club took another body blow.
Aubrey Huff, San Francisco's home run and RBI leader from 2010, whose story of winning for the first time in his decade-long MLB career became famous down the stretch, has not led, primarily because he has not led on the field.
Huff has been one of the biggest disappointments for the defending world champions, seeing a 47-point drop in his batting average, an 84-point drop in his on-base percentage, and a 131-point drop in his slugging percentage from 2010.
The Giants have been in desperate need of leadership on the field, but not from their pitchers. The pitchers, especially Tim Lincecum and Matt Cain, have continued to be dominant on the field, and good teammates despite the unacceptable lack of run support they've been given in 2011.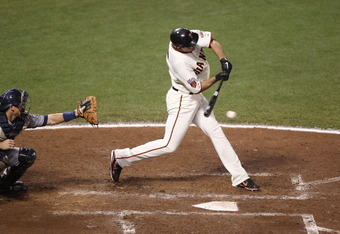 Jed Jacobsohn/Getty Images
But they aren't out there between the foul lines every day, and can't take the reins for this team to move it in a different direction on a daily basis.
If the Giants want to play baseball this October and defend their World Series title, they need authentic leadership, and they need it yesterday.
Enter Pat Burrell.
The 11-year veteran, who hit 18 home runs in 96 games for the Giants last season, was activated off the disabled list Wednesday, and if you read between the lines, it appears that he is stepping in to fill the leadership void on this team.
"The hunger is still there. The drive is still there. It'll be an up and down deal, but the alternative isn't acceptable."
That's what Burrell said in response to questions about his chronic right foot injury, which, if he plays out September in left field (as Bruce Bochy has hinted he will), could lead to his retirement at season's end, according to Giants beat writer Andrew Baggarly's report.
Hunger and drive. Two words that we've heard a lot in media discussions about what the Giants need. Two words that we're finally hearing from someone wearing a Giants uniform.
What does Pat Burrell think about the upcoming make-or-break series with Arizona?
"I think this team responds better when all the chips are out on the table. There's no secret, these guys are coming in and they've proven they deserve to be where they're at. And we've slipped, no doubt about it. But it isn't over. We're going to fight this thing out."
Bruce Bochy apparently recognizes the need for Burrell to take the lead. In talking about his veteran, he said "He's such a positive influence. He's a winner. We saw last year when we acquired him. When he went down, we lost some power and lost some presence there".
Pat Burrell is now the man. The Giants will look to him for veteran leadership when everywhere they've turned so far there's been none.
The clock has run out for the defending world champions. Their time is either now or never in 2011.