Liverpool FC: How Well Has Kenny Dalglish Done to Get Rid of the Deadwood?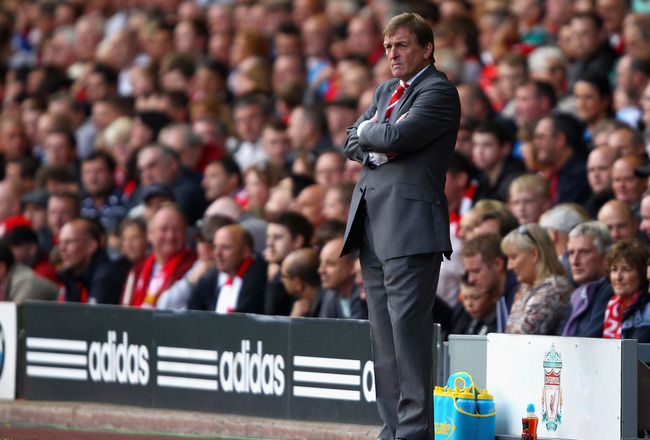 Clive Brunskill/Getty Images
Well, to say it's been an active transfer market for Liverpool and manager Kenny Dalglish is a bit of an understatement.
With seven new players brought in, and a lot more being shifted out, Dalglish finally has a squad of 25 or so trusted players to utilize for the 2011-12 Premier League season.
We already know some of the big names that have come and gone this season, with Jordan Henderson, Stewart Downing and Charlie Adam impressing for Liverpool already.
But what do those players have left for the Reds this season? Is it finally the end of the Hodgson era, and has Dalglish made the right moves in the transfer market?
Paul Konchesky to Leicester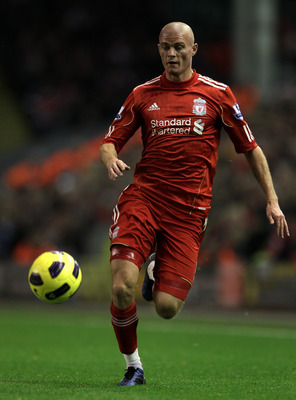 Alex Livesey/Getty Images
Paul Konchesky was perhaps the most hated man in a Liverpool shirt when he joined last year for £3m. He is a product from Roy Hodgson, and is seen as the player that symbolises everything that was wrong with Hodgson's reign. Konchesky never really had a chance. As a player the best thing pundits could say about him was that he was a stable 6/10 player every game of the season.
Unfortunately for Liverpool, a team challenging for top four finish, a 6/10 performance was never going to be good enough, and Konchesky was the first player Dalglish got rid of.
GRADE: A
Honestly there isn't a Liverpool fan out there who can give a good reason why Konchesky should have stayed.
Milan Jovanovic to Anderlecht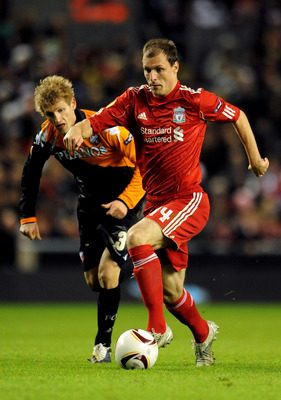 Clint Hughes/Getty Images
Unfortunately for Milan Jovanovic, he was a Rafa Benitez player who didn't arrive until after Roy Hodgson was made the new Liverpool manager. He was seemingly never in the plans for either Hodgson or Dalglish during his torrid time at Liverpool.
The striker arrived from Standard Liege with a good reputation behind him, but during the one season he was a Liverpool player, he failed to make a big impact—18 appearances across all competitions and 2 goals. It wasn't enough, and due to the fact that he is 30-years-old, Liverpool perhaps conceded that he just didn't have a long term future at the club.
GRADE: C
It was a shame to allow him to leave on a free, but the wages that the player was on probably meant there was no other choice.
Sotirios Kyrgiakos to Wolfsburg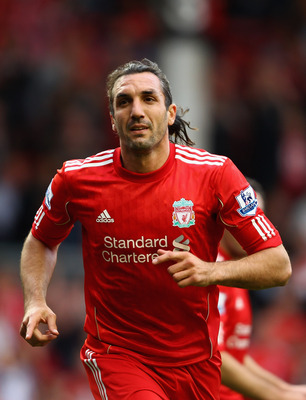 Clive Brunskill/Getty Images
The big Greek defender who towers over most players and fumbles around in his own penalty box has finally moved on to another club. And it seems Wolfsburg will now be the victim of his incompetence.
With the defender moving for an undisclosed fee, which is probably nothing at all, the main priority here may have just been to move the defender onwards and make room for new players coming into Liverpool.
During his time as a Liverpool player, Kyrgiakos managed to make 49 appearances. This was enough to trigger a contract extension that Liverpool probably didn't want to give him considering the amount of mistakes and penalties he cost the team during his playing time as a Red.
GRADE: A
It's a good thing that Kyrgiakos has left Liverpool, particularly now that we have a replacement player in Sebastian Coates
Joe Cole and Alberto Aquilani on Loan Deals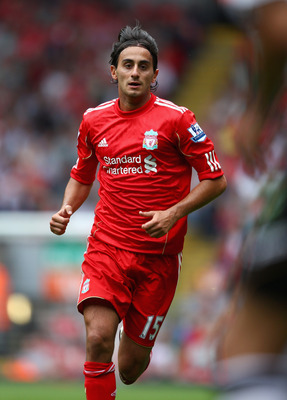 Clive Brunskill/Getty Images
Joe Cole is going to French side Lille, and Alberto Aquilani is heading off to AC Milan for an initial £7m with an option to buy. Liverpool has managed to shift two players that were on the periphery of the first team squad, and whilst they both had something to offer the squad, they were deemed surplus to requirements at Liverpool.
Many will feel Liverpool should have kept Aquilani to offer attacking options in the midfield—in that trequartista role he plays. But with that space occupied by Steven Gerrard, and now possibly even Jordan Henderson, you can see why Dalglish doesn't necessarily need Aquilani. AC Milan on the other hand have got an experienced and clever Italian which will bolster their squad greatly and give Aquilani a chance to continue impressing for the national team.
With Cole it may have just been a case that the reported £90,000 a week wages he was on was just too much for a reserve player, especially since he hasn't even made the bench so far this season. Lille however have got an experienced player with Champions League games under his belt that could come in handy for them this year. And they're doing the club a favour by paying 40% of his ludicrous wages.
GRADE: B
Both still had something to offer the club, particularly Aquilani who many fans will feel could have stayed at the club and provided greater attacking options. Cole, on the other hand, man will be glad to see the back of.
Christian Poulsen and Emiliano Insua on Free Transfers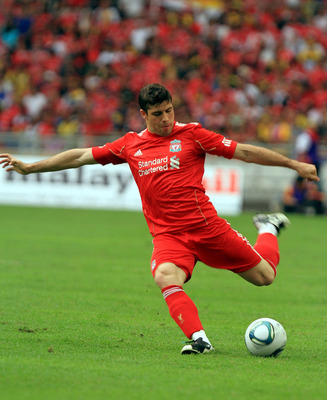 Stanley Chou/Getty Images
With one left-back coming in, Liverpool have released Emiliano Insua to Sporting Lisbon and, at the same time, inflicted Christian Poulsen on Ligue 1 newcomers Evian.
Both players have had a pretty torrid time at Liverpool. Insua looked at of his depth every time he wore the Red shirt, and Poulsen was several yards short of pace for the Premier League and was unable to adapt.
Out of the two players who've left the club, Insua is perhaps the more valuable. To see him leave on a free is a wasted opportunity, especially when he could have been good cover for Jose Enrique if injury or suspensions hit. Poulsen, on the other hand, is another Roy Hodgson player Dalglish couldn't wait to get rid of and, by doing so, hes lifted £60,000 a week from the wage budget. So well done Kenny.
GRADE: A
Both needed to go just for the sake of Liverpool's wage budget if anything else.
David N'Gog to Bolton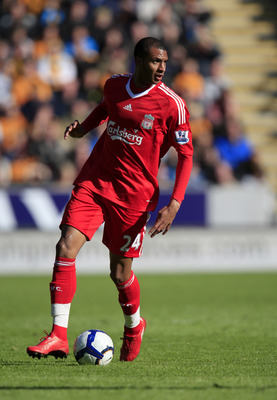 Jed Leicester/Getty Images
In a deal worth £4m Liverpool have lost a sensational talent in young star David N'Gog, and may find it very difficult to cope without him.
No, but seriously there's a reason why he's been branded "David NoGoals." A striker with a bit of height, no pace and no strength, it makes you wonder why he thought playing football would be a good career choice.
Make no mistake, Liverpool have done very well to get £4m for N'Gog, who was one of the last few pieces of deadwood Liverpool had to get rid of in order to improve the squad. He may surprise us all and turn out to be a very good player for new club Bolton, but like many other Liverpool fans, I won't be holding my breath.
GRADE: B
He wasn't a good player at all, but maybe at Bolton he can prove Liverpool wrong and make us look like fools...maybe.
Raul Meireles to Chelsea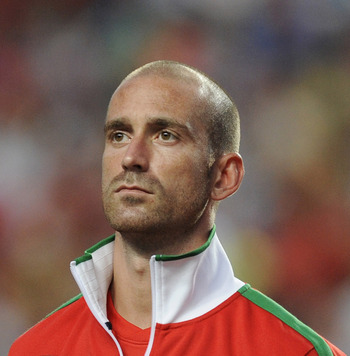 Denis Doyle/Getty Images
This is one of the few surprising transfers out of Liverpool which has fan opinion split, particularly last season when he became such a great hit with Liverpool supporters thanks to impressive displays under Dalglish.
All summer there has been murmurings about whether Meireles will be leaving the club, with rumoured contract disagreements being the root cause of Meireles wanting out of Liverpool. If you're getting paid less than other players who do the same job, you'll want more money or want to find a way out.
The transfer is particularly hurtful to fans though because of the fact he handed in a transfer request so close to the deadline and moved to Chelsea in a £12m move. Comparisons to the Fernando Torres transfer last January have been made, but that turned out to be good business in the end.
At 28-years-old, Meireles was given a four-year contract by his new club, something he certainly wouldn't have received at Liverpool. Then when you consider that he wasn't really doing enough to get a first team starting place and also the face that Liverpool have Steven Gerrard coming back into the squad, it makes Liverpool's decision to sell the player all the more clearer.
However that doesn't stop it from hurting the fans.
GRADE: D
He was a fan favorite and gave Liverpool some added depth to the bench, which they now lack.
So Overall how has Dalglish Done?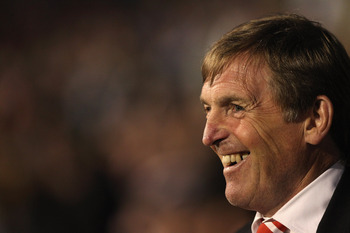 Scott Heavey/Getty Images
It's been a very productive transfer window for Liverpool, with over a £100m spent on improving the first team squad and clearing out all players who weren't good enough or had no future at the club. All of the player's from the Roy Hodgson Era have gone (except Goalkeeper Brad Jones), and now Kenny Dalglish has a solid squad of 25 or so players that are his. He'll utilize them to the best of their abilities.
The best thing about this transfer window, however, is perhaps a return to the "Liverpool Way": carrying out business quickly and efficiently, getting rid of players who don't want to play for Liverpool or who aren't good enough, and at the same time buying in players the team needs swiftly and without fuss.
Liverpool's rebuilding is complete, and now it is up to the manager and the players to come together and achieve all that is expected—mainly a return to the Champions League after a two year absence and hopefully a future push for the League title.
Keep Reading

Liverpool: Like this team?