Miami Dolphins: Perspective on Gator Day and the Offensive Line
September 1, 2011
Nick Laham/Getty Images
During the Tampa Bay Buccaneers preseason game last Saturday night, the Miami Dolphins announced they will be having a Gator Day on October 23 to honor the 2008 National Champion Florida Gators football team.
The backlash from this announcement has reached far and wide.
Honestly, I do not really understand what the big deal is.
Who cares that it is technically being held on the Miami Hurricanes home field? The Dolphins own the stadium so they can do whatever they want with it. If the Hurricanes have a problem with it then they should have accepted the Dolphins' offer to honor the Hurricanes' National Championship.
Just to make the record clear, I am not a Florida graduate. I went to the University of South Carolina, so in reality, I actually strongly dislike the Gators.
What makes Gator Day odd is that the Dolphins' opponent on that day is former Florida superstar Tim Tebow, who now plays for the Denver Broncos. It is odd to honor your opponent when you are trying to beat him, but who cares? It is not like Tebow is even going to be on the field playing. People also fail to mention that the Dolphins' starting center, Mike Pouncey, was on that Florida team too.
If you Dolphins fans would go out and actually buy some tickets then maybe the team would not have to do things like this (I had my tickets for this game already purchased before the announcement). With the new CBA, individual teams get to keep nearly all of "local market" revenues. This means jerseys, apparel, concessions, and ticket sales. If you were running a business, would you not want to maximize what will make you the most money?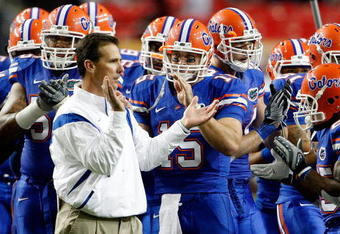 Kevin C. Cox/Getty Images
Yes, I know the economy is bad, and it is expensive to go to a game. But it is like that everywhere!
"I do not want to spend so much money to see a mediocre product;" if someone says that to you, then call them a bandwagon fan and walk away. For fans who love the team, going to see the Dolphins play is all the motivation needed to buy tickets.
That bandwagon attitude is the exact reason why the Dolphins are doing this Gator Day. Since some of you fans will not come to the games because you are worried that the team will stink (which it won't), the Dolphins have to find ways to get you into the stadium.
Now onto the offensive line...
I wrote before that Brian Waters could really help this team. Even though Coach Tony Sparano has been claiming that the OL is just fine, I still think a move will be made.
Luckily, Sparano does not have the final say in personnel moves. Jeff Ireland is the GM, and therefore, he has the final say.
Due to CBA rules, the Dolphins will probably not bring in a veteran like Waters until after the season starts because then the contract will not be guaranteed.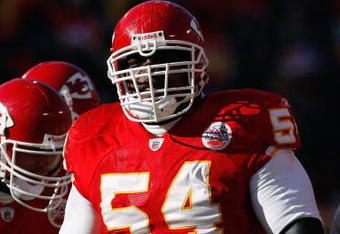 Jamie Squire/Getty Images
Bringing in Waters would push Vernon Carey back out to RT. Carey is actually one of the better tackles in the NFL. Since 2008, Carey ranks No. 12 in the NFL among tackles in pass blocking efficiency. LT Jake Long ranks No. 2 in that category, and Marc Colombo ranked as the fifth worst tackle during this period.
The Dolphins current LG, Richie Incognito, is ranked as the No. 11 guard in the NFL in pass blocking efficiency since 2008. Waters is the No. 2 best guard during that time.
Factor in rookie Mike Pouncey, and that is one formidable pass blocking OL.
But what about the running game you ask?
Well the best running games have two guards and a center that can get out and pull in order to get to the second level. Incognito is not a strong puller, but Waters is known as one of the best pullers in the game.
Pouncey is extremely athletic and has already looked strong as a puller.
Carey is a liability if he remains at RG because he cannot pull and is too slow to get to the second level.
As much as Sparano does not want to admit it, I would feel much more comfortable with an OL that was made up of Long-Incognito-Pouncey-Waters-Carey.
In conclusion, everyone needs to just calm down about the Gator Day and the OL. There is still time to fix the OL.
As for the Gator Day, it is a silly ceremony that will take up halftime. So if you have a problem with it, just go to the concourse during halftime, grab a beer, and watch some of the other NFL games. Then come back after and cheer on the Dolphins because that is all that really matters.
(All stats were courtesy of Pro Football Focus).