Who Will End the Undertaker's WrestleMania Streak?
September 1, 2011
Is it too early to start talking WrestleMania?  The Rock and John Cena don't think so.
In what has been a simple, but clever, angle, Undertaker has run his undefeated streak at the WWE's premier pay-per-view to 19-0.  During this stretch of dominance, we've seen Taker have an excellent match with Randy Orton, two gems with Triple H, exciting battles with Edge and Batista and, of course, two all-time classics with Shawn Michaels. 
What now?
The Undertaker's career is coming to a close.  He isn't all that old by wrestling standards, but is wearing down.  While he could pull a Ric Flair and perform at a subpar level until he needs a wheelchair, I think we'd all rather see him go the route of HBK, a spectacular ending to a spectacular career.
WrestleMania has in the past few years been the place to make such an exit into the sunset.
Tying in the end of his streak to the end of his career seems like a logical conclusion.  But the problem here is that there may not be someone on his level left to send him off. 
Ric Flair had his "last" match with Shawn Michaels.  What they did in the ring was art, just a riveting, well-worked and emotional bout.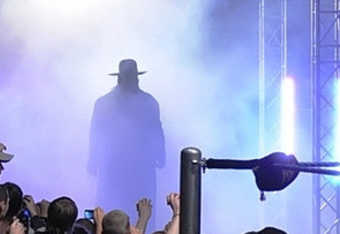 Shawn Michaels had the Undertaker to send him off right.  Much has been said about their second consecutive masterpiece.  Was it better than WrestleMania 25?  I don't think it matters.  It was a classic match featuring another icon. 
We can't have just anyone breaking the 19-0 streak and ending Undertaker's career.  That means absolutely no Mark Henry.  There are rumors of this being a possibility.  Did we forget the clunker of a casket match they had at WrestleMania 22? 
Who should it be then?  Let's break down some potential candidates and mull it over. 
Randy Orton
I just heard a collective groan.  There are a number of fans tired and bored of the Viper.  He is overexposed and his finisher is a cheap knockoff of the Stone Cold Stunner.  Still, I think their match at WrestleMania 21 was, at times, thrilling.  I do have my doubts that Orton could live up to the hype here.  The all-time greats feed off the moment.  Randy Orton is inconsistent. 
Verdict: Probably who the WWE would choose, a decision that wouldn't please the majority of fans.
Stone Cold Steve Austin
A pipe dream, I admit.  Austin and Undertaker had some amazing matches in the past.  And Austin has the star power and ring presence to match Undertaker's.  Problem is, his injured knees and neck would force us to watch a cheap imitation of the Texas Rattlesnake. 
Verdict: Unlikely. 
Punk is the biggest thing WWE has going right now.  He's got everyone's eyes on him now and may be the future of the company.  This match could be a passing-of-the-torch moment.  Punk does his best work in big matches and none would be bigger than this one. 
Punk has just pulled off two consecutive great matches with John Cena of all people.  Cena will be busy with the Rock, so who knows what they'll do with Punk at WrestleMania.  The WWE bookers may have something in mind for Punk other than Undertaker—something on a bigger, long-term scale.  I'm fine with that if it's done right. 
Verdict:  A potential classic if Punk is not entrenched in another angle.  
Rey Mysterio
Mysterio is beloved by fans, gets a big reaction and has great chemistry with the Undertaker.
The only thing is, no one would believe for a second that after all these battles and after all these years, that such a little dude with no cartilage in his knees would be the one to finally beat the Phenom.
I do have an idea where he could be involved however, just a bit later in this article.
Verdict: A potentially great match, but not believable.
Kane and the Undertaker have more than their share of bad blood.  There are a lot of angles to work with here too.  Problem is, even when Kane wasn't at the tail end of his career, he was never at Undertaker's level.  Don't get me wrong, a lot of their matches have been good.  But we won't be seeing any Match of the Year winner if the Undertaker's brother is the one to end his streak.
Verdict:  Another idea the WWE will probably lean towards much to our disappointment.  
No One
What if he doesn't lose?  What if the match is set up as a career-ending match and everyone expects the Undertaker to lose and he ends up going 20-0 and walking into the darkness on top? 
If we can't find someone big enough to send the Undertaker off in a way befitting a legend, then perhaps this is the only viable option.
One possibility would be to book the match at WrestleMania against Orton.  After a long-fought battle, the Undertaker crashes Orton's head on the mat with a tombstone and comes away the victor.  As the crowd is roaring and the announcers are talking about how 20-0 is the single greatest streak in sports history, Rey Mysterio's music comes on.    
Enter Rey Mysterio.  Pre-WrestleMania, tensions between the two have been building.  Mysterio challenges the Dead Man who surprisingly accepts. 
Mysterio looks like he's going to win several times.  Two counts galore.  But the Undertaker will not lose.  He does his creepy sitting back from the dead bit and to the delight of the crowd delivers a thunderous Last Ride for the win.
The lights go red.
Kane stomps his way to the ring and demands to fight his brother.
Why?  A flimsy story of sibling rivalry or something could be thrown together.  I don't think it matters so much.  The crowd will think: this is it, this is when the Undertaker goes down.
A third match ensues.  Somehow Undertaker manages to outlast his brother and win once again. 
The Undertaker's music comes on and he slowly makes his way backstage as the crowd chants his name, a fitting sendoff for sure.   
Verdict:  Too much?  Probably.  But if we can't find one guy to fill this role, then maybe three of them can.  Plus, the chances of a great match happening are tripled.  One of them is bound to stick.