Chiefs vs. Packers: 5 Packers Situations to Watch for in Preseason Week 4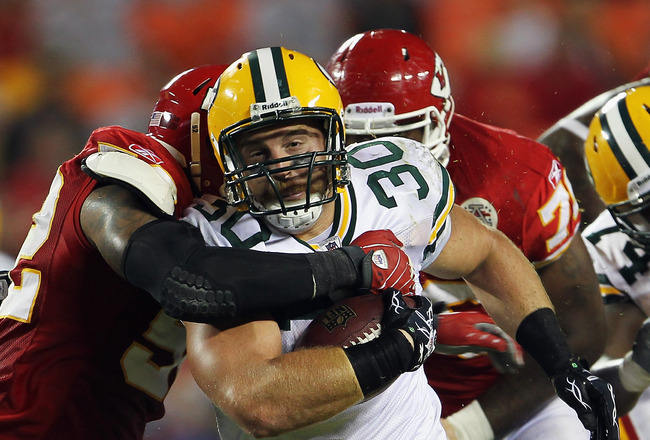 Jamie Squire/Getty Images
The Green Bay Packers will play host to the Kansas City Chiefs tonight in their preseason finale exactly a week before their season opener on Sept. 8.
Most of the Packers starters are expected to play, but for a very limited time. It would be surprising to see Aaron Rodgers and Co. go more than two series. This game should feature plenty of time for the backups to develop and offer a final showing before the rosters are cut down to 53 on Sept. 3.
Here are some things to look for as you watch the game.
1. Offensive Line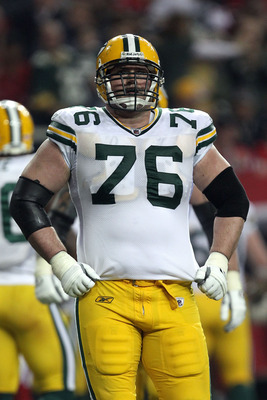 Streeter Lecka/Getty Images
Much has been made of the struggles the Packers' No. 1 offensive line has had thus far in preseason. In their limited amount of action tonight, they must protect Rodgers and not give up a sack.
The goal for the starting offensive line has to be keeping Rodgers completely upright for a nice long drive and then finding a nice spot on the sidelines to watch the backups play. If they cannot protect Rodgers, the Packers could be in trouble against a good Saints team next week and going into the future.
Last season, Josh Sitton gave up two sacks the entire year. In the three preseason games this season, he has already matched that number. Chad Clifton struggled mightily against the Colts and will look to bounce back going into Week 1.
The backups should see their most extensive action of the preseason. The battle between Ray Dominguez and Caleb Schlauderaff has come down to the wire and both will be looking to make strong closing arguments against the Chiefs.
2. Chastin West vs. Tori Gurley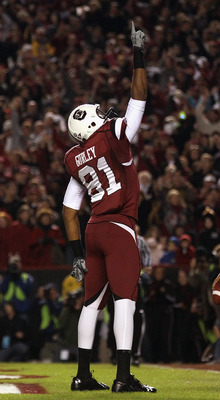 Streeter Lecka/Getty Images
Going into the last days before cuts, the battle for a roster spot that may not exist is in full swing between Chastin West and Tori Gurley. The two players each have a legitimate shot to make the roster, but the Packers may decided to stick with their top five at the position.
It is unlikely West will make it back to the practice squad after his eye-opening performance against the Arizona Cardinals. Gurley has a better shot to clear waivers, but there is no guarantee there.
The Packers have some tough decisions at the tight end position and the depth there could have an effect on the wide receiver position. If they decide to keep all five tight ends, they may stick with five wide receivers instead of adding a sixth.
With Greg Jennings and Donald Driver on the injury report, it is unlikely they see the field for more than a possession, if at all. This should provide West and Gurley with plenty of opportunities to prove their worth both on offense and special teams.
3. Defensive Line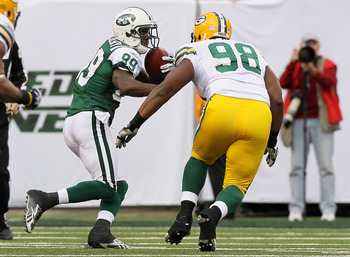 Jim McIsaac/Getty Images
The shallow depth on the defensive line is something to watch again this week. Mike Neal will be out of the lineup once again, but the Packers should get C.J. Wilson back from the concussion he suffered against the Cardinals.
Wilson and Jarius Wynn will need to show they can fill in if Neal cannot be ready in time for the Saints. If the Packers do not feel comfortable with them and others on the defensive line behind Mike Neal, B.J. Raji, Ryan Pickett and Howard Green, they may play the waiver wire and look for a quality lineman that is cut.
The Chiefs are expected to play their starters more than a few possessions as they have struggled during the preseason. This would mean that Wilson and Wynn should each see some snaps against Kansas City's starting offensive line.
4. Vic So'oto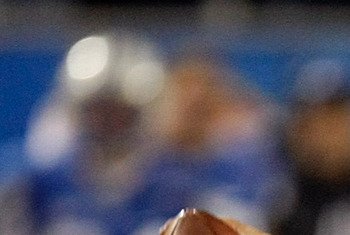 Ethan Miller/Getty Images
The injury to Frank Zombo has put the Packers in a familiar position: They must decide whether to carry Zombo on the roster as dead weight or replace him with another player.
One player that may benefit from the latter would be the undrafted linebacker out of BYU, Vic So'oto (No. 37 at left). But even if Zombo remains, So'oto has a good chance to beat out Brad Jones and Cardia Jackson.
So'oto impressed last week against the Colts with a sack and quality play during his time on the field (forcing what was initially ruled as fumble, that was reversed after a challenge). Regardless, it was still an impressive play as he chased down the running back from behind and punched the ball out.
So'oto has had an extremely productive training camp and his excellent play in practice has translated fairly well to the games. With another solid performance, So'oto should have his roster spot cemented. He looks to be another gem found by Ted Thompson.
5. Play-Calling: Pass vs. Run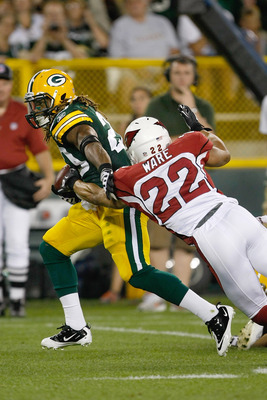 Scott Boehm/Getty Images
So far in the preseason, the Packers have heavily favored throwing the ball over running the ball. This may change in the preseason finale as Mike McCarthy will let offensive coordinator Joe Philbin call the plays.
By throwing the majority of the time, McCarthy has attempted to get the most value out of preseason snaps for his pass-heavy offense.
"Joe's calling the plays, and the guys are on him already about not running the ball," McCarthy said according to Packers beat writerJason Wilde. "I hope he doesn't try to break a record throwing it. We've thrown it enough this preseason so we're hoping to get our run totals up. You'd never know he coached the offensive line, that's for sure."
This should be great news for rookie Alex Green, as he has struggled in his limited amount of carries so far. He should have an opportunity to get out and get a rhythm going if the Packers do as McCarthy wishes in getting the run totals up.
Keep Reading

Green Bay Packers: Like this team?