Tennessee Volunteers Opening Day Preview vs. Montana
September 1, 2011
Streeter Lecka/Getty Images
UT Football Preview: Montana Season Opener
It's football time in Tennessee! And as fans anxiously wait to see what the boys in orange and white have in store for the 2011-12 season, there are still many questions to be answered for the Tennessee Volunteers.
Derek Dooley enters his second season as UT's head coach. And after going 6-6 during the regular season, followed by a disappointing Music City Bowl loss to UNC, UT fans will continue to raise expectations for a team that has been in the rebuilding stages for the past few seasons.
Much of the expectations will be created by the hype surrounding sophomore QB Tyler Bray.
As a true freshman, Bray started in UT's final five games, throwing for 1,849 yards and 18 TDs.  With Bray at the helm, UT went 4-0 in the final four games before a controversial Music City Bowl loss to UNC. Many UT fans are hoping Bray has the right mindset to deal with the pressure of facing some of the SEC elite as a sophomore.
"I just needed to relax and go back to the way we were playing last year," Bray said. "I was just rushing myself and trying to make things happen too fast instead of just relaxing and trusting my line. I've got all the trust in the world but I just try to overthink and rush through. Last year the expectations weren't that high and this year they are so I've kind of forced myself to do things I normally wouldn't do."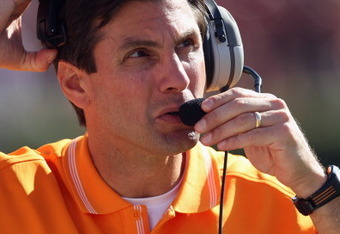 Streeter Lecka/Getty Images
Da'Rick Rogers and Justin Hunter are also entering their sophomore seasons with high expectations. Despite sharing the field with two senior and soon-to-be NFL WRs in Gerald Jones and Denarius Moore, Rogers and Hunter showed the potential many recruiting experts praised them for when they were two of the nation's top WR prospects.
However, in their game against Montana, the WR corps are both likely to face off with All-American and two-time All-Big Sky CB Trumaine Johnson. UT offensive coordinator Jim Chaney praised Johnson and spoke on what his young WRs will need to do on Saturday.
"He's a heck of a player, no question about it," coach Chaney said. "He shows up on tape making plays all the time. Our wideouts are going to have to come to play if they end up matched on him because he is going to compete and see how good he can be. Our guys are going to do that every week. They are going to play against a (lot of) good football players, so I hope they rise to the occasion and compete at the level we expect them to."
UT's running game features a cast of multiple talented running backs. Tauren Poole is projected to get the majority of carries out of the backfield, following an impressive junior season in which he rushed for 1,085 yards and 11 TDs.
Raijon Neal returns after appearing in 10 games as a true freshman. He will compete with Marlin Lane, a four-star high school RB, for the chance to split carries with Poole.
The Vols RBs will run behind a young offensive line that gained some much-needed experience last season. Entering the season, UT had one of the least experienced offensive lines in the country, which included only one senior in the opening day starting lineup.
"I believe the choreography in the front is very, very important," coach Chaney said. "The quicker you get those pieces in place, the better you are. We're hoping we reap those benefits."
Defensively, the Vols are facing a new challenge after junior FS standout Janzen Jackson was officially dismissed from the team last week. Defensive coordinator Justin Wilcox has made many adjustments this fall, including moving Prentiss Waggner back to safety from the cornerback position.
"Prentiss played safety for us last year," coach Wilcox said. "He's a guy that knows what we are doing and understands the concepts of it. He's a calming effect on the other guys and he's really comfortable playing back there. There isn't any high anxiety for him, because he knows what he is doing. It's been fairly easy for him to move back there and feel comfortable."