Rating Newcastle United's Performance During the Transfer Window
August 31, 2011
Stu Forster/Getty Images
After a frenzy of media rumors and panic-induced haggling that would put even Wall Street's brokers to shame, the transfer window has finally come to a close.
Newcastle United fans, for the most part, were able to relax and adopt an "outside looking in" approach to the madness, safe in the knowledge that Andy Carroll could not again be offloaded to Liverpool this time around.
However, those feelings of relief and invincibility were soon tainted by the realization that perhaps a comparatively quiet deadline day wasn't such a good thing after all.
When the dust finally cleared, these are the changes that have been made to the squad since around July:
Players In
Rob Elliot <- Charlton Athletic (£110,000). Goalkeeper.
Davidde Santon <- Inter Milan (£4.9m). Defender.
Gabriel Obertan <- Manchester United (£2.9m). Midfielder/Forward.
Sylvain Marveaux <- Rennes (free transfer). Midfielder.
Demba Ba <- West Ham (free transfer). Striker.
Yohan Cabaye <- Lille (£4.4m). Midfielder.
Mehdi Abeid <- Lens B (free transfer). Midfielder.
Players Out
Joey Barton -> Queen's Park Rangers (free transfer). Midfielder.
Jose Enrique -> Liverpool (£5.5m). Defender.
Phil Airey -> Hibernian FC (loan). Forward.
Kazenga LuaLua -> Brighton & Hove Albion (£450,000). Midfielder.
Kevin Nolan -> West Ham United (£4m). Midfielder.
Michael Richardson -> Leyton Orient (loan). Midfielder.
Wayne Routledge -> Swansea City (£2.9m). Midfielder.
Sol Campbell -> Free agency. Defender.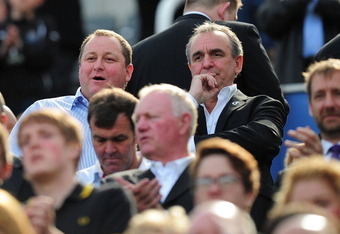 Stu Forster/Getty Images
Shefki Kuqi -> Free agency. Striker.
"Spend some blasted money!"
By now the astute among you will have noted that the approximately £12 million spent on bringing new players into Newcastle-upon-Tyne pales in comparison to the £35 million revenue from Andy Carroll's sale on the last deadline day.
Given that owner Mike Ashley has had around eight months to reinvest the money, the chances of a spending spree in the near future seem predictably low.
My kingdom for a striker
The biggest problem fans will have noticed is the lack of powerful striking talent brought into the club. Granted, Demba Ba and Gabriel Obertan were picked up for £3 million between them and both are fairly handy to have in a squad, but the main thing that has been needed since Carroll's departure is the "Fantasy Captain Striker": a striker good enough to score 15-20 goals in the course of a season.
In a transfer window where Shane Long, Geordie-born Danny Graham, Daniel Sturridge, Peter Crouch, Jermain Defoe, Nicklas Bendtner and Gervinho among others were rumored to arrive, two middle-market strikers is disappointing to say the least.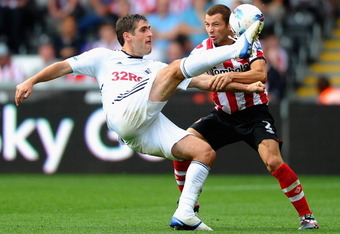 Laurence Griffiths/Getty Images
On the bright side, Bendtner and Shola Ameobi would have paired up to become one of the laziest strike forces in world football.
Replenishing the losses
With a fear-generating striker decidedly absent on the Newcastle United roster, the next thing fans will notice is the sales of star players Jose Enrique, Kevin Nolan and Joey Barton.
Jose Enrique's departure turned out to be a rather ironic blessing when Ryan Taylor scored from a beautifully executed free kick in the Magpies 1-0 win over derby rivals Sunderland. Shane Ferguson can add attacking power from left back if need be and Davidde Santon should be a solid defender. While Enrique will be missed, I feel that his departure has been well covered.
However, the departures of Barton and Nolan left a once potent midfield rather tame. Short of somehow hijacking the Cesc Fabregas or Luka Modric discussions, fans were always likely to be disappointed with whomever came in to replace the club's former captain and playmaker.
In fairness, Yohan Cabaye has the potential to become one of the league's inspired signings for 2011-12 and Gabriel Obertan adds some nice attacking depth to the squad. However, so much more could have been done with chances for the likes of CSKA Moscow's Keisuke Honda or Liverpool's Joe Cole left unfulfilled.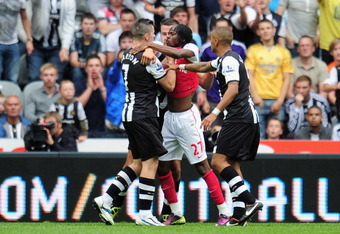 Shaun Botterill/Getty Images
How does the squad look three games into the season?
Before the fixture against Arsenal, the club's off-field problems were well documented. The squad's core had just been sold and Joey Barton had curiously been placed on the transfer list. Some Arsenal fans on a forum I frequent were saying the club "would be lucky to put 11 players on the field."
Far from being disgraced, the Magpies walked away with a 0-0 draw. Barton showed why his ability to get into the heads of the opposition will be missed, but the team looked coherent on defense while maintaining some attacking power.
Against Sunderland and Fulham, it was a similar story. The attack began to look more comfortable and the team did well to earn two wins. However, that final penetration is still clearly needed and the club will struggle to emulate the same goal-scoring exploits of last season.
Next week they test themselves against a Queen's Park Rangers outfit eager to start using their new signings including Barton.
Prediction for the season: Newcastle United will push for a top 10 spot off a fairly solid defense, but will struggle to get much further.