Detroit Lions Roster Battles: OLB Justin Durant vs. OLB Bobby Carpenter
August 31, 2011
Jason Miller/Getty Images
One of the more fascinating roster battles taking place in the 2011 Lions preseason has been the race for the OLB starting assignment between free-agent acquisition Justin Durant and incumbent backup OLB Bobby Carpenter.
I have to admit a certain bias here. I was never a big fan of Durant, who I feel is miscast as a mostly undersized weak side inside linebacker (WILB) in a 3-4 defense.
Durant has the reputation of being a superb run-stuffing stud who likes to play up on the line.
According to Pro Football Focus, Durant recorded a whopping 29 "stops" in 2010. A stop is defined by PFF as the cumulative number of solo tackles (including sacks) that result in an offensive failure.
The problem with Durant is that he's horrible in coverage. How do you define horrible? According to PFF, only 11 OLBs were targeted in coverage more than Durant in 2010. All save one of them played twice as many snaps.  Only 10 OLBs gave up more yards after the catch.
Now, if you were an offensive coordinator, wouldn't you do your best at getting some isolation on Durant? I would.
In fact, I'd have a whole family of plays in the game plan that single out Durant for repeated abuse.
In the other corner, we have Bobby Carpenter.
Carpenter is two inches taller than Durant and outweighs Durant by 24 pounds. You might remember Carpenter from my Square Peg Brigade series at Bleacher Report.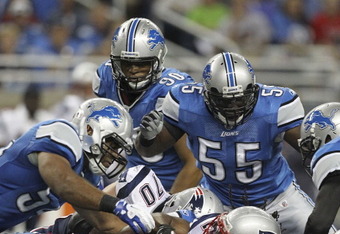 Leon Halip/Getty Images
Carpenter, the former first-round (18th overall) draft pick by Dallas, was waived in October of 2010 by Bill Parcells and the Dolphins after some special teams blunders.
Martin Mayhew snapped up Carpenter, primarily as a replacement for the injured Isaiah Ekejiuba on special teams. Carpenter, however, had his sights set higher.
Carpenter played in four Lions games late last season after the benching of the departed Julian Peterson.
He played just 172 snaps, with largely mixed reviews. Maybe he was a keeper, I thought at the time, but an upgrade would be welcome.
Carpenter came into camp on a mission. It was clear from watching him in drills that Carpenter had devoted himself to watching film and getting in shape.
Carpenter's hard work has paid big dividends in the preseason. He's playing with a high comfort level at both OLB positions, hasn't missed an assignment and seems to be that sideline-to-sideline LB the Lions have been looking for.
Simply put, Carpenter is a playmaker.
Now, I don't pretend to divine the collective mindset of the Lions coaching staff with regards to the relative merits of Durant versus Carpenter. I can only relate to you what I've witnessed on a (more or less) daily basis.
From what this analyst has seen, it would appear that Carpenter should be getting reps with the ones while Durant gets up to speed in the Detroit defense.
For now, the coaches seem to be sending the message that the starting job is Durant's to lose. While it's extremely difficult for me to question the coaches, in this case some tough questions are definitely in order.
Mike Sudds is a syndicated Featured Columnist for Bleacher Report. Mike is also an analyst and correspondent for DraftTek.com.