FC Barcelona: Fabregas' Exit out of Arsenal and Why Club Contracts Are Broken
August 31, 2011
Like a love affair, Arsene Wenger had stated in a preseason interview posted by The Guardian that he would fight until the last second to keep midfielder Cesc Fabregas by his side. 
Why do managers continue to reject monetary offers and wage war against a courting club when their player is dejected? 
The ex-Gunner isn't the first footballer whose importunate plea to leave a club governed headlines on the sports pages (Fabregas' contract with Arsenal would have ended in 2015.). He signed with Arsenal in 2003 at the age of 16 and had been successful as a captain. 
So what was the straw that broke the Spaniard's back? 
A clue could be in Wenger's Guardian interview, as he said, "…we will fight for everything because you do not educate a player for eight years as we have done only to want him to go once he is at an age to deliver."
Certainly, this may be the problem.
Wenger is celebrated for building the careers of young players, but when they hit their peaks and are about to deliver, they may be curious to seek bigger and better opportunities to deliver and reap the rewards. It is akin to keeping a first love tied down by saying, "I taught you everything you know, now you are indebted to me."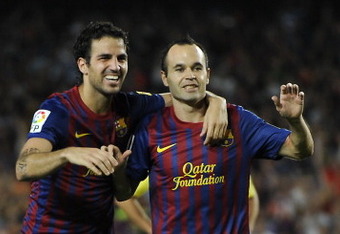 David Ramos/Getty Images
While you can teach one the dynamics of a game, passion is something one cannot learn, and when it runs in your blood, as Lionel Messi claimed in Fabregas, one cannot change.
Arguably, Fabregas' "first love" was Barcelona, and his Spain teammates (namely Andres Iniesta) wanted to hook up with him again as they did in the World Cup. 
His longing to return to his former boyhood club is more like a love story for his roots than it is for anything else, although trophies could be tempting since it is no coincidence that his boyhood club is a superior club housing the "best player on the planet."
At what length or fee would a player go or pay to simply break free? 
Javier Mascherano's dire need to cop out of Liverpool and into Barcelona was blatant after he informed ex-manager Roy Hodgson he wanted to leave the club, which resulted in a failure to show up for matches and dodging Hodgson's phone calls. 
Another ex-Reds player who made a last-gasp confession of dissatisfaction at Anfield sold for a record-busting £50 million and had taken a beating in the press for his scoring drought while spending a significant time warming the bench at Chelsea.
It doesn't make sense to hold a player to contract when they are miserable and then lie that they are fine when questioned in an interview. 
So what are contracts for if there are break clauses or constant breach?
The issue may not be resolved overnight and may have to sit on a shelf, but Wenger would be wise to seek players who've been around the block instead of players who are looking for, well, a trip to someplace else.