Denver Broncos: 2011 NFL Regular Season Final Offensive Depth Chart
August 31, 2011
Ronald Martinez/Getty Images
The final week of NFL roster cuts is upon us. The deadline for finalized rosters is September 4. Teams have already begun to cut down on excess slack on the field, but not everything is decided yet. One more week of preseason will result in a lot of soon-to-be former NFL players joining the unemployment line next Monday.
It's safe to say by now that Denver Broncos head coach John Fox has made up his mind for his 2011 53-man roster. There's always seven or eight players that make the final cuts very difficult for an NFL organization.
This is how I see the final offensive roster turning out for the Denver Broncos in 2011.
Quarterback: 
Kyle Orton will obviously keep his job as Denver's starting quarterback, with Brady Quinn ready to throw on his helmet as backup. Tim Tebow will stay on the roster as the third-team quarterback but this will not be announced at game time. This way if Orton gets banged up, Quinn can come as relief, and Tebow would be able to come in and out on special packages throughout the game.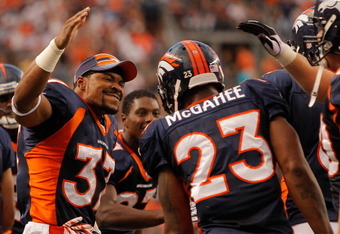 Justin Edmonds/Getty Images
Running Back:
Knowshon Moreno
Willis McGahee
Jeremiah Johnson
The first two slots for running back are the easiest to call. After No. 2, the competition has been between Lance Ball, Jeremiah Johnson and Brandon Minor. I think Jeremiah has shown the team his speed, and will be rewarded with a No. 3 spot on the depth chart. Lance Ball just has not impressed anyone throughout his time on the field in 2010 and his reps during the 2011 preseason.
Wide Receiver:
Brandon Lloyd
Eddie Royal
Eric Decker
Matt Willis
Greg Orton
Demaryius Thomas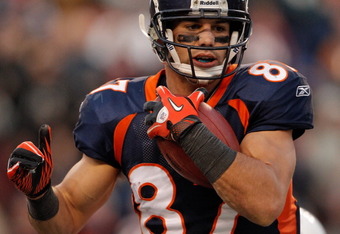 Justin Edmonds/Getty Images
The wide receiver position in Denver is a tough one. There's a lot of depth, but not a lot of real talent (aside from 2010's league leader in receiving yards). The givens are Brandon Lloyd, Eddie Royal and Demaryius Thomas (because he's under contract and still healing from an Achilles injury). Eric Decker has made a statement this year and should have a much better year than last. Matt Willis has certainly done his best in the preseason and showed us all his ability to pull the ball out of practically anywhere.
Full Back:
Spencer Larsen
Austin Sylvester
This one's easy to call. There's really not any competition here.
Tight End:
Dan Gronkowski
Julius Thomas
Daniel Fells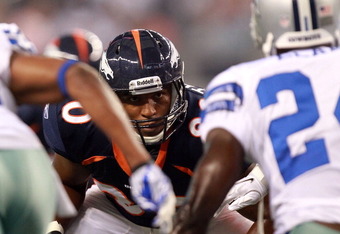 Ronald Martinez/Getty Images
Dan Gronkowski seems to always display mediocrity. He's done nothing to impress, but always ends up as the top of the list. So I'll give him the benefit of the doubt and assume he's doing things that I'm not seeing. As far as the second tight end position, I give that to rookie Julius Thomas. He's outplayed every other tight end on the field, including Daniel Fells. Thomas is a great blocker and a great threat to catch the ball. Shannon Sharpe may finally have a replacement in Denver.
Right Tackle:
Orlando Franklin
Herb Taylor
Orlando Franklin shows sparks of brilliance followed by moments of obvious inexperience. Sometimes he's right where he's supposed to be, and others it's as if he doesn't know the blocking assignments. Denver has a big investment in Franklin and he should have the opportunity to start this year.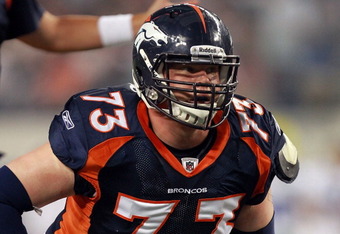 Ronald Martinez/Getty Images
Right Guard:
Chris Kuper
Russ Hochstein
Another position that hasn't shown much depth. Chris Kuper has done his job well enough to know that he'll be starting there for the season.
Center:
J.D. Walton
Manny Ramirez
I'm a little worried about Manny Ramirez after his issues snapping the ball to Tim Tebow the other night against the Seattle Seahawks.
Left Guard:
Zane Beadles
Stanley Daniels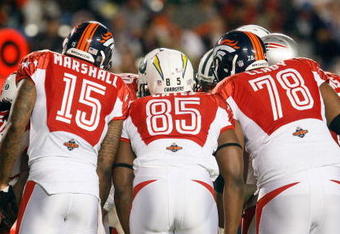 Scott Halleran/Getty Images
Zane Beadles makes it tough to be confident about this position, then he turns it around and makes me wonder what the heck I was thinking. Just as above, he shows moments of brilliance and the complete opposite.
Left Tackle:
Ryan Clady
Chris Clark
I think it's easy enough to say that Chris Clark won't see the field often in 2011. Ryan Clady is always good for our line, and I have no reason to ever doubt him. He's far from perfect, but is certainly the anchor of this offensive line. The Denver Broncos tackle position on each side is very promising. If they can take the worry out of the middle I might be able to watch the games without cringing.
There's still room for some extra players on the offensive side of the ball, it might not be out of line to think Lance Ball will stay on the team, or at the very least make it to the practice squad. Otherwise I think the roster spots described here are in the books.
The offense is the easier call to make for the Denver Broncos. Defense is an entirely different story. With the recent injury to D.J. Williams, and the outstanding play of so many young players, it's difficult to decide who will make the team on the defense until Thursday's game against the Arizona Cardinals is all said and done.