October 20, 2016
The USC Trojans' official depth chart for the first week has been released.
It wasn't long ago that depth was a big concern for the Trojans. However, those fears have been put aside to the point that former middle linebacker Devon Kennard has been moved back to his true position at defensive end.
Linebacker depth was increased with the addition of a safety-convert Dion Bailey being added for coverage speed, especially against the spread offense.
Binging on JC-transfer Dallas Kelly solidified the middle linebacker spot.
Factor-in the additional talented linebackers Tre Madden, Lamar Dawson and Anthony Sarao to the existing USC linebacking corps and you can see why the whole depth issue went away.
With the release of the Week 1 depth chart, the linebackers (or co-linebackers) are set.
Freshman strongside linebacker Dion Bailey is the co-starter with sophomore Marquis Simmons. Both will have the responsibility to cover short passes in open space. They are both quick (both have 4.45-40 speed), and cover well, but can lay the lumber when tackling.
Bill N pointed out the WLB/SLB role reversal, saying: "for the Trojans it works a little differently. The SAM backer plays in space and the WILL backer is on the tight end side."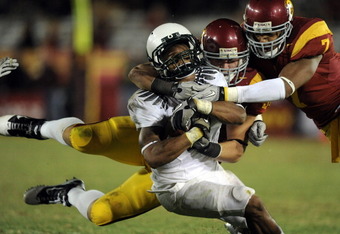 Harry How/Getty Images
Senior middle linebacker Chris Galippo is healthy and ready to go. He has been hitting and tackling with full-contact all week. The co-starter, freshman Lamar Dawson, wearing the coveted No. 55, has had a meteoric rise in fall camp. He has unbelievable stopping power.
Freshman weakside linebacker Hayes Pullard is the co-starter with senior Shane Horton. In nickel situations, where an additional wide receiver is used against the Trojans, cornerback Torin Harris, (6'1" 185 lbs) will replace either Pullard or Horton. Harris will be an addition factor in stopping the spread.
If USC's defensive line plays like this, we might see a 50 point margin.
Here is the linebacker depth chart for the first week:
SLB
18 Dion Bailey (6-1, 200, RFr.*) OR
53 Marquis Simmons (6-1, 215, So.*)
13 Tre Madden (6-0, 220, Fr.)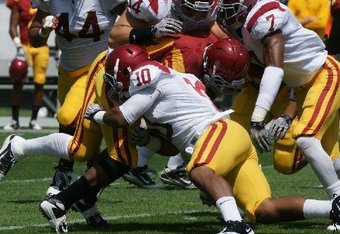 MLB
54 Chris Galippo (6-2, 250, Sr.*) OR
55 Lamar Dawson (6-2, 235, Fr.)
51 Will Andrew (6-2, 230, So.*) OR
52 Dallas Kelley (5-11, 225, Jr.)
WLB
10 Hayes Pullard (6-2, 225, Fr.*) OR
23 Shane Horton (6-1, 220, Sr.*)
56 Anthony Sarao (6-0, 210, Fr.)
*Players that have exhausted their redshirt year
Like the new article format? Send us feedback!