College Football 2011: Previews and Score Predictions for Week 1
August 30, 2011
Ronald Martinez/Getty Images
It is finally game week; another football season is upon us. I'll be posting a new edition of "Tucker's Pick 'Em" by Wednesday (through the rest of the fall), with college football predictions each and every week. So grab those chips and drinks and turn on ESPN's College GameDay. It's time for some football.
***Since 2009, including bowl games, "Tucker's Pick 'Em" has a record of 249-75.***
NOTE: All college rankings reflect the latest AP Coaches Poll.
ALL TIMES CENTRAL
No. 20 Mississippi State @ Memphis
Thursday, September 1, 2011, at 7 PM; FSN
Larry Porter enters his second season as head coach at Memphis after posting a dismal 1-11 record in 2010. With junior college transfer Andy Summerlin at quarterback this season, it won't be easy to beat a rising SEC team in the youngster's first big-time start.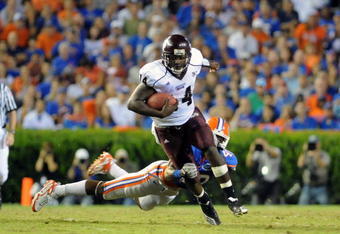 Al Messerschmidt/Getty Images
Yes, I know what you're thinking, "Well, uh, Newton was fine for Auburn in 2010."
Well, Cam Newton is a once-in-a-generation player. And Summerlin will most likely prove that Thursday night. Let the cowbells start ringing; State will make plenty of music as they walk all over Memphis.
Mississippi State 41, Memphis 13.
Kentucky vs. Western Kentucky (Nashville)
Thursday, September 1, 2011, at 8:15 PM; ESPNU 
Western Kentucky's Bobby Rainey led the Sun Belt Conference in rushing last season, but then again, the Sun Belt is consistently ranked the worst conference in the Football Bowl Subdivision.
However, the Hilltoppers are sure to pull out all the stops in Nashville against their in-state foe from the SEC.
Regardless, Kentucky returns 10 of its 11 starters from the 2010 defensive campaign, so don't expect too much from WKU on the ground. The 'Toppers keep this one relatively close, but the SEC prevails in the end.
Kentucky 38, Western Kentucky 21.
Utah State @ No. 23 Auburn
Saturday, September 3, 2011, at 11 AM; ESPN2
Hey, Cam Newton's gone. And so is Nick Fairley. If you haven't heard either of those statements, well, you must have been living under a rock.
That doesn't change the fact that Gus Malzahn still calls the plays at Auburn, nor the fact that the Tigers have had top-five recruiting classes the last couple of seasons.
"But Barrett Trotter is the starter!" Chris Todd was the starter in 2009, and the less-than-stellar quarterback shattered Auburn records under Malzahn's tutelage. 2011 is a toss-up, but the schedule isn't on Auburn's side, as it faces a disturbing SEC grind on the road.
Despite how tough this season will likely be for the defending national champions, they won't have a problem with the Aggies.
Auburn 49, Utah State 14.
Kent State @ No. 2 Alabama
Saturday, September 3, 2011, at 11:21 AM; SEC NETWORK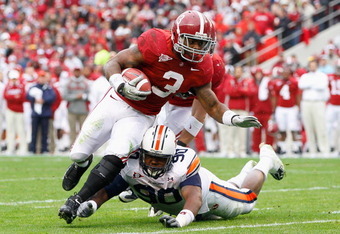 Kevin C. Cox/Getty Images
Nick Saban's alma mater travels to Tuscaloosa to face the second-ranked Crimson Tide. Emotions will be high for this one, and a packed-out Bryant-Denny Stadium will be roaring.
Four members of the Kent State football team made a preview trip to the state of Alabama in late July, not to scout out the Crimson Tide, but to help volunteer alongside Tide players in the tornado-ravaged community of Holt, near Tuscaloosa.  
Despite their good hearts, Alabama fans will enjoy a walloping of the Golden Flashes on Saturday in what will be a pivotal step towards a full recovery from the tornadoes of April 27th.
Alabama 42, Kent State 3.
Troy @ Clemson
Saturday, September 3, 2011, at 2:30 PM; ESPN3.COM
The visiting Trojans have a realistic chance at an upset in this one. Look for it to be an entertaining game throughout, regardless of who grabs the win. 
The Trojans posted an 8-5 mark in 2010, featuring a blowout bowl win over Ohio, while Clemson finished 6-7 with a bowl game loss.
Corey Robinson and company should pilot Troy's offense to be one of the best in the country on paper again this season, while Clemson will throw a new quarterback into the jungle after the departure of Kyle Parker from last season.   
Clemson 31, Troy 20.
USF @ No. 16 Notre Dame
Saturday, September 3, 2011, at 2:30 PM; NBC
Skip Holtz, former Notre Dame player and assistant (and son of Lou Holtz, ESPN analyst and former Notre Dame head coach) leads his USF Bulls into South Bend on Saturday in the first meeting between the two schools. 
The Bulls struggled to pass last season, finishing 101st in the nation. Quarterback B.J. Daniels threw more picks than touchdowns. 
Holtz will surely have his boys fired up, however, so expect a close one. Give the Irish the edge though. They're at home, and they just have more talent here.
Notre Dame 27, USF 17.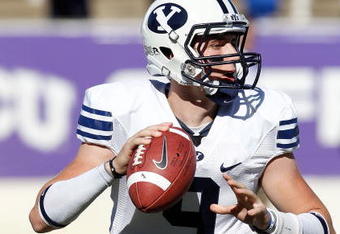 Tom Pennington/Getty Images
BYU @ Ole Miss
Saturday, September 3, 2011, at 3:45 PM; ESPN
BYU has a talented young quarterback named Jake Heaps. He enters this season as a sophomore for the Cougars with those close to the program excited about his future. In his freshman season, he threw for 15 touchdown passes and completed 55 percent of his passes.
Will the Ole Miss defense be able to stop his passing assault? The Rebel Black Bears gave up a stunning 399 yards per game in 2010, and opponents scored 95 percent of the time after entering the Black Bears' red zone.
The Cougars will pull out all the stops to win this one, and the SEC West's worst team will find a way to falter in this non-conference showdown. The Cougars munch on the Rebel Black Bears for their late afternoon lunch.
BYU 31, Ole Miss 28.
Tulsa @ No. 1 Oklahoma
Saturday, September 3, 2011, at 7 PM; FX
It's Oklahoma, the almighty team of college football, playing on FX. Go figure.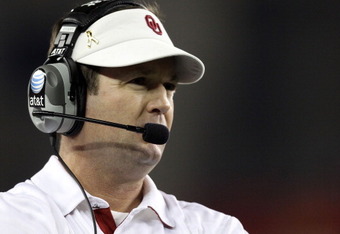 Christian Petersen/Getty Images
Oklahoma is the number one team on most pollsters ballots, but I beg to differ. The Sooners have had several dreams dashed during Bob Stoops' tenure in Norman, failing to win huge BCS games, including the Boise State hooplah in the 2007 Fiesta Bowl.
I just don't see the buildup of this year to be any different. Tulsa's stellar offense of a couple years ago appears to be gone, however, and the Sooners do have the talent capable of winning this one.
Oklahoma will likely win several games this season, and possibly the shaken Big 12 conference title, but when it comes down to it, I'd put money on it that they'll mess things up at some point in the season, despite the talent-laden roster Stoops possesses.
Boomer Sooner, Tulsa is the loser.
Oklahoma 45, Tulsa 26. 
***GAME OF THE WEEK ***
No. 3 Oregon vs. No. 4 LSU (Dallas)
Saturday, September 3, 2011, at 7 PM; ABC

LSU quarterback Jordan Jefferson will sit this one out, along with likely several other games this season, as he faces felony charges from being involved in a bar fight where he was accused of kicking a man in the head.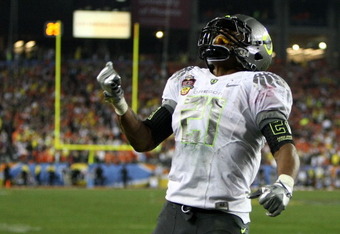 Jonathan Ferrey/Getty Images
Les Miles will need all the luck he can muster with the always inconsistent Jarrett Lee starting under center for the Tigers, and it doesn't help that Oregon returns plenty of players from last year's squad that contributed to the Ducks making it to the national championship game.  
Miles will get some luck, along with a majority of screaming purple-clad Cajuns to West Coast Duck lovers in Jerry Jones' playground, but it won't be enough. The Ducks will outscore the Tigers and win a classic showdown.
Oregon 31, LSU 24.
No. 5 Boise State vs. No. 19 Georgia (Atlanta)
Saturday, September 3, 2011, at 7 PM; ESPN 
The Georgia Bulldogs could be this year's surprise team from the SEC East, but it's going to take a little while for them to develop into a team that's capable of such high chatter.  
Mark Richt's on the hot seat in Athens, however, so expect the Dogs to show plenty of flashes later this season. But coming off a bowl loss to UCF, I just don't see Georgia playing well enough in this one to knock off the pass-happy Broncos in Atlanta.  
Usually I wouldn't pick against the SEC in a Boise-SEC matchup, but the circumstances require it in this one. The BCS Busters beat a work-in-progress Georgia team and add an irrelevant mark on their resume in pursuit of heading to the 2011 BCS Championship Game.
That is, if they can get by TCU in November.
Boise State 28, Georgia 23.
Tucker Sargent is a senior at Troy University in his home state of Alabama. "Tucker's Pick 'Em" started in 2009 on Facebook, with 10 games of interest being picked each week. Opinions are not meant to offend anyone. Visit Tucker's blog or follow him on Twitter here.