Saskatchewan Roughriders Look for 2nd Win; Labour Day Weekend Arrives
August 30, 2011
Harry How/Getty Images
Two of the four Labour Day classics will be on show this weekend as Week 10 kicks off Friday night when the Toronto Argonauts host the B.C. Lions with both teams sitting at 2-7.
Due to scheduling conflicts, the CFL had to split up the Hamilton/Toronto game that we've witnessed years past. This year, Hamilton will host the defending Grey Cup champions, Montreal Alouettes, who have had a rather up-and-down season.
Sunday afternoon will feature the classic bout between the Winnipeg Blue Bombers (7-1) and the Saskatchewan Roughriders (1-7). This will be Ken Miller's first game as the returning head coach after Saskatchewan fired both Doug Berry and Greg Marshall.
Finishing the week off, Calgary on their four-game winning streak, hosts the fizzling Edmonton Eskimos, who have lost their third straight after starting the season at 5-0.
B.C. Lions at Toronto Argonauts
Date: Friday, Sept. 2, 2011
Time: 6:30 p.m. CST
Team Record: 2-7 | Team Record: 2-7
With what could have been a future-deciding game for head coach Jim Barker ended with yet another week at the helm after the Toronto Argonauts got the home win over the Saskatchewan Roughriders.
Quarterback Cleo Lemon didn't have his greatest outing, throwing for a dismal 169 yards on 20 completed passes, but contained the game and had no interceptions.
As for the B.C. Lions, they played their best game of the season at the right time as they were looking down and out and big changes could have been in store if they were to have lost to the Edmonton Eskimos.
Instead, Travis Lulay had his best game throwing for 343 yards, four touchdowns and one interception and completing just fewer than 60 percent of his passes while the Lions defense held the Eskimos to just one point.
Look for Barker to loosen the grip on Lemon and allow him more freedom behind center and get creative while the Lions will need to continue their high level of play in shutting down Cory Boyd, Chad Kackert and Chad Owens.
Final Decision: Look for the Lions to continue adding to their win road record at Toronto in their back-to-back games.
Winnipeg Blue Bombers at Saskatchewan Roughriders
Date: Sunday, Sept. 4, 2011
Time: 3 p.m. CST
Team Record: 7-1 | Team Record: 1-7
The best in the league will play against the worst in the league, at least standings-wise, come Sunday afternoon for the ever-exciting Labour Day game between the Winnipeg Blue Bombers and Saskatchewan Roughriders.
Although Saskatchewan would have liked to be in a better position than they are, being last in the league and having fired both their head coach and offensive coordinator not just one week ago, they still have positives and will look to build on those.
With the Bombers, they're on a five-game win streak, sit atop the league and possess possibly one of the best defenses of the last few years.
Last Friday night when playing host to divisional rivals the Hamilton Tiger-Cats, for possibly the first time this season the Bombers defense looked good at best, giving up a few bad penalties and missed tackles.
That's something we have not seen from this defense this season, which consists of 29 league-leading sacks and league sack leader Odell Willis.
Nonetheless, they were able to get the win and will look towards the back-to-back with Saskatchewan. Winnipeg was five points away from winning last year's game in Regina and will look to build on that heading into this year.
Saskatchewan is currently an unknown with their new head coach, however, one expects the game plan cannot be too far stretched and may be somewhat simplistic as long as executed properly.
Either way for Winnipeg, they want their first win in Saskatchewan since 2004 to happen while Saskatchewan just looks for their second win of the season.
Final Decision: Mosaic Stadium is not one place to mess around in and the fans will be loud and proud regardless of the 1-7 start. This won't be easy, but I expect a humble Winnipeg team to take the win.
Montreal Alouettes at Hamilton Tiger-Cats
Date: Monday, Sept. 5, 2011
Time: 12 p.m. CST
Team Record: 5-3 | Team Record: 4-4
The Hamilton Tiger-Cats were a few minutes away from winning their fifth game straight, however that was quickly stopped by Winnipeg's defense, and Hamilton will now look for a shot at second place in the East with a win over Montreal.
Anthony Calvillo was less than a minute away from getting their sixth win of the season and possibly holding second place for the time being, but a late interception returned to the 6-yard line changed all that.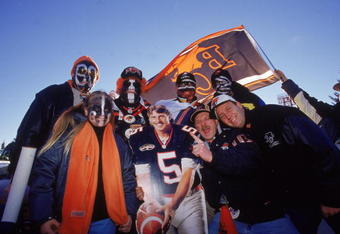 Craig Klem/Getty Images
The days of a dominant Calvillo appears to be coming to a close but a rested, relaxed Calvillo is still a dangerous Calvillo, and the one or two mistakes he rarely makes is made up by a rebound game.
Kevin Glenn and company will look to get his top receiver, Dave Stala, more involved in Monday's game as Stala was held to just one catch for 20 yards Friday night.
Montreal has only won five of their last nine trips to Hamilton and have lost their once this season after Calvillo went down and Adrian McPherson stepped in.
The teams split their meeting in Hamilton and neither game was close and the same should be expected this week as well. A win for Hamilton will tie Montreal for second place while Montreal could begin building a lead on Hamilton with a win.
Final Decision: Adrian McPherson came in for an injured Anthony Calvillo. Calvillo will not be injured Monday afternoon. This is all Montreal unless they shoot themselves in the foot.
Edmonton Eskimos at Calgary Stampeders
Date: Monday, Sept. 5, 2011
Time: 3:30 p.m. CST
Team Record: 5-3 | Team Record: 6-2
Sophomore receiver Johnny Forzani had a breakout game against the Montreal Alouettes, catching six passes for 101 yards and two touchdowns. Having only just three catches for 46 yards last season, Forzani became another viable threat for Henry Burris and will look to his latest weapon in an already dangerous receiving core.
Three receivers all hit over the century mark with Nik Lewis leading the pack at 121 yards. Burris threw for 422 yards—most this season—and had three touchdowns, including a run-in in the final minute off a interception.
Anthony Calvillo will come into Calgary looking to rebound off what was mostly a solid game until the last possible moment. Calvillo didn't look entirely strong Saturday afternoon but was able to execute his game plan. It was in the final drive that would have sent the game into overtime, instead turned into an interception and a run-in touchdown by Calgary to secure the win.
It's not often we witness Calvillo slip and fall. and if anyone is the best at recovering, there's no one else like Calvillo and we expect Monday's game to be another great game.
Final Decision: Home field, coming off a big win over Montreal and riding the success of their winning streak, I see Calgary continuing here at home.