Detroit Lions Can't Wait for Investment in Derrick Williams to Pay Off
August 30, 2011
Jeff Gross/Getty Images
Derrick Williams is an NFL wide receiver.
If you went back in time to 2004, wild-eyed and shaggy maned, and tried to convince a football-savvy passersby that Williams would be on an NFL roster today, they'd have looked at you like you were crazy. Not because it would sound far-fetched, but because it would be too obvious to be worth all the trouble.
Williams, listed by Rivals at 6' and 189 lbs, had his 40-yard dash timed at 4.37 seconds before he even entered high school. He was the No.1 overall college recruit in the nation; it was something of a coup for Joe Paterno that the multi-dimensional athlete selected stodgy Penn State over every other school in the nation.
How is it that Williams's continued presence on an NFL roster is now in jeopardy?
First, Williams never quite converted those incredible raw tools into Happy Valley stardom. Used as a combination receiver/tailback/quarterback/returner, Williams exited the NFL draft evaluation cycle exactly as he entered it: a 6" 194 lbs, 4.37-speed athlete without a natural position or technical polish.
The Lions, desperate for both a kick returner and an explosive slot receiver, drafted Williams to immediately fill the former hole, and eventually fill the latter. Repeated mental mistakes during his first training camp cost him the returner's role. Struggling to get open, and reliably catch the ball, kept him from earning a crack at wide receiver.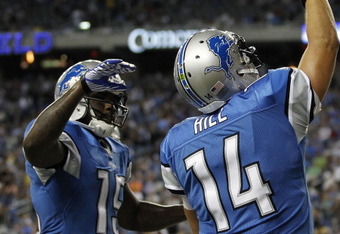 Leon Halip/Getty Images
Now, Williams is in his third preseason with the Lions. The third season is when a physically gifted, technically unpolished third-round receiver is expected to dramatically improve. If Williams were to be released, it would be the first time Martin Mayhew waved the white flag on one of his own top draft picks. Releasing him now would seem like the Lions were depriving themselves of the payoff they've invested so much money and time to see.
But in this brave, new Lions world of skilled starters and talented depth, players like Williams no longer have guaranteed jobs in Detroit. In recent years, any player who'd been moderately productive or had a modicum of "upside" left to explore could be kept around, and why not?
Players like Kalimba Edwards, Boss Bailey, and Ikaika Alama-Francis drew unearned paychecks throughout the Millen era because there weren't better players around to force the issue. Now, Calvin Johnson and Nate Burleson have death grips on the starting spots, Titus Young was drafted in this year's second round to do the same things Williams was supposed to do, and Rashied Davis and Maurice Stovall have each proven they can do what Williams has not done.
Unfortunately, it does not matter that  Williams has thrown himself into charity work, or that he seems to have built strong bonds within the community. It does not matter how close to the surface  his incredible potential has bubbled. It does not matter that Williams could land somewhere else and become a productive player in short order. All that matters is if he can help the Lions win right now, and right now, that question remains unanswered.
This question remains unanswered too: How much longer will Derrick Williams be an NFL wide receiver?