Arsenal Transfers: Arsene Wenger Signs Santos to £6.2m, Who's Next?
August 30, 2011
EuroFootball/Getty Images
Arsenal boss Arsene Wenger has signed the Brazilian defender Andre Dos Santos at a price tag of £6.2m from Fenerbahce, in an attempt to add some roots to his weak defense.
Arsenal fans have been expecting at least some good signing this summer end, especially after being hammered by rivals Manchester United in their recent match. The 8-2 scoreline was enough to show that Arsene Wenger's Arsenal is lagging far behind in the race, and need quick additions to bounce back. 
Santos joined Fenerbahce from Brazilian club Corinthians and has made 52 appearances so far. The 28-year-old defender has also an attacking flare, and has scored 10 goals in his tenure with Fenerbahce. He also has 22 Brazil caps this far.
Though not being in a tall, dark and young criteria of Wenger, Santos at this moment has much to deliver to the Gunners. He has experience, is fast in his flank attacks, can defend well and also is extremely important now for a very weak Arsenal defense. Arsenal's defense has taken blows after the departure of Gael Clichy to Manchester City, and eventually Armand Traore to QPR. What Arsenal needed most is a quality central defender and an obvious replacement to the left back position. Though Wenger showed his immense faith in youngster Kieran Gibbs for the left back position, he is also out with injury.
Santos thus fits the frame perfectly with a a four-year deal worth £40,000 a week. He is about to have a medical and then will join the Gunners, giving at least some hopes to the shattered and unstable defense.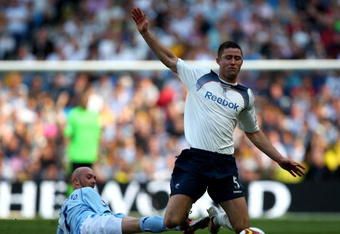 Richard Heathcote/Getty Images
While Wenger will hopefully continue with two or three more signings before the market closes, it is still unclear as to who else will join Arsenal.
Bolton's central defender Gary Cahill is still one of the favorites to come to the Emirates, as the transfer negotiations are in the process. Cahill is one of the seasoned and experienced young players of the game and can add some depth to the team.
Wenger also inquired about Wesley Sneijder from Inter Milan, as Inter still hopes to place Sneijder on transfer list to fund the Carlos Tevez deal. However, reports claim that Sneijder's £200,000-plus wages will definitely be the biggest stumbling block for negotiations.
Wenger is also said to be linked recently with Everton playmaker Mikel Arteta. Though Arteta has come back from an injury and is always more prone to injuries, still an addition of such a player of class and skill will prove beneficial for Arsenal if they can strike the right deal. Arteta can create and make the game, the things which Arsenal need after the departure of Cesc Fabregas and Samir Nasri.
Wenger can also land Yann M'Vila from Rennes as an option to add strength to his holding midfield. This is something Arsenal need to do right. While the attacking flare of Arsenal is considerably okay for the time, the losing-control-of-game crisis is where the team needs the backing most. the 21-year-old midfielder M'Vila is someone who can hold the midfield tightly, and is also a great passer of the ball. His strength will be required for the Premiership and will definitely be a good addition to Wenger's team.
Other names like Marvin Martin, the attacking midfielder from Sochaux, are also on the list of Wenger and may be a part of the deadline day deals. Park Chu Young, the new signing of Arsenal, is expected to be a real gem as compared with likes of David Beckham and others. But it is only time and Wenger that will decide the fate of a falling Arsenal this season.