Notre Dame Football and the New York Yankees: Teams We Hate but Must Respect
September 8, 2011
Christopher Pasatieri/Getty Images
There are two things people love about being sports fans: their love of their teams and their hatred of others.  University of Michigan fans love the Wolverines and hate the Buckeyes. Same can be said of the Red Sox and Yankees, Celtics and Lakers, or Red Wings and Blackhawks.  There is genuine dislike for those who wear the rivals colors, logos or hats. I personally refused to congratulate in-laws when the Blackhawks won the Stanley Cup in 2010. It filled me with anger that they were daring to hoist the Cup that I love. My wife had to silently celebrate her beloved Packers win in the NFC Championship Game for fear of angering her sister-in-law (if my sister-in-law could have shot lasers from her eyes, I would be a widower). I won't even get into the tensions that arise from the Cubs/Sox series, but it made me think. Why do we have so much animosity towards certain teams? Maybe it is because some of these teams are successful organizations and programs because they do things the right way.
Lets start with the Yankees. Outside of New York, they are a polarizing team. People either love them or hate them. There is no middle ground. No one "kinda" like the Yankees. It is all in. I am not one of those. I dislike the Yankees. They are the only team that would make this White Sox fan root for the Cubs if they were playing them. I think if the Yankees were playing herpes, I may root for herpes. That is some disdain for a team, but why? How can I hate the Yankees as an organization or team? I can't. I have to respect what they do as an organization. They simply do not settle for anything less than a World Series Championship. They go out and spend the money. They have guys like Jeter and Granderson. How can one dislike Derek Jeter? He plays the game the way it should be played and has shown loyalty to the Yankees. If there is one player that you would want to represent all of Major League baseball, how could it not be Derek Jeter? How could one argue against it? One couldn't. He is what professional baseball players should be and most are not. It seems like all the players on the Yankees are pretty decent guys (outside of A-Rod). Most all were liked when they weren't Yankees. Teixeira, Granderson, and even A-Rod at one time were all liked by casual baseball fans until they became Yankees, and can one blame them for going where the money and potential championship is? I can't.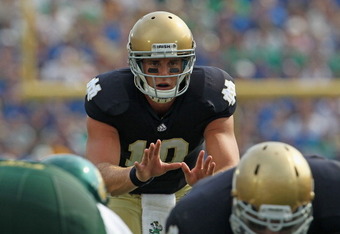 Jonathan Daniel/Getty Images
Next is the Fighting Irish. Dear lord, I cannot stand them. Apparently, I am one of five Catholics that are facing excommunication for the venom we spew at the Golden Domers. They are pushed down our throats and that is because most every paper covers their local college teams and Notre Dame. Those who hate the Fighting Irish have reveled in their mediocrity. Cheered that they have not had a good QB come out of that college since Joe Montana. I loved that Charlie Weis failed miserably there after it was assumed he was going to bring multiple national championships. That is a lot of bitterness toward a university that has tried to do things the right way. Notre Dame is still considered a university of academic excellence. They don't just take players because they can run fast or are beasts. You still need to have a good character and grade point. They demand excellence not only on the field or court, but also in the classroom and out in society. Their students and alumni are expected to hold themselves and their university to a higher standard. If one looks at what happened at Miami, does one look at Notre Dame and think "Yeah, it could happen there?"  No, one can't. Even with the recent issues they have had, and no matter how much someone dislikes Notre Dame, one still thinks they are above what happened at Miami or Ohio State. One just somehow feels they are better than that.
So why did I choose these 2 teams? 2 reasons. First of all, they have the largest fan bases for their respective sports. The majority of apparel one will see when traveling belongs to these teams. They have a loyal and widespread fan base. The Yankees can sell out any stadium they visit, no matter how bad that team's attendance is. Notre Dame? Forget it. They are so big they have a contract with NBC. Second, they are polarizing. We either love these teams or hate them. There is no middle ground. People root for them to fail year after year and revel in it when it happens. When they have success, it burns us up inside. We want them to fail and fail miserably.
Are there other teams that are hated in sports? Sure. Teams like the Red Wings, Ohio State, the Miami Heat, or the Red Sox (which is ironic because people actually liked them before they won 2 World Series) are quite disliked outside of their fan bases and have large, loyal and well-traveled fans. Still, they do not polarize people the way the Yankees or Notre Dame can.  They are not sports juggernauts the way these two are. None of these teams have been disliked as long or consistently as Notre Dame or the Yankees, but why? The one thing these 2 organizations do is try to build winners. The Yankees do it with well-spent money and the Irish try to do with through character. Can you really hate that? Yes.
But you also have to respect it.