UFC Tito Ortiz vs Rich Franklin: Predicting the Outcome of This Potential Fight
August 29, 2011
A fight between UFC veterans and former champions Tito Ortiz and Rich Franklin is seeming more likely by the day.
Several sources, including UFC President Dana White himself, have stated that the promotion is strongly considering this fight, but no papers have yet been signed and the bout has not been confirmed.
That said, the fight definitely makes a ton of sense for both parties involved.
Franklin and Ortiz are both coming off of losses, nearing retirement, and they're two UFC legends that fans would like to see hook 'em up.
Neither fighter can really afford a loss at this point in their career —Ortiz especially— and either guy would be hard pressed to find a safer opponent, who it still means something to defeat.
The joy of a potential MMA fight, is being able to speculate on who's going to win it, so...
Who would win this potential fight between Tito Ortiz and Rich Franklin?
Ortiz will certainly be the larger fighter, Franklin having always been small as a light heavyweight, but he'll likely be giving up some speed due to that size advantage.
Each fighter's game plan in this one should be obvious.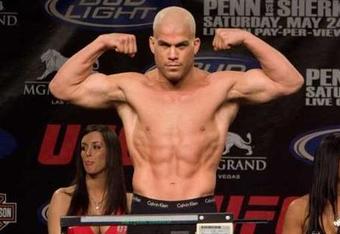 The larger Ortiz will look to take Franklin to the ground and work from top position and Franklin will be wanting to dodge those takedowns and keep the fight standing.
Franklin has always been a very respected striker, standing toe-to-toe with the likes of Wanderlei Silva and Dan Henderson and doing well. He also has 15 (T)KO victories under his belt that are a testament to how dangerous a striker he can be.
Ortiz has never been known as a particularly skilled striker and if he is forced to stand and bang with Franklin, it's likely that things won't go his way.
However, if Ortiz can get the fight to the ground, he has a great chance of walking away with the win.
The Huntington Beach bad boy is one of the greatest all-time at grounding and pounding guys from the top position. Ortiz has been noted, in particular, for his unusual ability to inflict damage from inside his opponent's guard.
What it all boils down to is: Will Ortiz be able to get this fight to the mat?
Personally, I think he'll score a couple takedowns, but that Franklin will be able to avoid most of them.
Franklin has had some trouble in the past with fighters who get their takedowns from the clinch. Greco-Roman Olympian Dan Henderson was able to get Franklin down when they fought and Forrest Griffin had some success taking Franklin down using trips.
Ortiz, however, is more of a pure wrestler and shoots for his takedowns, rather than using the clinch to get fights down.
I'm expecting Franklin to be a little bit too quick for Ortiz and he'll be able to dodge most of takedown attempts.
Ortiz will get the fight to the ground for some of the first and probably win that round.
After that, he'll slow down and Franklin will start to time Ortiz' shots.
Considering that Tito has only been stopped due to strikes three times in his career, I don't see Franklin finishing Ortiz standing, but he will win the second and third rounds decisively, taking the fight 29-28 on all three judges' scorecards.
Hopefully the UFC gets this fight set up soon; it would be great to see these two legends of the sport go at it.
Andrew Barr is a Featured Columnist for Bleacherreport.com. For updates on what's happening in the world of MMA, follow him on Twitter http://twitter.com/#!/AndrewBarr8