Montreal Canadiens: How They Should Set Up the Powerplay with Markov
August 29, 2011
When the Canadiens re-signed Andrei Markov to a three year, $17.25 million dollar contract, they effectively were hoping that he would stay healthy long enough to take back his old role as power play quarterback.
Markov has posted more than 40 points in four seasons over his career, and the Canadiens would love to have him do so again this next season. He should certainly be able to do so assuming that he stays healthy the entire season. Canadiens fans should be excited about his heavy shot and excellent vision on the ice.
Don't forget that he is also terrific in his own zone, so he should be useful on the PK as well.
Speaking of P.K. (Subban), the Canadiens' defenseman had an excellent rookie season. playing the point on the power play last year. He had 14 goals and 24 assists last year.
The question is, who will play the left point with Markov's return next season?
My gut tells me to go with Markov just because he has a better track record of success and is perhaps better defensively, but Subban did not look as good on the right point as he did on the left.
Subban is also an integral part of the team's long-term plans, and making him as comfortable as possible on the ice is a top priority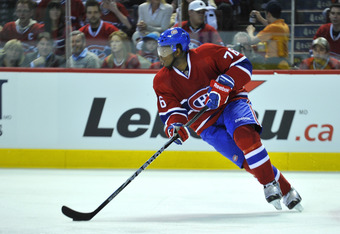 This may not seem that important, but how the power play is set up has a lot to do with how effectively it works. The Canadiens power play could be one of their best weapons; they really could put up the best percentage in the Eastern Conference this season, if not the best in the league.
I personally would ask Markov to learn to work the right side, because Subban could potentially give you 20-25 goals from the left point with his rocket of a shot, and Markov could pick up 40 assists from either side.
In either case, that tandem should give opposing teams a good reason to want to stay out of the box.