UFC 134 Results: For Big Nog & Forrest, Why Retirement May Be a Smart Option
August 29, 2011
Forrest Griffin and Antonio Rodrigo Nogueira should both consider retiring.
Look, I'm not trying to tell anyone what to do—especially guys who could squash me as easily as I hit the snooze button in the morning. I'm not saying that these two legends should retire, but only that they should both consider it, for different but equally compelling reasons.
Fight careers end in one of two ways: Either a fighter chooses to retire or retirement chooses the fighter. In the UFC, retirement often comes in the reaper-like form of a feisty bald guy with lots of T-shirts. He either cuts you like excess baggage, or if he really likes you he makes you an offer you can't refuse.
I'm speaking of course about UFC president Dana White. When Chuck Liddell's time came, White wrangled the former champ into accepting an ambassadorial position with the company (vice president of mumbles, I think) in exchange for turning in his four-ounce gloves.
When Mark Coleman's time came, by contrast, the legendary fighter hadn't wiggled close enough to the corporate bosom to receive a company post, and he was unceremoniously dropped from the roster following his UFC 109 main event loss to Randy Couture.
Both Griffin and Nogueira are of a stature in the UFC such that they're assured work with the company as long as they want it—just not necessary in the cage. Nogueira is one of the most decorated and legendary heavyweights in MMA history and has been an irreplaceable ambassador for the UFC and MMA for years. If it wasn't for Griffin, meanwhile, and his historic fight with Stephan Bonnar in the Ultimate Fighter Season 1 Finale, the UFC might still be $60 million in the hole, or a distant memory.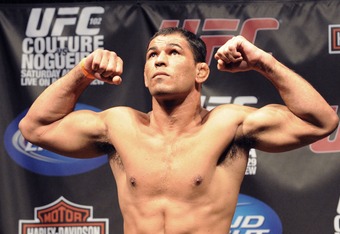 When it comes to retirement, as with cage fighting, its better if you don't leave your fate in the hands of others. Chris Lytle may not have won a championship belt, but he set a high water mark of his own in the life priorities department when he walked away from the game, still healthy, on his own terms, while still at the top of his game.
Couture's farewell party wasn't quite so perfect, having been spoiled by Lyoto Machida's impromptu dental work. Still, Couture's decision to retire was the right one, at an appropriate time and on his own terms.
Today, Nogueira now has a chance to go out as gloriously as Lytle did. With a dramatic finish of a young punk who had the audacity to call him out, Nogueira would have a career—and a retirement—to be proud of.
Griffin, meanwhile, has the less glamorous opportunity to go out more like Couture: for the right reasons, on his own terms and after getting the tar beaten out of him by some Brazilian striker. While the Lytle-style ending would clearly be preferable to Couture-style, Griffin would still be able to hold his head higher than he would, say, after a few more KO losses when White nudges him into a Liddell-style retirement.
After "Minotauro" outgunned a trigger-happy Brendan Schuab in Rio, few are currently arguing he can't hang in the UFC heavyweight pack. Nogueira, at 35, is not even as old as teammate Anderson Silva, who you may have noticed is still at the top of his game. But in "Nog" years, Minotauro is a lot older. Since the time he was run over by a truck as a kid, Nog's life choices have brought him an uninterrupted stream of bodily punishment.
And despite his resilience, Nogueira has little chance of scaling today's heavyweight food chain. Certainly his brutal KO at the hands of Cain Velasquez seems more forgivable now that we've seen what Velasquez has done since. But the fighters at the top of the division are pushing hard to evolve their skill sets while Big Nog has been stuck in rehab for his dual hip replacement, a trend that seems like it could continue.
If I were Nogueira (a comically big "if"), I'd give my body a much deserved vacation, enjoy my new hips (Brazilians reportedly know how to do this) and phase gracefully into being a trainer. Or a politician. Or an actor. Or a UFC ambassador. Or just hang out on the beach and play soccer. He has all the money and glory a prizefighter could want.
Griffin, at only 32 years old, is atypically young for retirement talk, but when you're talking about a fighter who's strongest asset may be his ability to take punishment, you can assume his body has near Nogueira level of mileage on it. During the week before the fight, when he wasn't complaining about being in Rio, Griffin had an almost Zen-like aura to him that nearly made me second-guess my pick of Mauricio Shogun. Looking back, that peaceful quality of Griffin's may have been an expression of his grim determination that "this shall soon pass." He also could have been thinking about home.
During the fight, while he was getting beaten senseless by Shogun, Griffin's wife entered the early stages of labor with their first child back home in Las Vegas. That kind of impending life change can wreak havoc on your entire camp, but even without this new distraction, the odds are long that a questionably motivated Griffin re-conquers the light heavyweight division. Since losing his belt to Rashad Evans in late 2008 at UFC 92, Griffin's only wins have been senior circuit members Tito Ortiz and Rich Franklin.
By Griffin's own admission his game hasn't progressed, and few would argue that. He seems to have lost the fire to evolve, as the top echelons of the sport demand. He's financially secure, with a job waiting for him at the UFC if he wants it. What does he have to gain by getting fed to the young lions or beating up more old men?
While Griffin's second fight with Shogun might not be the most desirable way to end a career, from a future job security perspective today could be a wise time to leave. In a post-fight interview with Ariel Helwani of MMA Fighting, Dana White made it clear he's well aware of Griffin's impending fatherhood, as well the fact that Griffin really didn't want to be in Rio at all. If Griffin were to go out on such a note of service to the UFC, after playing an integral part of the momentous and successful UFC 134, and after helping save the company's ass in 2006, Griffin would easily have college tuition paid for as many children as he cares to have.
Is either one of these warriors ready to hang 'em up? Probably not. But I'd bet more on Griffin than Noguiera pulling the plug at this point.
However, if neither one will accept my suggestion to hang 'em up, I do have an alternative: Have them fight each other, and the loser goes home.