Kimberly Lansing: World Poker Tour's Woman in Charge
August 29, 2011
Achieving respect and credibility as a media personality is no small accomplishment. I know that from experience; I've succeeded in two separate disciplines of journalism. In more than a decade, I'd never met anyone who was as dedicated enough, and perhaps crazy enough, to have done the same. Not until I was introduced to Kimberly Lansing.
The anchor for the hugely successful World Poker Tour, Kimberly has an enviable resume that starts with working as an entertainment reporter for the Associated Press, and boasts well-known names like Us Weekly, InStyle, WireImage and People Magazine. She is no small-time talent.
That experience made her a bold choice to redefine a role previously held by women like Shana Hiatt and Sabina Gadecki who, while affable and competent, came from backgrounds of modeling and beauty pageants. In Lansing, who split the role with Layla Kayleigh in season six before returning in season nine as the sole anchor, the WPT found a beautiful woman who was also a solid reporter and an experienced poker player. In other words, she was the complete package.
As it turns out, they have themselves to thank, at least when it comes to Kimberly's poker skills.
"I learned how to play poker and I would watch the World Poker Tour," the Southern California native said when I sat down with her on the opening day of WPT Season IX, who played both online and in local casinos like the Bicycle, Hawaiian Gardens and Commerce. "I not only learned by watching World Poker Tour, but I thought, 'That would be such a great gig. I am perfect for that role. I know how to play poker. I'm literate. I can do this.'"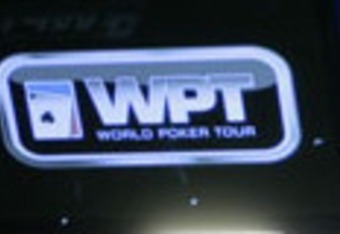 When People sent her to a WPT event in 2007, she saw it as an opportunity to make that thought a reality. "I was working for People Magazine and they assigned me to cover the World Poker Tour Celebrity Invitational. I did and I talked to a couple key people, and started working simultaneously for People and the World Poker Tour." In fact, according to her WPT official biography, she so impressed those people that they tailored the position to her. From the beginning, Kimberly was making a strong impression. She would not be just another pretty face holding a microphone.
And so her career in the professional poker world began. It presented her with the caviar problem of having to balance two enviable jobs at the same time, something that she didn't flinch from; in fact, she embraced it as an opportunity for professional growth.
"World Poker Tour took me out of town, and out of the country, so I would work on the road for WPT and then I'd come back to L.A. and do red carpets for People Magazine," she explained. "It was a great balance, because I got to learn more about the game [of poker] and more about myself on camera, and then I'd go and interview celebrities, who are completely different from poker players, and be in my hometown. I had a really good time."
The balancing act wasn't that far removed from her duties on the World Poker Tour, where she has to not only cover the sport of poker, but make it understandable to a broadcast audience when the TV show goes on the air.
"They're totally separate," she said. "When I'm here during the week, it's like regular, everyday people playing poker, and grinding, and trying to make that final table. That final table, it's a completely produced TV show, where we're all in hair and makeup, and you're taking several takes."
At least, until now. "This year, we're going to shoot it more like a live show, so it'll be very different," she confided. "It'll be more exciting. It's something that I actually talked to executives about - making it feel more live and kind of spontaneous. That's the fun of it. That's what makes it more exciting. It'll keep us all on our toes."
"There are even more new changes - nothing with my specific role, but how it's going to be carried out is going to be very different. That in itself is exciting for me," she added. "We're going to be going international. We're going to Paris next week [for the WPT Grand Prix de Paris]. I'll be there (the Aviation Club de France) for eleven days. It's going to be very different, and I don't think our set's going to look anything like it does at a place like Borgata or Foxwoods."
Season 10 marks her second full term in the anchor seat. Her short absence after season six showed her that the poker world is still changing every day, even in the face of legal developments and a struggling economy.
"I know certain people, but not some of the young up-and-coming internet players. A lot of people, I had no idea who they were, and now I do. New names have come up even since we finished season nine back in May. There's a lot of new people waiting for their turn. Anyone's dream can come true, if you have the money - or if you can satellite, or if you play on ClubWPT.com and qualify. The dream's still alive for a lot of people. Poker is still big and people are still playing."
People including Kimberly, who's not letting her skills go by the wayside just because she's working the rails. Both anchor and player, she still finds time to get in the game.
"I do play on ClubWPT, but I don't play online like I used to," she said. "I play at home with my husband, or I'll play at a casino that we're at. I'll sit down at the tables and play small cash games or a little tournament here and there. It's fun, especially on the road."
Who would she want to sit at the poker table with? "A bunch of people who I not only don't know, but who have never played a WPT or live tournament ever. I think I have the best chance at that kind of table," she admits with a laugh. "But to have a really good time, I'd pick Antonio Esfandiari, Doyle Brunson - he's a legend, how could I not? - Freddy Deeb, Scotty Nguyen, and Phil Hellmuth. I just want to show [Phil] a bluff and have him freak out on me."
While she might not have the playing talent of those prominent names, it's clear that Kimberly has accomplished quite a lot in her relatively short time with the WPT.
She doesn't just report, but she has done what she speaks about. She's immersed herself in that culture. It's not something many in her position would do, but poker isn't just her job. To her, the WPT is where she belongs.
"It's great to be back for Season 10. I feel so fortunate to be in this position, and to be working with such great, professional, nice people. I couldn't ask for more."
Not that she'd have to ask. With her experience, dedication and enthusiasm, she's already earned herself a place in the poker world. Hopefully, we'll be seeing Kimberly Lansing in the WPT anchor chair for many more seasons to come.
Catch Kimberly anchoring all the action when WPT Season IX begins on FSN in Spring 2012. Until then, you can follow her on Twitter (@KimberlyLansing) and at the World Poker Tour official website.