PNC Park: Some of the Highlights About MLB's Best-Kept Secret
August 29, 2011

PNC Park has been around since 2001, replacing a 30-year-old gigantic bowl of a facility that was known as Three Rivers Stadium. For those who have been around long enough to remember, Three Rivers Stadium was depicted in an artist's rendering in the 1966 Pittsburgh Pirate Yearbook. It was to be a multi-purpose facility and be covered in artificial turf to permit the rapid changing of the layout, depending on what sport or event was being held there. Three Rivers Stadium opened for its first game on July 2, 1970, with the Cincinnati Reds versus the Pittsburgh Pirates.
Three Rivers replaced a 71-year-old ballpark called Forbes Field that sat in the Oakland section of Pittsburgh, out by the University of Pittsburgh campus. Forbes Field was a tired, old, but picturesque ballpark (the late Donn Clendenon once complained that Forbes was dingy, dark, musty and cavernous). Fans were able to see the Cathedral of Learning and Schenley Park's tree groves from inside Forbes Field.
This new design was like a giant sugar bowl and could seat 50,000 to 60,000 fans. Clones soon sprung up all over baseball—in Philadelphia (Veterans Stadium), Cincinnati (River Front Stadium), just to name a few —and this was to be the future look of baseball facilities.
Quickly becoming obsolete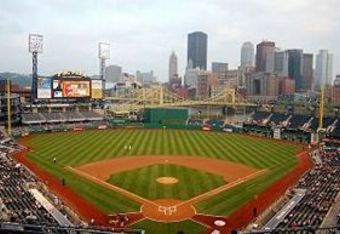 Well, the cold uniformity of these sugar bowl designs wore smooth quickly on fans everywhere. Baltimore's Camden Yards ushered in a new era of retro design baseball-only ball fields and a return to the cozy atmosphere of fewer seats. The playing surface would be covered in real grass. In Pittsburgh, the ballpark would also have as its most endearing feature, a drop-dead gorgeous view of the downtown skyline.
PNC Park was also built beside the Allegheny River, about a block from the former location of Three Rivers Stadium. Its open design enables fans to see river traffic going by during games and gives kayakers a chance to catch the occasional stray home run balls that clear the stands and head for the water.
Pittsburgh is rated by National Geographic Traveler as one of the six best cities to kayak in.
It was originally going to be called "Forbes Field II" and the new park began with a task force that was set up by then-Mayor Tom Murphy in 1995. The idea was to fit a ballpark into the city grid, à la ballparks in Chicago (Wrigley Field) and Boston (Fenway Park).
Seeing clearly
Because there are so few seats (38,127), there's really not a bad view in the whole house. The foul areas are tight and seats down each baseline are only 45 feet from the action. The highest seat is a mere 88' above the field, resulting in a far more intimate setting that keeps fan interest boosted. The concourses are all open, and if the casual fan wishes to walk around during the game, little of the on-field action will be missed. Including SRO, maximum capacity is 38,365.
On the field
Like Three Rivers Stadium, the first game at PNC was between the Reds and Pirates on April 9, 2001. First baseman Tony Perez (Reds) hit the first home run at Three Rivers. First baseman Sean Casey (Reds) hit the first home run at PNC. Casey is a Pittsburgh native and would later have a chance to don the home uniform before he called it a career.
The 2006 MLB All-Star Game was played at PNC Park. That same year, then-third baseman Freddy Sanchez became the first Pirate since Bill Madlock in 1983 to win an NL batting title.
Dimensions: Left field foul pole: 325 feet; LF power alley: 386'; left-center: 389'; deep left-center field: 410'; center field: 399'; RF power alley: 375'; right field foul pole: 320'; backstop: 52'.
Fences—Left field: 6'; left-center and center field: 10'; right field: 21'.
Amenities
PNC has two second tier clubs. The first is the 3,000 Club (near the right field foul pole). It was named after Roberto Clemente's biggest claim to fame, 3,000 career hits. The other club is in left field behind the bleacher area and called "The Hall of Fame Club." Fans can get any sort of fare from a hot dog to full meals inside. On any given night, one is likely to be served a drink at the bar by any one of a number of ex-Pirate players. This summer, guys like Richie Hebner, Dave Parker and Jim Rooker have been serving up adult beverages from time to time.
Next to the Hall of Fame Club is a grille owned and operated by one of the greatest catchers in Pirate history, Manny Sanguillen. Although his presence is scarce this late in the year, when he is there fans can engage the former All-Star in memorable conversation, hear stories from his playing days, get autographs and even have their picture taken with him.
Outside
The Sixth Street Bridge was re-named in honor of Clemente, and on game days the whole bridge is closed to vehicular traffic. Fans can walk across the bridge without fear of clogging the street or having to wait for traffic to part (or thin out) so that they can safely cross the street. Parking is very accessible and within easy walk to the ballpark.
There's little wonder that PNC has been exciting fans from all over the country.