Liverpool Reborn Under Kenny Dalglish: What a Difference a Year Makes
August 29, 2011
As referee Lee Probert called time on the game at Anfield on Saturday, Liverpool moved back to the top of the—admittedly ridiculously early—Premier League table for the first time since the late title charge in May 2009.
The Reds, now under the stewardship of Kenny Dalglish, clinched a convincing 3-1 win over Bolton Wanderers at the weekend, showing signs of some sumptuous play all over the field during the entire 90 minutes, a throwback to the very best of the action seen under King Kenny the first time around.
An opening day draw against Sunderland, a win against top-four rivals Arsenal and a hammering of the much-praised side of Owen Coyle have given Liverpool their best start to a season since 1994, when the club won all of their first three matches.
Contrast that to last season when, after the same number of games at the end of August, the Reds—"guided" by Roy Hodgson—had drawn with the Gunners, were heavily beaten against Manchester City and laboured to a barely-deserved 1-0 home win over West Brom, leaving them in an uninspiring 13th place, with a minus-two goal difference. Liverpool's current goal difference is four in credit—last season, it took until February for the statistic to stop being a negative figure.
Even this early on in the season a year ago, Liverpool were already showing signs of not being all-well, as a static looking system was being put in place with ill-fitting personnel; not to mention the transfer shenanigans which saw Christian Poulsen come in to the club to all-round misgivings and Paul Konchesky arrive to downright dismay.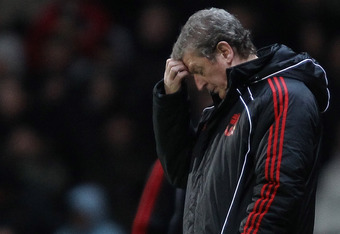 At the same time, midfield enforcer Javier Mascherano was refusing to play against Manchester City in an attempt to force through a move to Barcelona, which he managed shortly afterwards.
Fernando Torres and Pepe Reina were persuaded to stay for another season, supposedly, with the insertion of release fee clauses in their contracts, but it was far from pretty viewing on the pitch, and few could have imagined that Hodgson was the man to turn things around, even at that early stage.
Indeed, it was to be another half a dozen league matches and almost two full months before Hodgson would guide the Reds to another victory, during which time the likes of Sunderland, Northampton and Blackpool all visited Anfield and left without being beaten, or even particularly troubled at times.
On the 17th October, Liverpool were soundly beaten by local rivals Everton, a result which left the Reds in the utterly embarrassing position of 19th in the Premier League, only off the bottom on goal difference. The sounds of discontent were audible on the club forums, in the stands and in every pub and social gathering place up and down the country where Kopites could be found.
The malaise continued for another two months before enough was enough; Hodgson was dismissed after an abysmal defeat at Ewood Park left Liverpool back in 13th, only four points above the drop zone and a massive 20 points behind the league leaders Manchester City after little more than half the season.
Then, in came Kenny Dalglish.
The turnaround was not, as some would like to imagine, immediate. It took until Dalglish's fourth match in charge to record his first victory, but from then on, it was almost plain sailing until the end of the season. No doubt helped by a perceived lack of pressure on the club, as it was almost impossible to qualify for European competition, the team played with a freedom and attacking intent which was refreshing to the point of being shocking after the turgid, unimaginative and linear nonsense which was given by the same set of players under the previous manager.
The big test, everybody said, would come in the summer and during the new campaign.
Could Dalglish bring in the right players, spend money wisely and mould another Liverpool team to grace Anfield and bring pleasure to the fans?
It's three games into the season.
We'll make no judgements at this point on what Kenny and Liverpool can or cannot achieve this season, but if the start is anything to go by, then Liverpool have a great chance of at least breaking their way back into the top four; surely the main aim of everyone in the club for this term and something which seemed impossible to imagine this time a year ago.
Manchester United, Manchester City, Chelsea, Tottenham Hotspur, Arsenal and Liverpool—generally seen as the six challengers to battle it out between themselves for the top four places.
Given the transfer market activity and start to the season that both Manchester teams have had, it seems fair to accept they will both be in the running for honours come the end of the season, while Chelsea, given their array of attacking talent, should definitely be up there even with a new manager.
North London? We've seen today what work both teams have on to get themselves going, but neither can be ruled out.
But early on in the season, and Liverpool already have a significant lead on both teams: six points ahead of Arsenal and seven ahead of Tottenham, albeit they have a game in hand.
Though it may mean nothing in the grand scheme of things at this stage, we have heard season after season how Liverpool are playing catch-up with the top sides from early on in the season—this time, it is the other way round, and it can only benefit the team from Merseyside.
Liverpool have seven points after three games; last season, it took NINE league matches to reach the same tally despite playing five matches at home in that time, including two newly promoted sides.
Whether the good start can be maintained and players can give performances to compare with that of Saturday over the entire season remains to be seen.
But for what he's already done in his short time back at the club, and especially when compared to what came before him, Kenny Dalglish deserves every ounce of leeway, respect and backing that supporters can give him in terms of team selections, transfers and tactics.
Liverpool are in the top four already, only a month into the new Premier League season.
If in nine months' time, they are still there, Dalglish will have completed one of the most impressive turnarounds in fortune that the Premier League will have seen in years—and Liverpool can begin planning again on how best to compete with the very best in Europe.