Pac-12 North Division Preview: Team-by-Team Analysis
August 28, 2011
It is a new era out west, and what was once the Athletic Association of Western Universities has transformed to the Pacific-12 conference. Some would say it is about time the conference stepped up and play a conference championship game. Personally, I am not a big fan of the idea, but I do like the idea of more football.  
So what can we expect from the new Pac-12? Pretty much the same thing we have been getting for years—fast, hard-hitting and competitive football. 
I have already made the argument that the North will be stronger than the South, and I have made my selections for the teams going bowling. Although I did so before the New Mexico Bowl and Pac were official partners, and I left the bottom a little vague.
So let's take a quick look at the North teams, shall we?

Cal
California will be playing on the strength of the defense. Every unit on the defense looks like it should be in the upper half of the conference. They are replacing five starters, but there is still experience here.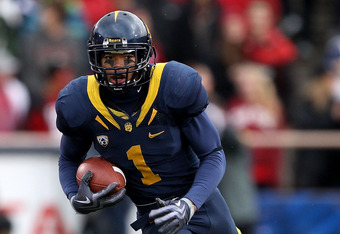 On offense more than half the O line is back along with the top receivers. The problems might come from the fact they are bringing in a new QB and new RB. 
Some say Tedford is on a bit of a hot seat after last years 5–7 record and the fact that they have been on a downward slide for the last three years. 
The schedule and an unusual circumstance could make this season a bit of a challenge. Along with the normal nine conference games, Cal will play new south member Colorado in a previously scheduled non conference match-up. Ultra competitive Fresno State is no pushover either. 
Every "home" game will be played at AT&T, a baseball stadium and home of the San Francisco Giants, while Memorial Stadium gets a face lift. Will this still feel like home?
Even though they have something of a tough schedule I could still see Cal returning to a bowl game with a seven-win season. 
Oregon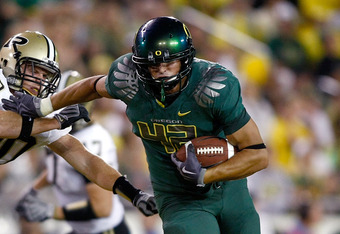 Everyone seems to think Oregon's major weaknesses will be along the lines. The offensive and defensive lines did lose a number of starters and some backups, but I don't see it quite as bad. 
The O line will return a couple of potential all-conference players in York and Asper and add a number of highly recruited players. This unit will still be one of the best units in the conference. With play makers like Thomas and James behind them, they don't have all be All Americans across the line. 
In my opinion, the bigger issue will be at wide receiver. Tight end is in good hands with David Paulson, but there may be an issue of depth. Receiver also has a couple of solid guys, like Lavasier Tuinei and Josh Huff, if he returns from injury. 
After those two not a single receiver on the roster has more than three catches. Converted quarterback Daryle Hawkins has four to his name, and it appears he will be used at wide out exclusively this season. A lot of young players will be asked to step up quickly.
Defensively, the Ducks rotated more than 25 players last season. So even though they lose six starters and a number of backups, the players who will be taking the field this season have plenty of experience. I said I am not sure if the line is really the biggest, question and my opinion is that the linebackers may see a greater drop than the line.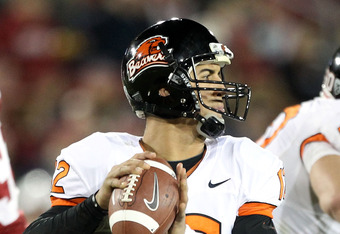 Don't get me wrong, I think Bair, Clark and Rowe were great last season. But I believe Matthews and Paysinger are bigger losses. 
The schedule is a mix for me. Seven home games and five home conference games I like. On the road for tough games at Dallas against No. 4 ranked LSU, south contender Arizona and back to back road trips to rival Washington and No. 6 Stanford is the stuff I don't like as much. 
I still like the Ducks to win the division, host the first conference championship game and win it. Rose Bowl or beyond is possible for this squad.
Oregon State
I haven't decided how I feel about the Beavers this season. Part of me feels like the 5-7 record last year was a fall or just a misstep. This was the first losing season since 2005 when they had an identical record. They rebounded to go 28-12 during the next three seasons. I just don't know that I see the talent at the same level.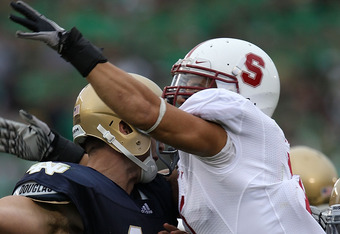 Replacing a player like Quizz Rodgers is hard to do, and you can't just put anyone in there to run the ball. In most cases at most schools, I would say a huge drop in the run game is expected. I have learned through the years that Oregon State just gets outstanding running back after outstanding running back. 
From Simonton to Jackson to Bernard to Rodgers, the Beavers are just stringing them along.
Unfortunately the O line may not be there for the next back. They don't really lose a lot, but they gave up 35 sacks last season. As long as they can buy a little time for Katz he has good targets in James Rodgers, Markus Wheaton and tight end Joe Halahuni. 
The defense was miserable last season at 86th in the nation and eighth in the conference. They lose something at every level this year, and the only reason to expect improvement is because it can't get much worse. They shouldn't have to rely on young guys just yet, but the players they do have aren't greatly experienced. 
The Beavers have an even six home and six away but only four home conference games. They continue their trend of difficult non-conference scheduling with a trip to No. 10 Wisconsin and a home game with BYU. They miss a couple of teams out of the south that could have been wins in Colorado and USC. Before the Trojans get mad at me, I only say this if they would have had a game in Reser.  USC just cant seem to win there.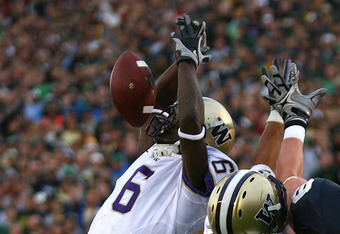 A bowl is possible, but they may fall in to a group of teams in the middle of the pack that are eligible and fighting over a minimal amount of low tier bowls. 
Stanford
I am not as high on Stanford as many. Yes, I know the return one of, if not the, best quarterback in Andrew Luck. They have a solid running back in Stepfan Taylor and good receiving targets at tight end with Colby Fleener and wide out with Chris Owusu. Depth will need to be proven behind them.   
The offensive line is a bit of a concern after losing all American Chase Beeler, as well as all conference and honorable mention Andrew Phillips and Derek Hall.  The guys who do come back are a couple of all conference players, so that is a good starting point to build around with new guys. 
While the focus last year may have been on Luck and the offense, the defense turned in a Top 25 finish. I would be surprised if they did that again. I don't think they will have a bad defense just not as good as last years. There are holes at every level, but the linebackers will be the strength.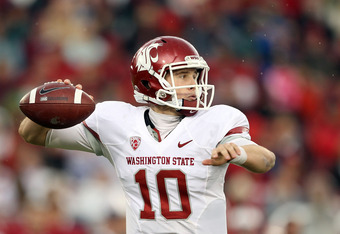 The biggest question for me is on the sideline. Stanford was on an all-time high under Head Coach Jim Harbaugh. In my opinion, Harbaugh was one of the best coaches in all of college football. Not only that, he gave Stanford a fire that past coaches just couldn't.
I am not sure who did the schedule, but they were very kind to Stanford. A couple of early warmup games, no games with two of the top contenders in the south.  Home games with No. 3 Oregon, rival Cal and No. 16 Notre Dame. 
They should still contend for the division, and therefore, the conference, but I am not sure I see them as the national title contender that some do. 
Washington
It wasn't that long ago that the two schools from the state of Washington were at the bottom of the barrel. Not only in the Pac-10 but also in the country. Both are rising but the Washington Huskies are rising faster. 
Head Coach Steve Sarkisian has moved the team from 0-12 to a bowl winner in his short time here, and it looks like the trend up is going to continue. To some. 
I'm sure I will get some heat, but I don't see Washington doing much better than last season.
A new starting quarterback who has limited playing time and a young line were the main issues moving from spring to fall.
Now the question falls to what was viewed as a strength as running back Chris Polk had to have some arthroscopic knee surgery.  Latest reports is he has been moving around nicely at practice. But as anyone who has ever had knee issues and had even the most minor of surgeries can tell you, this is not something you want to rush back from. 
If he comes back to early there is the risk of re-injury. Better not to have him for a few games early then never again. 
The new quarterback will have arguably the best receivers in the conference to throw to. As long as that young line can give him time and he can find his stride the receivers can make the plays. 
The defense was coming into its own at the end of the season, giving up 55 points in the three final regular season games and bowl combined. Compared to the previous three, where they gave up more than 40 in each. If they can carry that momentum, they should do well.
The question is the middle where the linebackers are likely to be the weak spot. The pass defense was strong last year and return seven through the two deep. The defensive line wont be top notch but should be just as good if not a notch above last year. Linebackers though, losing Mason Foster, leaves a big hole to fill.
Their schedule does them no favors. Take a look at the non-conference schedule. Some will scoff at Eastern Washington, but they were the FCS national champions. Hawaii was co-WAC champions.  Nebraska won the Big XII North and is a favorite to win in a whole new conference. Yes, I know Washington just beat them in the Holiday Bowl, but this is the third meeting in less than a year and this one is at Nebraska.
Then you have the Pac-12 slate. The North is tough with a trip to Stanford, but they get to host Cal and Oregon. The draws from the South are split too going to Utah and USC but hosting Arizona. 
The good news is I still see a bowl for the Huskies. The bad news is I really don't know that I see improvement vs. finishing right about where they did last season. More bad news, they were kind of lucky to get such a high bowl bid at 6-6, so this season look for a bowl game a notch down. 
Washington State
As I mentioned before, the state of Washington has been down but moving up. Washington state's movement has been slight. I expect a good jump this season, but with coach Wulff on the hotseat, I don't know if the jump will be enough to save his job. 
If the cougars can find even a remote running game to provide a little counter to what should be an outstanding passing one, they could be an offensive force. The line is experienced. The starting receivers are two top quality threats, I do question the depth behind them thought.  And the quarterback is probably one of the most underrated passers in the country. In the conference of quarterbacks, he will continue to be over shadowed by bigger names. 
While the offense has made strides to improve, the defense may be one of if not the worst in the country. Last year, they were 118th in the nation in total defense. They finished 110th in scoring defense, 115th in run defense and 104th in passing defense. Remember, this is out of 120 teams. This year's units will be better than last years by some margin, and it could be the difference in a few games. 
The schedule only really has two games I can look at and say wins. That is the first two with Idaho State and UNLV.  After that, there are a number of games I would classify as winnable. UCLA, Colorado, Oregon State and maybe a few more. I honestly think that Washington State could be in a bowl at seasons end, and if they aren't, they barely missed out.