UFC 134 Results: Home Country Crowd Pushes Brazilians to 7-1 Record at UFC 134
August 28, 2011
Overall, UFC 134 was an epic event in terms of how much the crowd was into the fight. Every second was filled by another chant starting or the fans booing the non-Brazilian fighters—heck, even booing the referee's decisions.
It was an awesome atmosphere that any place scheduled to host a UFC event this year will fail to live up to.
It was insane to say the least, and that crowd definitely helped push the Brazilians to a 7-1 record in their fights against non-Brazilian fighters.
The only Brazilian fighter to lose last night was Luiz Cane, who lost by knockout to UFC newcomer, Stanislav Nedkov.
The only other event that can be somewhat compared to UFC 134 is UFC 83, which was the UFC's first event in Canada and showcased a number of Canadian vs. non-Canadian fights.
The only difference is that the Brazilian crowd pushed their countrymen to a 7-1 record; the Canadians pushed their countrymen to a 3-3 record. Both crowds, however, saw their respective countrymen earn a UFC belt, with the Canadians watching Georges St-Pierre pummel Matt Serra and the Brazilians watching Anderson Silva beat Yushin Okami.
The most notable fight on that UFC 83 card might be when Kalib Starnes ran away from Nate Quarry for 15 minutes, earning some of the lowest scores on the judges scorecards in UFC history.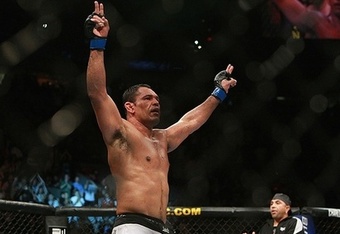 The fact remains that no crowd has ever been as amped up as the Brazilian crowd and the UFC needs to go back to Brazil again next year. The crowd was jam-packed into HSBC Arena for the prelims. I have never seen a crowd that big for the Facebook fights.
So, hats off to Brazil for providing a great atmosphere that their countrymen definitely fed off of, enabling them to beat some of the top names in the sport today. Brazil deserves another event after last night and their unbelievable amount of energy.
For unfunny jokes, MMA news and reaction from events, you can follow me on Twitter: @SalDeRoseMMA.