Povetkin Decisions Chagaev, Helenius Stops Liakhovich in Heavyweight Double-Bill
August 28, 2011
In a heavyweight boxing card featuring some of the bigger names in the division other than "Klitschko," Alexander Povetkin came on strong in the second half of the fight to win a unanimous decision over former WBA heavyweight champion Ruslan "White Tyson" Chagaev, while rising star Robert "The Nordic Nightmare" Helenius came from behind to stop former WBO heavyweight champ Sergei "The White Wolf" Liakhovich tonight at the Messehalle in Erfurt, Germany.
The southpaw Chagaev looked strong in the first half of the fight with Povetkin, and rattled the Russian in the third round with some hard left hands.  However, from round seven onwards, Povetkin slowly began to take over, repeatedly nailing Chagaev with uppercuts and combinations. 
Chagaev hurt Povetkin with a hard body shot in Round 9, but couldn't follow up, and Povetkin cruised through the remainder of the fight with some good combination punching that kept Chagaev at bay. 
While the Uzbek Chagaev landed the fight's harder blows (he appeared unmarked as the fight ended, while Povetkin looked the worse for wear), Povetkin took advantage of the ring rust of his opponent, whose timing seemed to be off for much of the fight. 
Povetkin (21-0-0) got the judges' nod by scores of 116-112 and 117-113 (twice), but it was hard to shake the feeling that had Chagaev (27-2-1) been just a bit sharper, Povetkin would not have heard the final bell.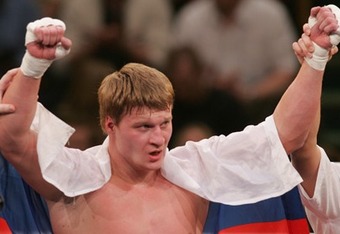 For his efforts, Povetkin was awarded the "regular" WBA championship belt, which is a meaningless trinket as the real WBA champion is Wladimir Klitschko, who recently won the title from David Haye and was then made "super champion."
The evening's co-main event was a much more brutal affair.  Sergei Liakhovich turned in a gutsy performance that brought to mind his classic heavyweight win over WBO champion Lamon Brewster in 2006. 
The White Wolf outworked Helenius from Rounds 2 through 6 by utilizing speedy combinations and constantly moving from downstairs to upstairs, working his opponent's soft-looking midsection and then throwing head shots with mean intent.
The bout was an outstanding one, and though Helenius was often being outworked, the tremendous power of the nearly 6'7" Finn kept him in the fight. 
Helenius bloodied and seemingly broke his opponent's nose in Round 3 with a powerful jab, and he also sported some reddened facial bruises of his own as the fight went on. 
When Helenius did connect, however, his trademark heavy hands made Liakhovich pay dearly for constantly pressing the action. 
Finally, at the end of Round 7, with Liakhovich seemingly well ahead on points, Helenius's trainer, Ulle Wegner, implored his fighter to show "who is the better man."
As he did in his previous knockout win over former WBC champion Samuel Peter when exhorted by his trainer to step it up, Helenius responded, and with Liakhovich still competing well in Round 8, landed a crunching left hook followed by a flurry of punches that forced the tough White Wolf to take a knee. 
The round then ended, but, showing the killer instinct of a future champion, Helenius would not let the Belarusian off the hook, and quickly finished him with another crushing left hand and an uppercut, with referee Stanley Christodoulou waving things off at 0:19 of Round 9.
Both fighters made statements in this bout: Liakhovich (25-4-0) reminded the boxing world that, when motivated, he is capable of high quality performances, and also showed once again that he is one of the bravest warriors in the heavyweight division (maybe too brave for his own good at times). 
Had Liakhovich faced anything less than a very powerful and motivated foe on this night, he would undoubtedly have emerged victorious.  Hopefully we see this version of Sergei Liakhovich back in the ring again, very soon.
As for Helenius (16-0-0), another stoppage win over a tough opponent and former heavyweight champion makes him the most likely candidate to give one of the world champion Klitschko brothers a strong challenge in 2012. 
While Helenius still has some work to do (like overcoming his tendency to get off to a slow start), he literally and figuratively towers over the rest of the field of heavyweight contenders at this moment in time.   
Will 2012 be the Year of Helenius?   Stay tuned!
[Johnny Walker also writes for Boxing Insider]