5 Fights Anderson Silva Should Take Next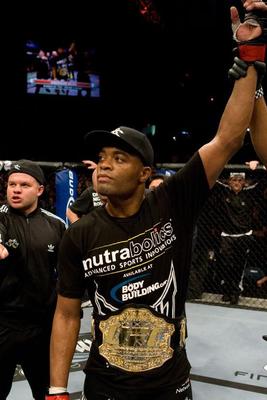 If there was any doubt entering UFC 134, it is now abundantly clear: no fighter alive is in Anderson Silva's (31-4) league.
The Spider toyed with Yushin Okami (26-6) for just over seven minutes before thoroughly putting the Japanese challenger out of his misery.
In doing so, Silva avenged his most recent loss and extended his UFC records to 15 consecutive wins and 10 consecutive title defenses.
The question is no longer who is the best challenger for Silva, but rather who is left for Silva to fight to cement his legacy as the GOAT.
Chael Sonnen/Brian Stann Winner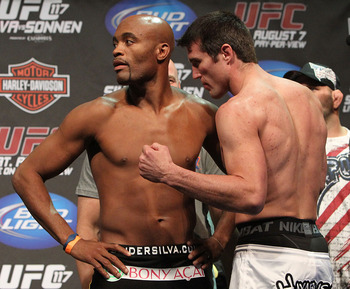 From a marketing standpoint, this scenario is a win-win.
A Sonnen-Silva rematch would be the most sought-after bout as Chael was the last man to truly challenge the champ. All reports have it that if Sonnen, who was in line for an immediate title rematch prior to a suspension for elevated testosterone levels, bests Brian Stann at UFC 136 in October, he will receive a much-desired second shot at dethroning Silva.
Brian Stann has skyrocketed into the spotlight in the past year after consecutive knockouts against Chris Leben and Jorge Santiago.
A solid resume and an ever-improving all-around game are only part of the picture. Stann's war-hero background, "All-American" appeal (pun intended), and his tendency to always say the right thing truly make Stann a promoters dream.
A rematch between Silva and Sonnen may not be expected to match the classic war of the first meeting, however it would be a very interesting matchup both because of the contrasting styles and because of Sonnen's past success.
Dan Henderson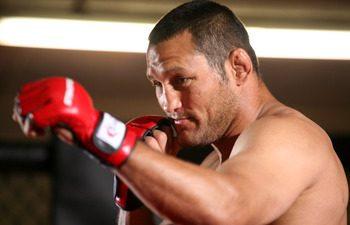 Valerie Macon/Getty Images
Dan Henderson, who previously faced Silva for the UFC Middleweight title at UFC 82, is the current Strikeforce Light Heavyweight Champion.
Even though Hendo has yet to defend his strap even once, he has complained about the competition he stands to receive from the Strikeforce roster.
The matchup would represent a bout between two fighters with nothing left to gain but legacy.
A further breakdown of the potential benefits of a Henderson-Silva rematch can be found here.
Mauricio "Shogun" Rua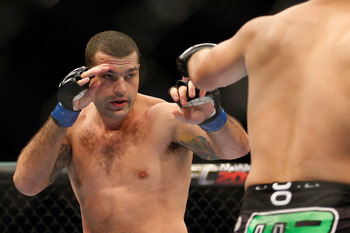 Richard Wolowicz/Getty Images
Anderson Silva has ventured up to the Light Heavyweight division multiple times in the past. Each time he has created a highlight=reel knockout.
Shogun Rua, who demolished Forrest Griffin just minutes before Silva took out Okami, was coming off of the loss of his Light Heavyweight title.
With Rashad Evans next in line for a title shot, and fellow contender Lyoto Machida tentatively slated to take on Phil Davis, Rua is in need of a challenger on his road back to the championship scene.
A matchup between the two Brazilian legends, both of whom are arguably the GOAT of their respective weight class, would most likely put the winner next in line behind Evans.
The potential war, and probable classic, would be an ideal career move for both men and would also give Silva the opportunity to take out revenge on the man who knocked out Silva's teammate Lyoto Machida and handed him his first career defeat.
Georges St. Pierre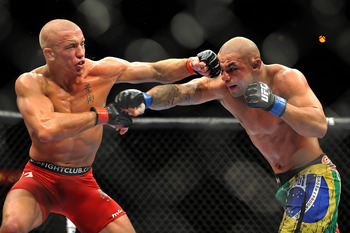 Jon Kopaloff/Getty Images
A superfight with current UFC Welterweight Champion has been much debated over the past year. While most fans would love to see the two pound-for-pound kings battle one another for the right to the throne, a number of of issues have arisen.
At this point, it seems that legacy matters more to Silva than anything else. If that is in fact the case, it only seems logical that he and GSP matchup before it's too late.
A further discussion about the potential superfight can be found here.
Jon Jones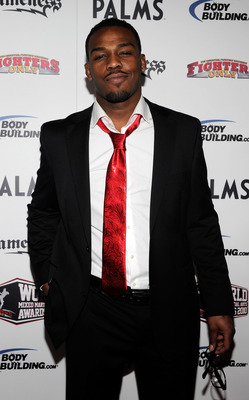 Ethan Miller/Getty Images
Many fans may be calling for a superfight between Anderson Silva and Georges St-Pierre but from a logistical standpoint, a fight with Jon Jones may truly be the best bet.
Much like the veteran Silva, the young phenom Jones has thoroughly stifled opponents with his unpredictability and flash. To this point, neither puzzle has truly been solved and a matchup between the two may prove once and for all who is the most dynamic fighter alive.
As dominant as Jones has been, he is still only 24 years old and the sky seems to be the limit. If Silva is supposed to be the GOAT, then it is only logical that he should get his chance to shut down the hype train before the chance passes us all by.
Keep Reading