Robert Helenius: Is He Ready for Alexander Povetkin or Wladimir Klitschko?
August 27, 2011
Finland's Robert "The Nordic Nightmare" Helenius, now ranked as a Top 10 heavyweight contender by most organizations, took a big step forward with a ninth Round KO of Samuel Peter in April.
With a win tonight against former world champ Siarhei Liakhovich (a co-headline bout on a card also featuring Alexander Povetkin vs. Ruslan Chagaev—Ring Magazine's No. 3 and 5 heavyweights) could solidify the legitimacy of the current ninth-ranked heavyweight in the world.
His last fight against Peter—a co-headliner on a Marco Huck card—seemed to prove two things:
Helenius, though still unpolished, is a quality fighter verging on world-class status.
Samuel Peter, a former world champ and serviceable opponent, is no longer a major heavyweight threat.
Despite the oft-repeated assertion that the level of heavyweight competition has declined in recent years, an ongoing war of attrition has quickly and clearly established a four-tier heavyweight pecking order.   
Group one, standing atop the division, is the two-headed giant known as Klitschko.
Brothers Wladimir and Vitali have been insurmountable, dispatching a wide array of opponents over the past eight years. Their absolute dominance and their mutual agreement not to face each other have been the two factors that have defined the heavyweight division in recent years.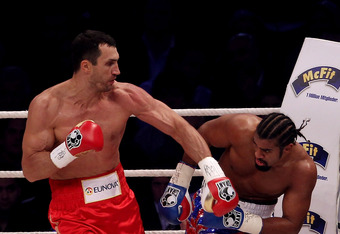 Directly beneath them is group two, the "unblemished contenders"—an exciting duo consisting of Tomasz Adamek and Alexander Povetkin.
A few months ago, this group also included David Haye, who was embarrassed by Wladimir Klitschko and probably dropped down to group two.
Meanwhile, Adamek may soon see his stock drop: the exciting Pole is coming up against a tough Vitali Klitschko matchup in September, and there could only be one player remaining in this group a month from now.
Povetkin is being protected by Teddy Atlas and will probably stay put for a while. Helenius could soon join him among these ranks with a win over Liakhovich.
Group three is a list of recently-exposed contenders—quality fighters who have faltered in recent high-level bouts.
These are mostly guys who have lost to a Klitschko, such as David Haye, Ruslan Chagaev, "Fast" Eddie Chambers, Chris Arreola, Albert Sosnowski and Odlanier Solis.
A few members of this group have fallen victim to different foes: Nikolay Valuev lost to Haye in 2009, Alexander Dimitrenko lost to Chambers, and Chris Arreola fell to Vitali Klitschko in 2009 but truly lost his "top contender" status after being upset by Adamek in his next fight. 
Group three is a revolving door of guys hoping to gain another title shot.
Finally, group four is the undefeated prospects, who have looked good climbing up the ranks but have yet to make their mark on the division.  This list contains names like Germany's 27-0 Dennis Boystov and Bulgaria's 11-0 Kubrat Pulev…
And Finland's Robert Helenius, who could move to 16-0 this weekend.
With his 9th-Round KO of former world champ Samuel Peter in April, Robert "The Nordic Nightmare" Helenius secured his status as a rising heavyweight star while simultaneously demoting Peter from "exposed contender" to "faded opponent."
But where does Helenius fit in the heavyweight picture?
The answer to that question remains to be seen, although his recent bouts have given us some insight into the 6'6" prospect.
In addition to Peter and a list of decent mid-level foes, Helenius holds a January 2010 TKO victory over an aging Lamon Brewster. Longtime fans will remember Brewster as a former world title holder whose five-fight championship reign began back in 2004 when he became the last person to beat a Klitschko (with a fifth round TKO of Wladimir).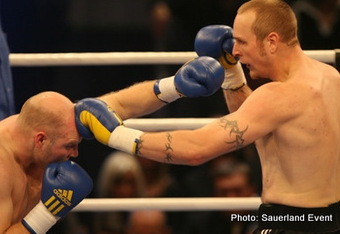 The odd thing about Helenius is that he rarely looks spectacular until he comes out of nowhere with a stunning KO—often with a single punch or a small, sudden combo. That's what happened against Peter, Brewster, and Attila Levin. It's also what makes him such a hard fighter to gauge.
The reasons for his awkwardness are sometimes patently clear. At nearly 6'7", he is very tall for the division, and in some ways resembles a poor man's Nikolay Valuev. Though not as physically imposing as the Russian, he has a more impressive skill set.
Helenius has quick hands for a big man. He has impressive strength and one-punch power. His jab is refined and he often follows it with a quick right cross. Though those two punches seem to be his bread-and-butter, he has a powerful and effective left hook, which he used to knock Peter down and then out in the 9th.
His hands are also quite accurate, and he seems to have a natural gift for controlling distance and a temperament that contributes to his above-average ring generalship.  In what little we've seen of him, Helenius has demonstrated a solid fighter's mentality; his mature instincts lead to a good tactical approach to the sport—neither overly aggressive nor overly cautious.
These qualities are why his handlers have been able to advance him more quickly than expected, and why he was able to knock out Peter in an earlier round than Wladimir Klitschko was able to do just seven months prior.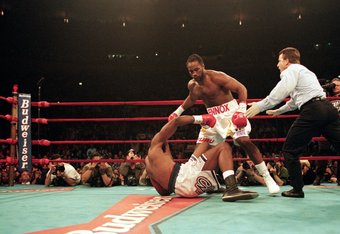 However, Helenius also has some clear drawbacks, which have led many people to declare him "unremarkable." The extent of these issues, and his ability to improve in these areas, will ultimately determine his success.
Helenius' chin hasn't been sufficiently tested for us to draw many conclusions, but he seems to lack the ability to slip punches once an opponent is able to infiltrate his long wingspan.
His lack of head movement leaves him vulnerable. He also has an unusual retreat step: stepping back and straightening up, putting him slightly off balance. It's the kind of thing a fists-first fighter like Chris Arreola could use to his advantage.
This combination makes Helenius an awkward-looking boxer, and though he tends to win most rounds, he rarely looks sensational while doing so. This could be a major liability as he steps up in competition against more polished opponents. To make it to the next level, his conditioning may need to improve, too.
The main question, then, is whether he'll be a talented-but-flawed fighter like Michael Grant, who gets a title shot and fades away, or whether he will be a heavyweight version of Timothy Bradley— well-rounded and mature enough to find a way to keep winning.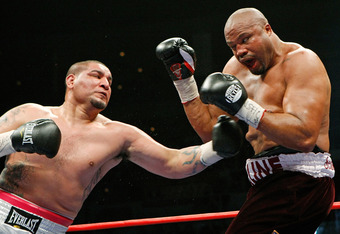 There are indications that Helenius may fit into the latter category. For one, he seems mature and composed for a fighter in his mid-20's. He also has a good attitude both in and out of the ring, and his Finnish stoicism could give him a significant advantage over more fiery opponents.
What he lacks in technical beauty, he makes up for in a workmanlike command of ring generalship. He clinches at the right time, he controls distance well, and backs off when necessary.
A cerebral boxer, he would be well-served to improve his conditioning, but has thus far been able to get by on the merits of his large frame and superior reach and tactics. He does enough to win on points when necessary, but usually doesn't have to—his one-punch power is another of his many physical gifts. 
Prognosis
Whether he ends up being a recurring Nightmare or just a flash-in-the-pan night terror remains to be seen, but he has passed his recent tests effectively and poses an interesting prospect for the heavyweight division.
A matchup with Arreola would be an interesting contrast: Arreola's furious style could catch Helenius off guard, but if Helenius continued to calmly control distance, it wouldn't be hard to see Arreola deconstructed as he was against Vitali Klitschko.
Arreola has seen his star rising again after some disciplined dietary habits (perhaps the first time we've ever been able to say that about the 30-year-old Arreola) and some quality Friday Night Fights appearances, which has been a good place to showcase American fighters while protecting them from the high-level opposition that a major Showtime or HBO spot would require.
If not Arreola, then perhaps Povetkin or Chagaev could be a good choice for Helenius. Both seem like dangerous, but beatable opponents, although I'm not sure the well-protected Povetkin would be interested in a dangerous fighter like Helenius.
If Povetkin beats Chagaev in his split-feature with Helenius in Germany today, then Helenius could be a good choice as a warm-up for the Klitschkos. He's 6'7" and one of the few fighters who compares with the Klitschko brothers physically.
Of course, this is contingent on Povetkin wanting to face the Klitschkos, which is a proposition that becomes better for him the longer he waits—the Klitschkos aren't getting younger, and Povetkin has time on his side.
I don't think anyone believes Helenius would be capable of beating a Klitschko right now—he probably needs a few years, both for his own development and for the inevitable aging of the brothers Klitschko, who have basically been the two-headed giant ruling the division for nearly a decade now. 
But Helenius has good power, a strong control of distance, works the head and body well, and a decent workrate. He counters effectively and is clearly making a case that he belongs on the world-class level.
Given the state of today's heavyweight division, that could be enough to propel him to a notable place in the division and some title shots in the near future.