Liverpool vs Bolton: An in-Depth Review of the Reds' Impressive Win
August 27, 2011
The fans are still making their way home out of Anfield where they have just watched Liverpool put on their most impressive performance of the season so far, as they eased past Bolton 3-1—a scoreline which, although comprehensive, does not reflect their true dominance.
Before the game there was a buzz of anticipation as Liverpool's latest recruit, Sebastian Coates, took his place in the director's box to watch his new teammates play for the first time. 
When the Liverpool manager announced his team, there was one very noticeable change from the team that won 2-0 away to Arsenal last weekend. Whilst Luis Suarez was always expected to return to the starting 11, it was a bit of a shock that £35 million record-signing Andy Carroll was the one dropped to make way for him.
Dalglish's decision to drop his big-money striker paid dividend as Liverpool put on a fantastic display of attacking football that was far removed from the plodding predictable football they displayed against both Sunderland and Arsenal whilst Carroll was on the pitch.
Liverpool flew out of the gate and attacked Bolton from the first whistle. The most notable chance of the opening 10 minutes fell to Stewart Downing, who was played through by Jordan Henderson, who showed good awareness to play a first-time pass into the former Aston Villa man. Unfortunately for Downing and Liverpool, he was on his weaker right foot and took one touch too many; the chance was lost.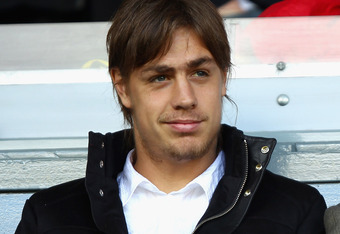 Liverpool were not to be denied for long though. In the 14th minute, Jordan Henderson took a huge step towards silencing his critics as he put his team into the lead with an excellent left-footed finish after being teed up by Dirk Kuyt.
I cannot mention Henderson's goal without mentioning the chance that Liverpool had immediately prior to it.
Luis Suarez, roaming out on the left wing, picked up the ball and played what will potentially be the pass of the season, with the outside of his right foot to Stewart Downing, who had vacated his left-wing role and broke through the centre.
Downing caught the ball beautifully on the volley and it truly was a pass and shot worthy of a goal. Bolton goalkeeper Jussi Jaaskelainen was not ready to be beaten just yet and pulled off a fantastic save to deny Downing.
Unfortunately for the Bolton keeper, he was not rewarded for his save; the ball fell to Kuyt, who in turn fed Henderson, who worked the ball onto his left foot before curling a beautiful finish into the top corner from 14 yards out.
The goal was no less than Liverpool deserved, but just three minutes later Martin Petrov gave Liverpool a reminder that Bolton were not just there to make up the numbers. A great cross-field ball from Chris Eagles found Petrov at the angle of the Liverpool penalty area and his first-time volley stung the hands of goalkeeper Pepe Reina.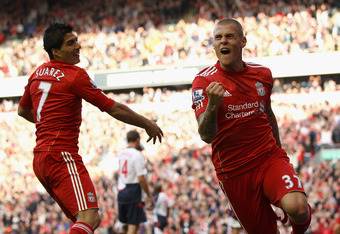 After that it was pretty much one-way traffic as Liverpool really moved through the gears and began to play some sparkling football.
With Lucas Leiva, in inspired form, providing a platform in midfield, Charlie Adam and Jordan Henderson were hugely influential in Liverpool's play.
Adam's passing, short and long, was better than it has been in any other performance this season and there were two particular passes which were simply fantastic. One was a ball over the top to Luis Suarez, the other was a defence-splitting ball to a flying Stewart Downing.
Unfortunately for Liverpool neither of these passes led to a goal, but they did get the Anfield faithful on their feet—especially the ball to Downing, who seemed to have a legitimate claim for a penalty as Bolton right-back Gretar Steinsson appeared to handle inside the area as Downing flicked the ball past him.
The referee ruled that the offence took place out of the box and subsequent television replays showed that he made the correct decision.
Henderson, for his part, looked much more comfortable in the system and style of play Liverpool utilized today and set Luis Suarez through with a nicely weighted pass. Suarez seemed certain to score, but his lofted shot was slightly over hit and landed on the roof of the net.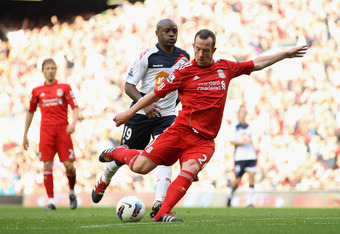 When the halftime whistle blew it called time on a magnificent 45 minutes of football from the home team. They played the type of fluid, incisive pass-and-move football that was made famous by the famous Liverpool teams of the 1970s and 1980s. They also appeared to play with a very fluid formation, which shifted from 4-4-2 to 4-3-3 to 4-5-1 seamlessly throughout different phases of the game.
It was not all good news in the first half for Liverpool though, as Martin Kelly had to leave the field in the 28th minute with a hamstring injury, the extent of which is not yet known. Kelly was replaced by Martin Skrtel, who slotted into an unfamiliar role at right-back.
In the second half, Liverpool set out to impose themselves early and really should have had a penalty early on when Zat Knight fouled Luis Suarez as Suarez broke into the area. Suarez's appeals for a penalty were waved away by a referee who, having gotten the earlier decision correct, just made the first of three poor decisions over the course of the second half.
Suarez's grievances were soon forgotten, however, as substitute Martin Skrtel made it 2-0 in the 51st minute with a powerful header from six-yards out. 
Manchester United manager Sir Alex Ferguson was quoted last season as saying that Charlie Adam's corner kicks were worth £10 million; Adam provided an example of why that is as his fantastically whipped corner was met by Skrtel, who timed his run to perfection and sent the ball flying into the back of the Bolton net.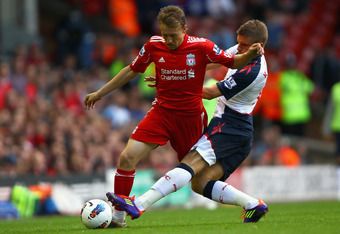 Bolton were shell-shocked, Liverpool were rampant and just two minutes later it was 3-0.
Luis Suarez, involved in almost everything good that Liverpool did today, laid the ball off to Dirk Kuyt, who in turn fed the onrushing Adam, who took the ball past a defender and drilled his shot low in Jaaskelainen's net. Perhaps the most surprising thing about the goal was that Adam scored with his right foot rather than his favoured left.
Liverpool were really out for blood and could have added two more goals in the five minutes following their third, as first Dirk Kuyt and then Luis Suarez came close to getting their names on the score-sheet.
Liverpool continue to probe and press forward and Luis Suarez was in the thick of it all. Suarez was denied a penalty for the second time when he was clearly fouled in the area by Paul Robinson as he prepared to pull the trigger.
While that decision was poor, it was not nearly as poor as the one made by the referee and his assistant in the 71st minute.
Under pressure from Suarez, Robinson turned and played the ball back to his goalkeeper. Suarez gave chase and reached the ball at the same time as Jaaskelainen. As it had been a clear back pass, the Bolton keeper should have been forbidden from using his hands, but use them he did. He smothered the ball and then picked it up. Liverpool should very clearly have had an indirect free kick, but the referee bizarrely waved play on.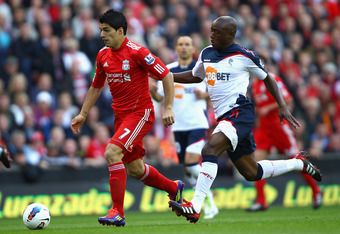 In the 75th minute, Suarez and Henderson left the field to a standing ovation for their efforts. It really was nothing more than they deserved. On in their places came Carroll and Maxi Rodriguez. It seemed like this might be an ideal time for Carroll to open his Premier League account, but it wasn't to be. Liverpool had taken their foot off the peddle and when they did attack and create chances for the big centre-forward he was found wanting.
Bolton would grab a late, undeserved consolation goal when a mistake from Jamie Carragher let in Martin Petrov. Although Carragher would recover position and stop Petrov from having a shot, the ball fell kindly to Ivan Klasnic, who steered the ball past Pepe Reina with a fine finish.
Liverpool will be happy with their performance in this game and rightfully so. They were nothing short of fantastic. At the back they were solid, with the lone exception of Carragher's mistake, and Daniel Agger continued to show why he's so vital to the team.
In midfield, Liverpool were brilliant.
With the ball kept on the ground, moved quickly and everything going through Suarez, Jordan Henderson looked like the player everyone knows he can be. This performance will give him a lot of confidence in the coming weeks.
Charlie Adam dictated the play fantastically, moved the ball about the pitch in an expert fashion and also helped break up any forays Bolton made towards the Liverpool area. Both of the new boys will be delighted with their performances, and of course their goals.
Not to be overlooked in the midfield today was Lucas Leiva.
Lucas gave, by far, his best performance of the season in a dynamic display in which he showed intelligence, grit, determination and great anticipation. He broke up every Bolton attack that came his way—and a lot that went other ways.
Bolton seemed to attempt to bypass Lucas by spreading it wide, but he kept popping up to nick the ball back for his team. His presence and performance in midfield really set the platform for Liverpool to go forward.
If football players had nicknames, then Lucas, based on his performance today, would be "The Janitor." He mopped up, swept up and cleaned up everything in midfield.
Upfront Liverpool looked world class.
The combination of Kuyt's work rate, industry and unselfishness; Downing's pace, trickery and ability to beat his man; and Luis Suarez's all-around genius gave Liverpool the look of a team that could actually contend for major honours this season.
Suarez was at the heart of everything good today. He is the catalyst for this Liverpool team and when captain Steven Gerrard returns from injury he should be prepared to play a secondary role to the Uruguayan phenom.
If ever a player deserved a goal it was Suarez today. Simply brilliant.
Kenny Dalglish got his tactics spot on today, as I mentioned earlier. The style of play and fluid movement between formations was fantastic. He also got his team selection correct. Dropping Andy Carroll made Liverpool a much better team and today's performance gives further credibility to the argument that Liverpool, and specifically Luis Suarez, play better when Dirk Kuyt is selected in Carroll's place.
Much food for thought and much to be happy about for Dalglish and Liverpool's supporters today. The good times appear to be on their way back to Anfield.