Green Bay Packers vs. Indianapolis Colts: The Good, the Bad, and the (OMG) Ugly
August 27, 2011
Greetings from the Frozen Tundra, my friends.
Fall, and regular season football, are nearly upon us, and the air is filled with the sounds of sullen school children who aren't yet ready for their summer fun to be over and done.  Parents in Wisconsin are looking forward to sending their little darlings back to the public, and private, institutions of learning, with their new little backpacks, a new hairdo and a new outlook on the upcoming year.
Coach McCarthy may be doing the same thing. He's probably looking forward to the regular season, possibly around Week 7, when all of the kinks are going to be worked out.  Kind of like how parents know if their kids are going to actually make an effort to pass their current grade.   
The Packers played the Colts last night, and while the Packers won the game, it wasn't always pretty. 
The Good
Aaron Rodgers continues to shine as brightly as the Lombardi Trophy before everyone touches it and smudges it up with their little paw prints.  This is the good part.
However, while watching the game last night, it occurred to me that the announcers were just about gushing over Mr. Rodgers, kind of like preteen girls prior to a Justin Bieber concert. 
I was waiting for one of them, possibly Phil Simms, to throw up that weird little heart hand sign that everyone and their brother's little sister have been throwing up. Or, possibly they had the little pink heart-shaped sign hanging outside the booth that said, "I heart Aaron Rodgers!" or, "Be my BFF, Aaron!" 
Whatever the case may be, please remember that they used to "heart" Brett Favre like this, too.  It's like a 30-year-old that used to love New Kids on the Block and now stalk Justin Bieber. 
Please stop gushing.  Rodgers is an excellent quarterback, with no lack of confidence.  Accolades are nice, but Rodgers is a Super Bowl-winning MVP.  Compliment him, but do not gush.  Do you hear me?
After re-reading what I just wrote, I totally take back the "shine as brightly as the Lombardi trophy" comment.  Let's man up this comment, shall we, and give Rodgers a football slap on the pooper and just not say anything...
Anyway, to sum it up, those who were watching the game learned that Rodgers can "thread a needle," make five or six passes that no one else can make due to extreme confidence and can throw down a touchdown celebration like no other (title belt, fist pump and hip bump, to name a few).  
We also learned that Rodgers has a mustache when a comment was made along the lines of, "Good pass by Aaron Rodgers and his mustache."
Gotcha—we are aware, thank you.  The comment about the mustache was pretty funny, though.
The Bad
The Colts almost won this game—with a backup quarterback.  Curtis Painter played pretty well against the Super Bowl champions, I have to say.  But, what does that say?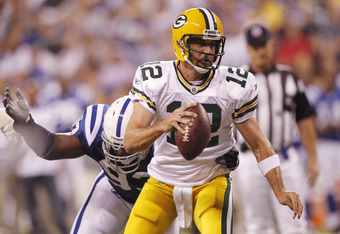 The Green Bay Packers offensive line was not, shall we say, up to par yet again.  Four sacks?  Come on, men!  Coach McCarthy may just pull a Coach Lombardi on you and make you run until your legs turn into Jell-O! 
Imagine the plane ride back to Green Bay, my friends.  Everyone is in their seats, but I imagine a few seats were empty, as the whole offensive line may have been crammed in the bathrooms in an attempt to hide out from the offensive coaching staff.
I would, however, love to be at the Monday morning practice.
I imagine the coaching staff may probably have a few choice comments for the offensive line that may go along the lines of, "What in the hell was that against the Colts?" 
If I could attend the meeting, I would offer my services as a "hype man," kind of like a Packer fan version of Flavor Flav.  Every time Coach McCarthy said something, I would jump around and scream, "YEAH BOY!!!"
I know. You're imagining a nearly six-foot tall, furry Norwegian woman doing a Flavor Flav impersonation.  If you have nightmares tonight, I apologize.
Key words to the offensive line:  protect the quarterback.  That is all.
The (OMG) Ugly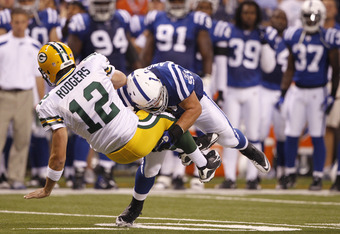 When I flew into my house last night, after a hard day's work, Manpig (my beloved husband) greeted me at the door, a serious look on his cute little face.  "Jackie," said Manpig, "you must sit down."  As Manpig doesn't get the opportunity to speak much in our household, when he does wish to speak, I graciously allow him the opportunity to do so.  I sat down.
"Is it another woman, Manpig?"  I asked, heart fearful.
"No. There is no other," says Manpig.  "You have ruined me for any other woman, my wife.  No other woman could ever make me as miserable as you do..."
"What is it, then?"  I asked.  "Death?  Destruction?  Mayhem?"  I waited with bated breath as Manpig gently took my hand in his, and sat down, his eyes moist with sorrow.  He sighed deeply, and closed his eyes in an attempt to mask the anguish he was feeling.
"Your mom called, wife of Manpig...the Indianapolis Colts want to sign Brett Favre to fill in for Peyton Manning..."
"NOOO!!!!!"
Cue dramatic theme music!
OK, so the conversation may have been more along the lines of, "Yeah, hey, your mom called and said Brett Favre is going to play for the Colts.  She said she'll be able to know when I tell you this when she hears you scream from 20 miles away."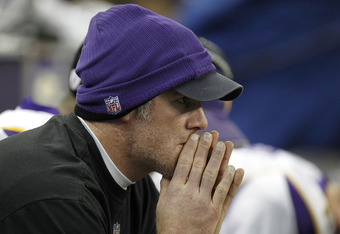 And scream, I did!  A rumor, was all it was.  Just a rumor...
A brief summary:  Favre is retired, really and truly retired.  He is a grandfather now, and should probably focus on doing grandfather-type things.  Why, he's probably taking pictures of his grandchild with his cell phone right now.
If his wife allows him to have a cell phone with a camera.
I'm kidding, relax. 
In closing, a preseason win, is a preseason win.  The Packers are doing okay, Clay Matthews is back on the field sans glute/hamstring/hair-related injury (and thank goodness for that), and Brett Favre is still retired.  All in all, a good time was had by all.
On to the Chiefs!