Tottenham Hotspur: Examining the Youngsters' Performances Against Hearts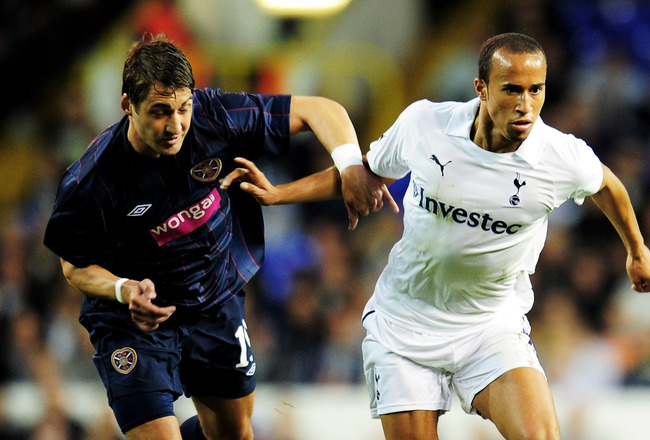 Tottenham's Andros Townsend battles with Rudi Skacel of Hearts in the two club's Europa League tie at White Hart Lane.
Shaun Botterill/Getty Images
It has been a while since Tottenham Hotspur last produced a crop of youngsters who made it as regular fixtures in the first-team. The last time was in the late-1970s, when a group including Marc Falco, Chris Hughton, Paul Miller and Glenn Hoddle revitalised the club in the post-Bill Nicholson era and played significant roles in the successes of the following decade.
In the years since then, for a variety of reasons, the academy hasn't been quite so fruitful. Ian Walker, Sol Campbell, Stephen Carr and Ledley King have all come out of the youth team at different points to become important players for Spurs. Others like Luke Young, Stephen Kelly and Jamie O'Hara all paid their dues at youth and reserve levels and though they made it to the first-team, had to move elsewhere in the Premier League for regular football.
This week's Europa League encounter with Hearts offered the suggestion that at last a new influx of young players might be ready to chance their luck at the top level with Spurs, with debutantes Harry Kane, Tom Carroll, Ryan Fredericks and Jake Nicholson joining Andros Townsend and Jake Livermore in getting the chance to impress at White Hart Lane.
With Tottenham holding a 5-0 aggregate lead against less than stellar opposition it was hardly the greatest test. Still, the reward of competitive action in European competition is hardly to be sniffed at with genuine first-team opportunities so rare, and each of the six looked keen to impress.
Here now is a player-by-player look at how the six fared against Hearts, with a brief look at their immediate prospects.
Andros Townsend

Shaun Botterill/Getty Images
With Danny Rose out, and Benoit Assou-Ekotto and Gareth Bale rested, Andros Townsend was chosen to deputise at left-back against Hearts. Do not expect to see him in this position too often; it was in his attacking moments where Townsend showed himself most useful.
The 20-year-old is blessed with good speed and clearly enjoys testing himself against opposition full-backs. Hearts' Ryan McGowan was tasked with dealing with Townsend's forward ventures and on several occasions found himself being turned inside and out.
It was this willingness to look to try and cut inside the penalty box that caused Hearts problems and promisingly suggests Townsend could be a useful weapon for Spurs. While he won't be displacing Gareth Bale or Aaron Lennon on the wings anytime soon, that the club have another player capable of putting defenders on the back foot is something to consider should either of those get injured.
One area of Townsend's game that does need improvement is his crossing. Going at the speed wingers like him do, it is not easy to find a perfect cross when you get into suitable positions. On a couple of occasions against Hearts, he looked like he was rushing to get the ball in the penalty area when he had a little time to pick out a smarter option.
Townsend is not without quality however, as displayed in the counter-attacking move he launched with a nicely timed through-ball to Jermain Defoe that the striker then played in for Aaron Lennon to score Tottenham's fifth in the first leg. His willingness to have a pop at goal should not be underestimated in a side that struggled to score last season.
Of all the young Spurs that played against Hearts, Townsend is most ideally suited to make a contribution again sooner rather than later.
Harry Kane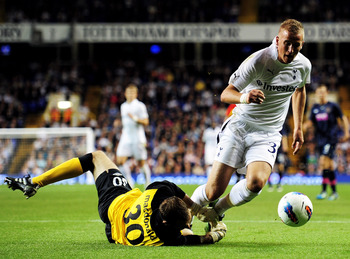 Shaun Botterill/Getty Images
Harry Kane's Tottenham debut was so nearly one to cherish rather than just remember, his penalty saved by Jamie McDonald denying him a first Spurs goal. His inappropriately timed stutter in his run-up crossing off another potential penalty taker for a club who have lacked a consistent spot-kick converter since Robbie Keane was a regular in the team.
With the negative mainly out of the way, the first sight for many Spurs fans of one of the club's most hyped youngsters in years was largely promising. Kane's run to latch onto the Tom Carroll pass that led to the penalty displayed his penalty box instinct, and while there wasn't much more for the striker in the way of chances, he worked hard in making sure the Hearts backline had to be aware of his running.
Kane is something of a physical presence at 6ft. Hardly a lumbering player, but not the most obviously mobile on the ball. The lack of shooting opportunities denied the 18-year-old the chance to show off his finishing ability, but his goalscoring record at youth level as well as the five goals he grabbed on loan at Leyton Orient mean he certainly deserves an opportunity to show if he can deliver at the highest levels.
Tom Carroll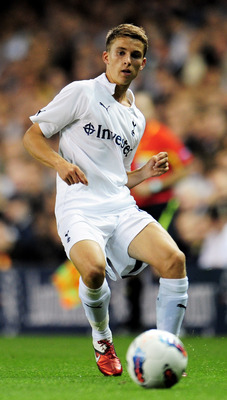 Shaun Botterill/Getty Images
In sharing a fairly small physical stature for a professional footballer, Tom Carroll has something of a passing resemblance to Luka Modric. There were also shades of the Croatian in Carroll's movement on and off the ball.
Of course he has some way to go to be classed anywhere near his much in-demand team-mate, but on his debut Carroll's hunger for the ball impressed. Like when Modric operated on the left of the Tottenham midfield, Carroll looked to cut inside and link up with other Spurs shirts in more central positions. He also frequently offered himself up as an option on these forays inside.
This is an attribute not to be underestimated. Look at any of the world's best sides, from Manchester United to Barcelona, and their players are nearly always on the move. It provides the fluidity that allows their passing games to flourish so well.
Carroll is on the slight side, so he will have to work hard to make sure his quality stands out and he isn't bullied. But his pass that led to Kane winning a penalty was a moment of great vision, hopefully these won't be a rarity.
Ryan Fredericks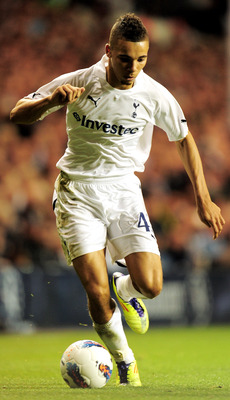 Shaun Botterill/Getty Images
A spot on the substitute's bench against Leeds United in the FA Cup two seasons ago was as close as Ryan Fredericks had come to the Tottenham first-team previously. His performance against Hearts suggests the young winger has some work to do before this become a regular occurrence, but there is some talent there.
Fredericks hugged his right touchline throughout the night and showed great determination to get beyond his full-back and swing a cross in. He certainly showed he has the speed to give defenders a problem, but unlike Townsend he didn't display much in the way of trickery to get past them.
The 18-year-old is a player who will certainly benefit from going out on loan and developing his game, but with several quality players Spurs can already choose from to play out wide, it is going to be a little while before Fredericks can be considered one of them.
Jake Livermore
Alex Livesey/Getty Images
There wasn't much to learn about Jake Livermore from this Hearts game. He had a relatively comfortable night in midfield, spreading the ball around pretty nicely, but with not much in the way of competitiveness it was hard to evaluate him too much further.
Still, while Tottenham's current midfield injury crisis has not been ideal, the first-leg game against Hearts and the match against Manchester United could prove invaluable in Livermore's development. The goal in the former will have done his confidence the world of good, while before tiring at Old Trafford he gave a solid display against the champions.
The possible arrival of Scott Parker at first seems to indicate Livermore's first-team chances would diminish, but Harry Redknapp's fondness for him, coupled with this recent experience, suggests he could have a more immediate future with Spurs than it might seem.
Luka Modric and Sandro are undoubtedly the club's best two midfielders, while Parker will of course be involved if he joins. Jermaine Jenas and Wilson Palacios, very decent servants as they have been, will likely want to seek first-team football elsewhere. Tom Huddlestone however, has some work to do. While he is an immediately better passer than Livermore, his failure to influence and involve himself on a consistent basis does not fare so well in comparison his eager, young team-mate.
Jake Nicholson
Pete Norton/Getty Images
Coming on in the 77th minute in a game that had already petered out did not give Tottenham supporters much time to get a look at Jake Nicholson, so it is definitely a case of watch this space with the midfielder.
One promising pass into the path of Harry Kane was narrowly snuffed out by the Hearts defence, while besides that it was something of a quiet debut for Nicholson.
Having previously been on loan at Finnish side Myllykosken Pallo-47, it is likely he will be loaned out again before the season finishes. Though the upcoming Europa league ties with Shamrock Rovers and PAOK might offer opportunities for further chances in a Spurs shirt before then.
Keep Reading

Tottenham Hotspur: Like this team?