USC Sanctions Seven Years Too Late for Possibly 2004's Best Team, the Cal Bears
August 26, 2011
In the aftermath of the sanctions handed down to the 2004 USC Trojans earlier this summer, there's been plenty of talk about the 2004 Auburn Tigers, who finished the season 13-0 and ranked No. 2 in the country behind, of course, USC.
However, there has been little to no talk about the 2004 Cal Bears, a team that deserves just as much attention, if not more. After all, Cal just may have been the best team in the country that year.
The 2004 Golden Bears were nothing short of dominant. Cal put together a 10-1 regular season by demolishing opponents, winning seven times by 27 points or more. Their high-powered offense put up an average of 37.3 points per game, while their suffocating defense allowed a mere 13.4 points per contest. Even in their sole loss of the regular season, Cal completely outplayed USC, more than doubling the Trojans' total yardage and first downs (much more on this game later). 
The Bears' juggernaut offense was led by none other than reigning Super Bowl MVP Aaron Rodgers, who threw for 2,566 yards, completed over 66 percent of his passes, tossed 24 touchdowns and only threw eight interceptions. To make matters worse for opposing defenses, the immensely talented and mind-bogglingly accurate Rodgers had an array of skilled receivers to throw to, most notably Geoff MacArthur, who likely would have become a successful receiver in the NFL had it not been for a career-ending injury in the last game of the regular season. Complementing Rodgers and the passing game was a lethal rushing attack in which Marshawn Lynch, now an NFL star, was not even the starting running back. Although the hard-running Lynch certainly had his share of highlight-reel plays and averaged a freakish 8.8 yards per carry on 71 attempts, the starting job belonged to J.J. Arrington. Arrington put up Heisman-worthy numbers, leading the nation in rushing with 2,018 yards and demonstrating his consistency by being the only running back in 2004 to break the 100-yard mark every game. At seven yards per carry, Arrington averaged over a yard more per carry than both Adrian Peterson and Cedric Benson, who finished No. 2 and No. 3 behind Arrington in total rushing yards that season. And of course, Cal's offensive dominance was made possible by an experienced and extremely talented offensive line, from which three out of its five starters were NFL draftees.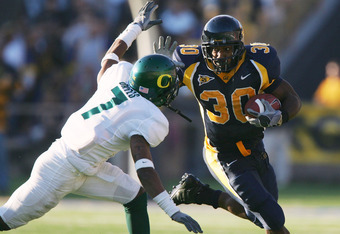 Meanwhile, Cal's physical defense was arguably just as good, if not better, than their virtually unstoppable offense. Giving up a stingy 13.4 points per game, the Golden Bear defense allowed its opponents to score over sixteen points just three times. They especially excelled in the trenches, allowing only 82.5 yards rushing per game and sacking opposing quarterbacks 37 times. And in consecutive weeks, the Bears shut out the state of Arizona, beating the Wildcats 38-0 and then forcing five turnovers the following week to blank the Sun Devils 27-0. 
Six Bears were 2004 All-Americans, eight were named to the 2004 All-Pac-10 first team and a whopping 34 players from Cal's 2004 roster eventually signed with NFL teams. Moreover, fourteen players who took the field for Cal in 2004 have gone on to play in, at the very least, one NFL regular season game. And of these players, six have started at least seventeen NFL regular season games. With so much talent, it's no wonder the Bears put together so many dominant performances.
However, the Bears' greatest display of greatness actually came in their only loss of the regular season against the mighty USC Trojans, who were at the heart of their dynasty in 2004. Led by eventual Heisman Trophy winner Matt Leinart and the electrifying Reggie Bush, USC's offense was so dominant that stopping it seemed next to impossible. And then there was the feared Trojan defense, loaded with practically NFL-sized players, that held opponents to a stifling 280 yards per game. In addition, USC was so stacked that the vast majority of their second-stringers, especially their linemen and running backs, were probably better than most teams' starters. In short, not only are the 2004 Trojans often regarded as the best college football team of this past decade, but many experts also believe they are one of the best in the history of college football.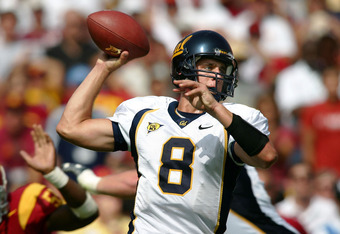 Yet, playing on the road in front of a packed L.A. Coliseum, Cal didn't just simply hang with the Trojans, something that in itself most teams could only dream of doing. No, Cal flat-out dominated the game.
The Golden Bears more than doubled USC in total yardage and first downs, outgaining the Trojans 424-205 in total yards and moving the chains 28 times to the Trojans' 12 times. The mere 205 yards the Bears allowed that day was the lowest single game total yardage USC gained throughout the entire Matt Leinart and Reggie Bush era (2003-2005). All day long, the Golden Bear defense harassed USC, sacking Leinart four times and holding Bush and the high-powered Trojan running attack to a mere 41 yards. Meanwhile, Cal quarterback Aaron Rodgers picked apart the typically insurmountable Men of Troy defense, tying an NCAA record with 23 consecutive completions in a single game. Finishing the day with 267 yards passing, Rodgers didn't throw a legitimate incomplete pass (meaning one that wasn't a throwaway) until less than two minutes remaining in the fourth quarter. Offensively and defensively, it was all Cal.  The only reason the Bears didn't win this game by double digits was because of their special teams miscues.
Just minutes into the game, Cal punter David Lonie couldn't handle a low snap, resulting in him being tackled at the Cal 31-yard-line, where USC took over and went on to score the game's first touchdown. Later in the first quarter, Cal spotted the Trojans a field goal by muffing a punt at its own 16-yard-line. Also, Tom Schneider's missed 36-yard field goal with 6:53 remaining in the game ultimately cost the Bears six points -- three from the miss, and three more on their next possession when they were forced to go for a touchdown instead of another field goal, with it being a six-point differential. And all of this isn't even counting Reggie Bush's somewhat unconventional kickoff return, fumbling the ball twice on the goal line before evading Cal defenders for an 84-yard-return. Had the Golden Bear defense not bailed out the special teams unit with an interception in the end zone on the ensuing Trojan possession, it would have been yet another special teams mistake that essentially handed points to USC. Anyway, you get the point. Offensively and defensively, Cal put forth a legendary performance against a legendary team, only to have it nullified by a series of special teams blunders.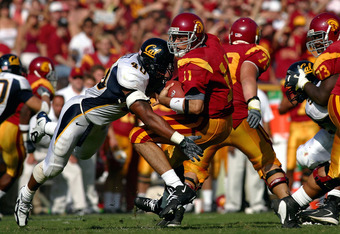 Yet even with all their special teams miscues, it took a Cal receiver losing his footing at the most inopportune of times to keep the Bears from winning. On fourth-and-goal from the Trojan 9-yard line and with 1:21 remaining, Rodgers' intended wide receiver, who likely would have been open in the end zone, slipped just as Rodgers was releasing the ball, causing what probably would have been the game-winning touchdown pass to fall to the ground.  
In the end it was a 23-17 defeat for the Golden Bears, but anyone who watched the game in its entirety knew the real story. As college football analyst and former coach Lee Corso said after the game, "The best football team did not win this game. Cal is a better football team in almost every aspect of the game than Southern California." Corso hit it spot-on.  For three plays -- a low snap from the long snapper, a dropped punt from a true freshman and a missed field goal -- Cal's special teams messed up. The vast majority of the other 120-something plays in the football game? Completely dominated by Cal to the tune of 424 total yards to 205. Unfortunately those three special teams miscues essentially nullified a game's-worth of domination by the Bears offensively and defensively. Football can be a wacky game like that. Sometimes the team that plays better doesn't win the game. And this was one of those times. Cal was a better team than the 2004 USC Trojans -- yes, the same USC Trojans that many rank among the best college football teams of all-time.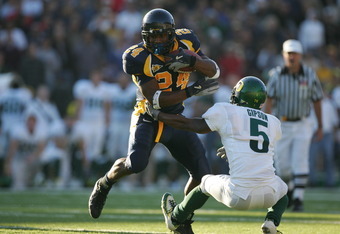 After dominating one of the best teams in recent memory, Cal went on to win their remaining seven games, only two of which were closer than 17 points. Meanwhile, the Trojans finished the season undefeated and earned a spot in the Orange Bowl, the 2005 national championship game. Although USC had won the Pac-10, their national championship berth left an open spot in the Rose Bowl Game, which traditionally pairs the Pac-10 champion against the Big Ten champion. This open spot would go to a BCS at-large team, and with Cal sitting comfortably at No. 4 in the BCS standings toward the end of the regular season, it seemed like a sure thing that the Golden Bears would earn a BCS bowl bid, and thus a spot in the Rose Bowl (Rose Bowl officials had made it clear that if Cal was eligible for the BCS, they would not hesitate to choose the Bears as their at-large team, in the interest of preserving the traditional Pac-10 vs. Big Ten matchup).
But as the end of the regular season approached, an interesting scenario began to develop. Back in 2004, there were only four BCS games, and thus only eight BCS bids. Six of those bids went to the winners of the six major conferences, regardless of their record or BCS ranking (which is how the 8-3 Pittsburgh Panthers, ranked No. 21 in the BCS, managed to sneak their way into a BCS game that season). This left only two at-large bids, and one of these automatically went to No. 6 Utah, thanks to a BCS rule that if a team from a non-BCS conference finishes the season in the top six of the BCS standings, they automatically earn a BCS bid. With seven of the eight BCS bids going to the teams ranked No. 1, No. 2, No. 3, No. 6, No. 8, No. 13 and No. 21 in the BCS standings thanks to the automatic bids to conference winners and the rule that benefitted Utah, only one at-large bid remained. And that berth was going to go to the team that finished No. 4 in the standings, as another BCS rule stated that if a team finished in the top four of the BCS standings, they receive an automatic BCS bid. A finish at No. 5, though better than three other teams that would receive BCS bids, would mean being left out of the BCS. And so it became a battle for No. 4.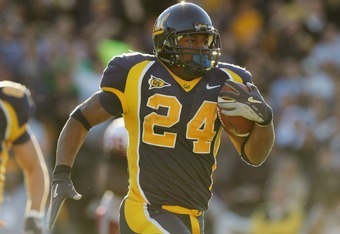 For Cal, it was simply a matter of holding onto that No. 4 ranking, a position they had enjoyed since late October. As the end of the regular season approached, it became clear that their main competition for that spot was Texas. But as Cal held a comfortable lead over Texas for the No. 4 spot, the Longhorns didn't seem like much of a threat. After Cal's 41-6 romping over archrival Stanford on November 20, it seemed all but certain that the Bears were Pasadena-bound. Cal had a sizable lead over Texas in the standings and all that remained for the Golden Bears was a trip to Hattiesburg, Miss. on Dec. 4 to take on Southern Mississippi.
However, after his team's regular season finale on Nov. 26, Texas coach Mack Brown publicly campaigned, whined, and pleaded for the voters to vote his Longhorns ahead of the Golden Bears, claiming (errantly, as I'll discuss later on) that Texas was better than Cal. And sure enough, even after Cal beat Southern Miss the following week, Brown's pleas were answered. In both the AP Poll and the coaches' poll, Texas suddenly surged to within points of Cal. Although Cal still held a slim margin in both polls, the oft-criticized computer rankings somehow had Cal sixth and Texas fourth. Thus, the Longhorns' sudden surge in the polls was enough to propel them past Cal and into the No. 4 spot of the BCS standings, knocking the Golden Bears out of the BCS.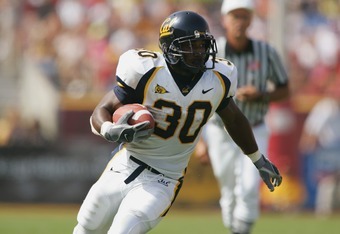 Plain and simple, Cal got absolutely robbed. Now, don't get me wrong, there wasn't a whole lot separating Cal and Texas. Both finished 10-1, both played pretty equal competition and both suffered their only loss to a team playing in the national championship. But if you really looked at the two teams side by side, it was pretty clear that Cal was the better team.
The Bears had seven wins by 27 points or more -- Texas only had three. All of the Bears' wins except one came by double digits -- Texas had three single digit wins. And Cal had just two wins decided by fewer than seventeen points -- Texas had four. Cal clearly had the better wins, but when evaluating two 10-1 teams, looking at each team's loss is just as important, if not more. As we know, Cal lost on the road to No. 1 USC 23-17 in a game where they dominated one of the best teams in recent memory. Meanwhile, Texas lost on a neutral site to No. 2 Oklahoma 12-0. In that game, the Longhorns managed just 240 yards of total offense and thirteen first downs, while giving up 414 total yards and 24 first downs to the Sooners. In fact, if it weren't for a fluke interception by the Longhorns deep in Texas territory that came off two deflections, Oklahoma likely would have won 15-0, or even 19-0. So not only did Cal have the better wins, but they also had, by far, the better loss. If one truly looked into it, it was pretty clear that Cal was a better team than Texas. (And by the way, not that the voters had this information at the time of course, but USC went on to clobber Oklahoma 55-19 in the national championship game -- just further justification that Cal was better than Texas).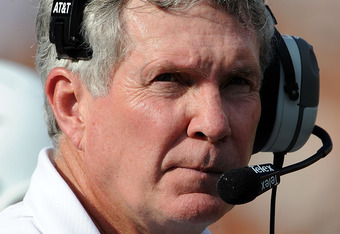 And America in general certainly seemed to agree.  Analysts, writers and fans from different teams all across the country were enraged at the grave injustice that was done to Cal, and were especially disgusted by Mack Brown's politicking. Brown was portrayed as a villain, and rightfully so. What he did was so disgusting that it qualifies as one of the unclassiest things I've ever seen a coach do. Any other coach in his position would have simply said something along the lines of "Cal's a great team and we're a great team; it's unfortunate that only one of us can make it. We'll just have to see how it all shakes out and hope for the best." Instead, Brown publically begged voters to vote his Longhorns ahead of the Golden Bears, all the while degrading Cal and claiming that his Longhorns were the better team, even though I guarantee you that Brown never watched even a third of Cal's games. Brown violated the unwritten rule of letting your team's performance on the field do the talking. He knew his team's performance on the field wasn't enough on its own -- he was insecure about his Longhorns' standing -- and thus, being the unclassy guy he is, tried to get his way by politicking.     
Yet despite Brown's disgusting actions, it was the ignorance of voters (or incompetence, or East Coast bias or whatever you want to call it) that ultimately screwed the Bears over. What you have to remember is that this isn't at all like the selection committee for the NCAA basketball tournament -- a reliable group of experts who completely devote themselves throughout the entire season to assessing teams with the ultimate goal of accurately seeding teams come March. Rather, the human element of the BCS rankings (the polls) is made up of sportswriters (the AP Poll) and coaches (the coaches' poll), both of which pose serious problems that are not issues in college basketball and its use of a selection committee.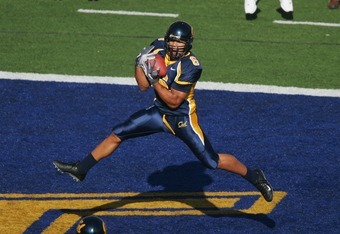 The main problem with sportswriters is that they have many other commitments in addition to voting. With voting being, at best, their number two priority, they cannot spend even remotely close to the amount of time necessary to know each team thoroughly enough to best rank the teams. Being qualified to do so, especially considering what a major impact their votes have on the fates of these teams, would in it of itself be a full-time job. But with other commitments taking priority in these sportswriters' busy schedules, they simply don't have the time necessary to do it the right way. 
Meanwhile, the coaches' poll, made up of head coaches from various teams across the country, is even less capable of accurately ranking the teams. First of all, there's the obvious issue of bias, which is not simply limited to individual coaches ranking their teams higher than they should be. For example, coaches have friendships and ties to other coaches and schools around the country, and these can certainly play a role in how they vote. In addition, consider the fact that making a BCS game brings in millions of dollars not only for the school, but for the team's conference as well. Much of this money is then redistributed to the other teams in the conference. Thus, there is an incentive for coaches from BCS conferences to rank teams in their own conference highly. Doing so gives their conference a better chance of putting two teams into the BCS, which in turn means more money for these coaches' programs.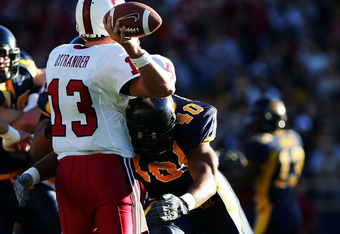 But aside from all the bias, coaches have little to no time to watch other teams' games, besides the teams they are playing, of course. So sure, coaches know a great deal about the dozen or so teams they played. But as for the other hundred or so teams in the country, they probably know no more than the average fan. In fact, coaches are so busy with all of their duties and preparation -- some coaches have been known to sleep in their office during the season -- that a number have admitted they hand over their voting responsibilities to their administrators, who really don't have the necessary time for it either.
So clearly there are major problems with who is voting in these polls and the voters' incompetence was certainly demonstrated with Cal's situation in 2004. They significantly punished the Bears for their performance in the season finale vs. Southern Mississippi, which, from a casual fan's perspective, seems reasonable. After all, Cal beat a Conference-USA team by an uninspiring score of 26-16. However, when one looks more closely at the situation, it was a crime that Cal got punished like they did for their performance in this game.
First off, Cal should have won the game by a greater margin. Late in the game, a phantom holding penalty called back a 33-yard J.J. Aarington touchdown run. And later on, during that same drive, Cal was very deep in Southern Miss territory and threatening to score again. But instead of putting more points on the board to impress the voters, Cal head coach Jeff Tedford did the sportsmanlike thing and ordered his team to take a knee and run out the clock -- something that I'm not sure Mack Brown would have even considered. It may seem like the phantom holding call and not running up the score only cost the Bears another touchdown, but a 33-16 win certainly would have looked a lot better to voters than a 26-16 one.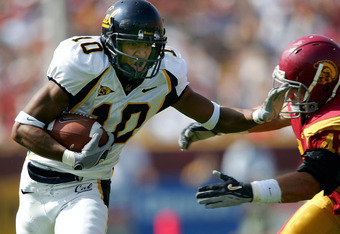 But more importantly, it was unfair that Cal got punished so severely for this one mediocre performance, because if either one of the two teams deserved to be punished for such a thing, it would be Texas.  Let's take a look at both Texas' and Cal's less-than-inspiring wins over the course of the season side by side. 
To begin with, it took the Arkansas long snapper snapping the ball over his punter's head and into the end zone for a safety in order for the Longhorns to beat the Razorbacks 22-20. But even though Arkansas finished 2004 at 5-6 and only 3-5 in the SEC, we'll give Texas the benefit of the doubt and let this close call slide, as the SEC is the toughest conference in America.
Also, Cal and Texas had fairly similar close calls against Oregon and Missouri, respectively. The Bears beat Oregon, which finished 4-4 in the Pac-10, at home by a score of 28-27.  Meanwhile, the Longhorns beat Missouri, which finished 3-5 in the Big 12, at home 28-20. Cal had the slightly lesser margin of victory, but Oregon was probably a slightly better team than Missouri, so both these close calls can be considered more or less equal. If anything, one should give a slight advantage to Cal, as the Longhorn offense sputtered for only 299 yards against Missouri while the Bears still put up 494 yards of total offense against Oregon. But once again, we'll call it essentially even.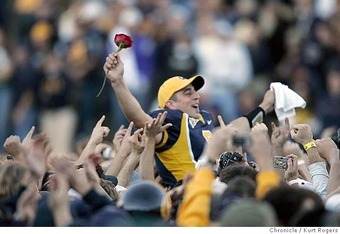 Now here is where the major difference lies: Cal's performance against Southern Miss compared to Texas' performance against Kansas (the only other wins by each team that qualify as mediocre or worse). As discussed earlier, Cal defeated Southern Miss (which finished 7-5 and tied for second in the not-powerful-but-fairly-respectable Conference-USA) in Hattiesburg (a difficult place to play) 26-16 in a game where the final score actually should have been 33-16. Texas, meanwhile, just barely -- and by that I mean just barely -- scraped past 4-7 Kansas. Trailing 23-13 with less than eight minutes remaining, it took a Texas touchdown pass with eleven seconds left for the Longhorns to get past the lowly Jayhawks, who went a mere 2-6 in the Big 12 and finished tied for second worst in the conference. Southern Miss was most likely a better team than Kansas, but even if we consider the two teams equal, Texas' extremely narrow escape vs. the Jayhawks was still far worse than Cal's performance against Southern Miss. If either of the two teams deserved to be punished for unimpressive wins, without a doubt it should have been Texas, not Cal.
But thanks to the incompetence of the voters, they erroneously punished Cal, as their perception of Cal got zeroed in far too much on what that they saw during that one Southern Miss game instead of stepping back and looking at Cal's season as a whole. Why? Well for one, the Cal-Texas Rose Bowl conflict really didn't even begin to materialize until the last week or two of the regular season, when it became clear that only one of the two teams could make a BCS bowl. And it wasn't until after Brown's politicking, following the Longhorns' season finale one week before the season's end, that the conflict became full-fledged. By this time, between the two teams there was just one game remaining -- the Cal-Southern Miss game. The voters had a big decision to make, and so, especially since most voters probably hadn't truly watched Cal play more than two or three times during the season, they paid very close attention to that one game. Furthermore, Brown's actions the week before had drawn so much attention that from the get-go far too much focus was being put solely on the Cal-Southern Miss game in terms of its impact on determining whether Cal or Texas should go to the Rose Bowl. And of course the fact that this game was nationally televised in prime time on a Saturday with very few other college football games contributed to this as well. 
As a result, the Bears' mediocre performance that night caused many voters to perceive Cal as not worthy of being ranked above Texas. Yet if they had taken a step back and looked at each team's performances over the course of the entire season, they would have seen that Texas' performance vs. Kansas was far worse than Cal's against Southern Miss, and that Cal had the better wins and the better loss. In short, they would have seen that Cal was clearly the better team.
Obviously, the entire situation was extremely unfortunate for Cal. The Golden Bears dominated teams all season long, but the one time that the eyes of the entire college football world were on them happened to be one of the only two times that they didn't completely outplay the opposition. But what's even more unfortunate for them is that the Dec. 4 Southern Miss game was originally scheduled for Sept. 16 before the threat of Hurricane Ivar forced the game to be rescheduled. Now, I certainly don't mean to disrespect anyone here -- I completely understand that hurricanes have negative effects on people in ways that are infinitely more serious than a mere football game. But nonetheless, the Bears caught a bad break when the hurricane forced the game to be postponed. Had the game been played back in September, Cal's mediocre performance vs. Southern Miss would have gone largely unnoticed. By the time Brown began politicking and the Cal-Texas conflict materialized, Cal would have already concluded their regular season with a 41-6 blowout over Stanford in the Big Game. Voters would have been forced to look back and evaluate Cal based on what they had done over the course of the season as a whole instead of largely consolidating their assessment of the Bears into the Dec. 4 Southern Miss game. The result likely would have been Cal playing in Pasadena on New Year's Day instead of Texas. So, a hurricane was just one more thing, in addition to incompetent voters and Brown, that kept the Bears out of the Rose Bowl.
After being robbed of the Rose Bowl, the Bears were relegated to the Holiday Bowl to play Texas Tech. Many figure that Cal's 45-31 loss in that game to the Red Raiders is proof that the Bears didn't actually deserve to play in the Rose Bowl after all, but to come to that conclusion is to completely misunderstand the situation. Yes, the injury to all-time Cal career receptions leader Geoff McArthur in the Southern Miss game meant that the Bears were without their top two receivers for the Holiday Bowl, but that's not what I'm talking about. No, I'm talking about the Rose Bowl and what it means to Cal.
Get this: there are many Cal fans out there that would rather their Golden Bears play in the Rose Bowl Game than in the national championship (yes, you read that correctly). It's a Cal fan's dream to see the Golden Bears charge out of the tunnel on New Year's Day in front of a blue-and-gold-clad Rose Bowl, against the backdrop of the San Gabriel Mountains and with the Pasadena sun glistening off their helmets. There's just something mystical about Cal and the Rose Bowl.
However, it's been over a half-century since Cal fans have witnessed such a sight. With 1959 marking the last time the Bears reached the Promised Land, Cal's Rose Bowl drought is on the verge of rivaling the Boston Red Sox and their World Series drought pre-2004. The difference of course is that, unlike the Red Sox, Cal has gone decades without even coming close to ending the drought. The Bears suffered through 25 losing seasons between 1959 and the Tedford-era, so when Cal does indeed come close to ending the drought one season, failure to do so is even harder to stomach, as there's the realization that it could be another decade or two before the Bears have another legitimate chance of reaching Pasadena.
And in 2004 the Golden Bears believed, as did the vast majority of the college football world, that they were Pasadena-bound. They were poised and ready for the excitement of making a half-century-long dream come true and leading the Bears to the Promised Land.
And then just like that, they had it all snatched away. All their hard work and all their dreams were gone in the blink of an eye as cold, hard injustice took something from them that they had earned and deserved. This was far more than a team being relegated to a lower-tier bowl game; this was the fulfillment of over a half-century-long dream being taken from them.
The Cal team that people saw play in the Holiday Bowl was one that was completely and utterly demoralized by the Rose Bowl snub. Furthermore, the distraught Bears were completely unmotivated for the Holiday Bowl, as they were playing a Texas Tech team that people expected them to beat, and thus winning the Holiday Bowl would have done nothing to prove that they should have been in Pasadena. Viewers didn't see the real 2004 Golden Bears on display in the Holiday Bowl; they saw an entirely demoralized, unmotivated and injury-plagued version of them. So you can't draw conclusions about the 2004 Cal Bears from that game, because thanks to extenuating circumstances, what happened in the Holiday Bowl was not even close to an accurate depiction of the real 2004 Golden Bears.  The real 2004 Cal Bears -- when free of the Rose Bowl snub and all of its effects -- were a team that steamrolled its competition. Again, playing in a solid conference, eight of their ten wins were blowouts and their only loss came in a dominating performance against a team labeled as one of the best in recent memory.
Now fast-forward almost seven years to this summer when the news came out that the NCAA had vacated all of USC's wins from the 2004 season, including, of course, the one against Cal. This means that Cal officially won that game -- one that, based on the way they played, the Bears deserved to win anyway. So, in retrospect, Cal finished the 2004 regular season 11-0. They would have won the Pac-10 outright, meaning that they would have bypassed the whole Mack Brown/BCS/Rose Bowl snafu by earning an automatic bid to Pasadena.
In fact, they also would have been right in the thick of the national championship conversation, along with then-undefeated Oklahoma and Auburn. And looking back on it, the Golden Bears were indeed likely one of the two best teams in the country, along with Auburn. Think about it. An undefeated Cal team from the Pac-10 was probably better than an undefeated Utah from the Mountain West. We've already established that Cal was better than Texas. Cal was likely a better team than Oklahoma, as the Bears dominated USC, while the Sooners were dominated by USC. And of course the Trojans are out of the picture with their sanctions. All that leaves is Auburn.  With nothing to separate the Bears and the Tigers, all we can do is look back and imagine a Cal vs. Auburn BCS title game. No doubt it would have been a great game, and it would have pitted likely the true two best teams in the country.
Of course, Cal fans aren't necessarily looking back and thinking national championship. No, they're thinking about something that, arguably, they value even more: the Rose Bowl -- something they should have had back in 2004.