UFC 134: Anderson Silva vs Yushin Okami; Along Came a Spider
August 27, 2011
Benjamin Franklin once said, "In this world nothing can be said to be certain, except death and taxes." 
It's a shame Benjamin Franklin never had the opportunity to see Anderson Silva in action.  Should Silva defeat Yushin Okami Saturday night at UFC 134 in Rio de Janeiro, Brazil, Franklin's quote may need to be revised to read: "In this world, nothing can be said to be certain, except death, taxes and Anderson Silva."
Anderson Silva and Yushin Okami first crossed paths with one another in January of 2006 at Hawaii's Rumble on the Rock tournament.  Anderson welcomed Okami into the cage that fateful night with a weaponized version of "Aloha" that arrived in the form of an upkick that temporarily put Okami to sleep. 
The kick couldn't have been more perfect if Silva had a sponsor from Tempur-Pedic imprinted on his heel.  The only problem was the strike was deemed illegal since Silva landed the upkick from the guard position.  Although Okami was given time to recover, he chose to exit the cage with a disqualification victory under his belt.  He would be the last fighter to escape "the Spider's" web. 
Since his inclusion into the UFC in 2006, Anderson "the Spider Silva" has woven a web of god-like omnipotence that has spared no one.  He's KO'd Rich Franklin with knees, submitted Dan Henderson with a rear-naked choke and danced around Demian Maia as if Maia were a human/arcade hybrid of the popular music video game Dance Dance Revolution. 
With the exception of the Chael Sonnen fight, Silva has looked like a man fighting amongst boys.  His tussle with former UFC light heavyweight champion Forrest Griffin resembled an outtake from the movie The Matrix as Silva bobbed, weaved and countered Griffin's punches with relative ease. 
The fight ended with Griffin's body sprawled out on the canvas.  Griffin looked more like a child making a snow angel rather than the former UFC light heavyweight champion of the world.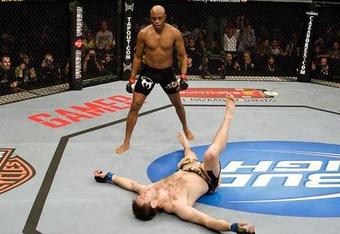 Silva's dominance begs the question, "How does one beat Anderson Silva?"
Vitor Belfort thought he had the answer until a brutal Silva front kick made the fighter known as "The Phenom"  look like an anxious fanboy trying to land a role as the Headless Horseman in a Sleepy Hallow reboot. Belfort was lucky the kick didn't leave him decapitated.
Chael Sonnen thoroughly dominated Silva for 24 of 25 minutes.  With less than a minute left in the five-round championship fight, Silva turned Sonnen into a piece of human origami.  Sonnen tapped but is still convinced that he won the fight. 
Chael would even lead you to believe that this spider is as fragile as the Itsy Bitsy spider made famous by the traditional nursery rhyme.  But this isn't the Itsy Bitsy Spider nor is it the spider that scared Little Miss Muffet while eating her curds and whey. 
This spider is perhaps the deadliest in the world equipped with Muay Thai, boxing, Brazilian jiu-jitsu, Taekwondo, Judo and Capoeira at his disposal.  He dictates which way a fight will go, and his opponents have no other choice but to abide.  Somewhere, Dana White is thankful that the UFC's new insurance policy doesn't cover arachnophobia.
Yushin Okami is being touted as the last man to beat Anderson Silva.  Although Okami left with the win in their last meeting, Silva recently went on record saying he didn't lose the Okami fight.  Silva further escalated the war of words when he stated that Okami was the one who was knocked out. 
Oh, what a tangled web the Spider weaves!
On Saturday night, Japan's greatest fighter will attempt to do the impossible.  Yushin Okami, your mission shall you choose to accept is to do what no man in the UFC has ever done—take down the man with the longest UFC title reign, the most consecutive wins in the UFC and the most successful title defenses in UFC history. 
Did I mention that Anderson Silva is also the greatest mixed martial artist of all time?  Simply stated, Yushin Okami is a supporting actor in the latest installment of Mission Impossible, and Anderson Silva is this movie's star.