Penn State Football: Nike Pro Combat Uniforms Remind Us That Classics Never Die
August 25, 2011
Nike has released two more of their patented Pro Combat style uniforms for the upcoming season. Boise State will be dressed in all white while Oregon will be suited in all black. Georgia's uniforms were already released, to a bit of criticism. The Bulldogs will wear red pants and jerseys with a silver helmet with a red stripe on top.
Ohio State, Michigan State, LSU, Stanford, Army and Navy will also be wearing specially designed uniforms this season, but those uniforms will be revealed at a later time.
In State College we will once again see more of the same.
Black shoes. White pants. Blue jerseys. White helmet with thin blue stripe and face mask.
This is Penn State football.
Although Nike supplies Penn State with their uniforms, there has never been a rumbling of the Nittany Lions getting the Pro Combat treatment, although some in the blogosphere have had fun coming up with mock-designs just in case.
As long as Joe Paterno is patrolling the sidelines, Nike may never get the chance to dress Penn State football players in technologically advanced uniforms that add more pizazz to the look than ever imaginable in State College. Perhaps when Paterno is no longer the face of the program things could change, even with an uproar from long-time fans and alumni who take pride in Penn State's core values.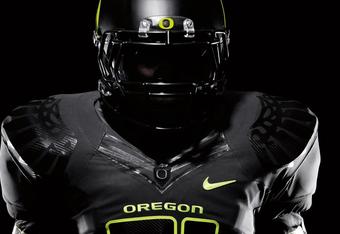 So, what is Penn State missing out on?
"The robust yet light-weight padding combined with a customizable, compact carbon fiber plate in the base layer offers personal impact protection," an email from Brandan Orsatti of Nike explains. "Improved thermoregulation and Flywire technology in the collar promote [breathe-ability] and keep the uniform in place, making the Broncos feel faster, lighter, dryer, cooler and more fearsome than ever."
I have been fortunate enough to see these uniforms in person and have been able to compare and contrast the Pro Combat uniform against a typical uniform—the difference is remarkable.
The equipment really is lighter than typical gear, without losing any of the protection the bulkier equipment provides. It always gets me thinking why a school wouldn't want to use this stuff. In time, perhaps they will, even if it's without the fancy designs inspired by graphic artists.
Penn State's jerseys have received a tweak this season, with the white trim on the sleeves and neckline being removed. We would hate to see Penn State's uniforms be too fancy, right?
Even that slight change caused a bit of a backlash from some Penn State fans, who saw the move more as a way to make a few bucks in jersey sales than anything else. Even with the minor cosmetic change to the jerseys, Penn State's football uniforms remain easily identifiable and continue to be one of the best in college football.
College football prides itself on tradition. As far as uniforms go, it does not get much more traditional than the nameless blue tops, white bottoms and black cleats.
Kevin McGuire is the national college football writer for Examiner.com. Follow his college football discussion on Google+ and Twitter. Become a fan of him on Facebook.